With yesterday's strong move, it appears that the animal spirit has been rekindled and that markets are back in bull mode. It is interesting that many of the big bulls remained bullish throughout the downturn because these are the same names which were bullish at the start of the bull market. Eventually they will be incorrect in their bullishness, but right now they are proving that the overall trend is their friend.
It also helped that Janet Yellen eased fears with her testimony yesterday while also holding her own against the questioning. One might be able to argue that the biggest news was not Yellen's testimony yesterday, but rather Speaker Boehner deciding not to attach conditions to extending the debt ceiling. Sparing markets from the tumultuous exercise of shutting down the government again will go a long way for investors' confidence and could pave the way for a politically stable year.
Chart of the Day:
China has been in a 5 year bear market and the chart seems to be setting up for a move; a move we think is higher. With the most recent economic data, this thinking appears wise but we would point out that there seems to be some thinking that the export numbers were inflated by over invoicing and other maneuvers that government officials have been trying to stop in recent years.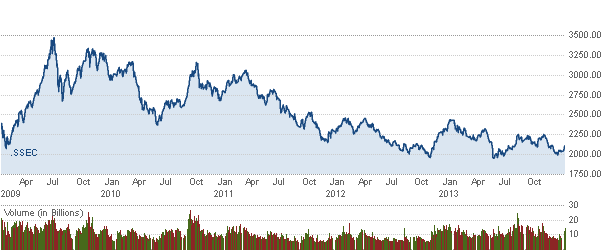 Source: CNBC
We have economic news today and it is as follows:
MBA Mortgage Index (7:00 a.m. EST): Est: N/A Act: -2.0%
Crude Inventories (10:30 a.m. EST): Est: 0.6%
Treasury Budget (2:00 p.m. EST): Est: -$10.0 Billion
Asian markets finished higher today:
All Ordinaries -- up 1.60%
Shanghai Composite -- up 0.30%
Nikkei 225 -- up 0.56%
NZSE 50 -- up 0.43%
Seoul Composite -- up 0.20%
In Europe, markets are trading higher this morning:
CAC 40 -- up 0.43%
DAX -- up 0.75%
FTSE 100 -- up 0.13%
OSE -- down 0.05%
Alibaba In Focus Again
Alibaba is in the news again for two reasons, both of which could possibly be a boost to Yahoo (YHOO) shares moving forward. First up there are news reports that there was a share sale in Alibaba which values the entire company at a $128 billion market capitalization (more details on that deal here). Some may say that this is about $12 billion less than recent estimates on the value of Alibaba, but this was a private transaction for a relatively small stake. Most will probably ignore the news or disregard it, but we like it as a price discovery process and think it simply highlights the viability of a large IPO later this year which supports the logic behind the recent run-up in Yahoo shares.
The recent sale of a small stake in Alibaba seems to reinforce the estimates surrounding the value of that entity, and thus the estimates of the value of Yahoo's stake in Alibaba.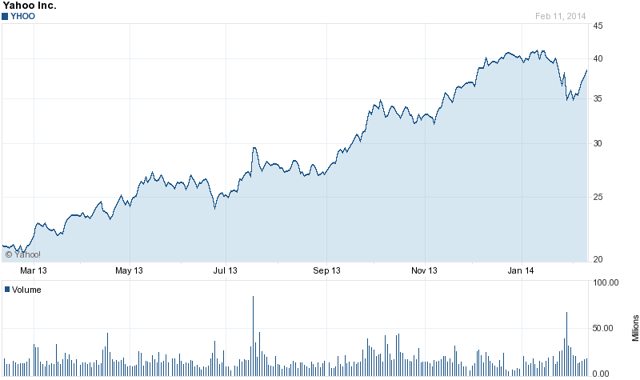 Source: Yahoo Finance
It has also been announced that Alibaba, through subsidiaries, is going to open up a marketplace in the United States (see the Financial Times article here). The company is dominant in Asia, but we do have our doubts about the timing of this decision. The company needs to focus on growth, but revenue growth, something that could be easily achievable in the US market, would most likely lead to margin contraction and higher costs as the company built out the necessary infrastructure and made the expensive investments to compete against such names as Amazon (NASDAQ:AMZN) and eBay (NASDAQ:EBAY) in the e-commerce space.
This move does look like a side bet, starting from scratch and focusing on smaller markets and niches but it is a high profile move nonetheless. Investors can look to it as an avenue for future growth but should also recognize that any endeavor will take a lot of time and money before it begins to pay off and lead to further opportunities in North America.
Amazon Continues Hiring Spree
Speaking of Amazon and the high cost to compete against it due to its infrastructure, the company is hiring at its fulfillment centers as volume picks up and its warehouses become busier. Amazon will create 2,500 new full-time positions across the country, with most of the locations being on the east coast. The good news is that the company will probably be able to hire some of its seasonal workers to full-time work and thus cut down on some of the training costs.
Dow Downs Loeb's Plan
Dan Loeb's Third Point jumped at the opportunity to take Dow Chemical's (DOW) word that they were willing to work with anyone to create shareholder value. As it turns out though, Dow is very serious about that practice and after investigating the proposal by Third Point to split into two companies has concluded that little value if any would be created by such a move. Dow officially rejected the idea to split into more than one company, so the ball is now in Loeb's court and we suspect that he will move to focus on smaller portions of the company which might be suitable as stand alone entities or look to force the company to adjust their capital structure and return more cash to shareholders. We do not think that this is the last investors will hear from Mr. Loeb.
The stock is telling us in early trading that investors think that Loeb will still be able to influence the board at Dow Chemical to create further shareholder value in the near-term. We do see the name a bit too rich to open a position at this time however.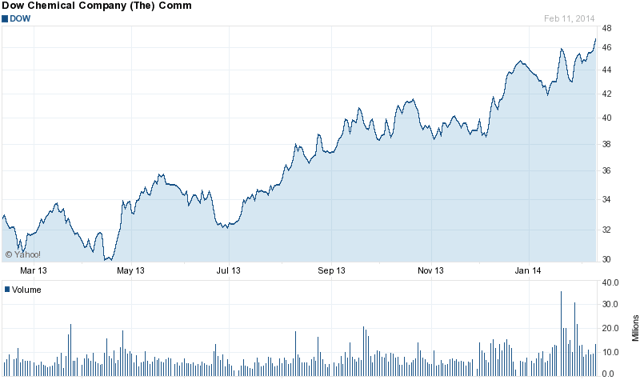 Source: Yahoo Finance
P&G Guides Lower
After the close yesterday Procter & Gamble (NYSE:PG) came out and lowered their guidance for the upcoming quarter and the full year as major currency swings in emerging markets, specifically Venezuela and Argentina, have begun to take a toll. The currency devaluations will impact the company's revenues and EPS and should make for a rough year so long as markets remain volatile. This is one of those events we pay attention to but give little value to because it is not really an indictment on the business or the management team, simply markets trading out of their expected range. For those looking at P&G shares, one is long Procter & Gamble right now due to the value and long-term prospects, not the quarter-to-quarter results. With that said, we think it is imperative that those looking to invest in the stock have an outlook longer than 12 months due to the company's restructuring and focus on building back up its R&D pipeline.
Disclosure: I have no positions in any stocks mentioned, and no plans to initiate any positions within the next 72 hours. I wrote this article myself, and it expresses my own opinions. I am not receiving compensation for it (other than from Seeking Alpha). I have no business relationship with any company whose stock is mentioned in this article.