Zillow (NASDAQ:Z) reports tonight, Wednesday, February 12th after the close. The shares have been in a tug-of-war between boosters and short sellers, including the famous Citron.
Zillow came public back in July of 2011, in what was a red-hot IPO. The deal priced above the range at $20 and popped to $57 before closing the day at $35. Since then, the company has completed two secondary offerings - one at $43 in September of 2012 and another at $82 in August of 2013.
Zillow has been anointed by investors as the "category leader" in the online real estate category. We're all familiar with what that can mean over time, and many anticipate success on the scale of a Priceline.com (NASDAQ:PCLN) in the travel industry.
The Zillow valuation stands at about $3.3B at $85/share. That compares to Yelp (NYSE:YELP) at over $6B and OpenTable (NASDAQ:OPEN) at a mere $1.7B. YELP and OPEN came public at different times, though. YELP is a recent IPO and has basically gone up 4x in the last year. OPEN had a similar performance back in 2010, but gave most of the big gains up in 2011. Since then, OPEN has slowly but steadily built its value back to where it was in late 2010.
Zillow has attracted the attention of some vocal short sellers like Citron after its big run during the last year or so. Our own model supports the fact that revenue productivity at Zillow has gone down a great deal recently. In other words, it is spending much more money to grow, which is at odds with accelerating growth and expanding margins. Supporters have responded that a big chunk of the increased expenses are one-time in nature and obscure what is (or soon will be) tremendous operating leverage.

Our numbers here simply show the change in revenue divided by the prior quarter change in spending, going from the most recent quarter back. So in the last quarter, the company spent twice as much incrementally as it gained in revenue. That's not a good trend.
After soaring from $25 to $100 by September 2013, the shares have been consolidating between $75 and $90.
This Wednesday, February 12th, Zillow will report Q4 2013 results and set the stage for 2014, possibly giving guidance that will impact current estimates. Investors will be looking at the headline results, growth in premium agent signups and further development of the "marketplace" that Zillow offers to online consumers. Nobody expects Zillow to miss consensus estimates or lower the guidance bar when it reports, but given its valuation, there will be some intense scrutiny on the "quality" of the results.
We'd expect Zillow to report Q4 revenues of $60M versus the $56M consensus and show some earnings upside due to better expense control. Whether that will be enough to please the overall market is hard to say. In terms of guidance, management has been consistent in saying that they are "continuing to invest" in building the footprint rather than maximize margins, so that shouldn't come as a surprise to anyone when they talk about 2014.
The current market environment leans toward a "risk-on" stance, particularly when there is a large potential market opportunity that demands heavy investment now but promises recurring and profitable levels down the road.
Beyond the Quarter
The bigger question for real investors in Zillow is the durability of its client base after the "investment mode" is over and it shifts into margin expansion. As the online real estate market has developed, it's become clear that Zillow is a great lead generator for the "buyer agent" who tends to help people find a home versus a "listing agent" who relies on having properties that other brokers will show and ultimately sell. Both sides of the equation effect a sale and both make a commission.
A key part of the growth story for Zillow is the "premium agent" that pays for leads using the platforms. Many agents don't like to admit the fact that the quality and size of the Zillow traffic means they almost need to be there if they don't have a well-established network of buyers and sellers already. So these premium agent subscriptions have been growing. In fact, this growth has accelerated during the last year from single digits QoQ to 15% QoQ growth for the quarter ended September 2013. If this number holds or increases, the stock is likely to work higher.
Real estate agents have so far been quite resistant to disintermediation and have protected their rather high fees with an effective tenacity. In the medium term, Zillow and similar services like Trulia (TRLA) are in a position to help them, at least with lead generation and getting listings more exposure. But at the same time, it will create the platform that might finally offer an effective way to buy and sell real estate without agents involved.
Finally, "marketplace revenue" has been expanding at a rapid rate. This is where Zillow users can shop for home-related products and services, including mortgages, insurance and remodeling.
We've built an IV model for Zillow that incorporates what is probably the best-case scenario for the company. For example are long-term revenue estimate of $600M for 2017 versus the current consensus of $481M. Using a 40x multiple, we get to an IV of $81 for 2014, which tells us the shares are fully valued based on what we know now.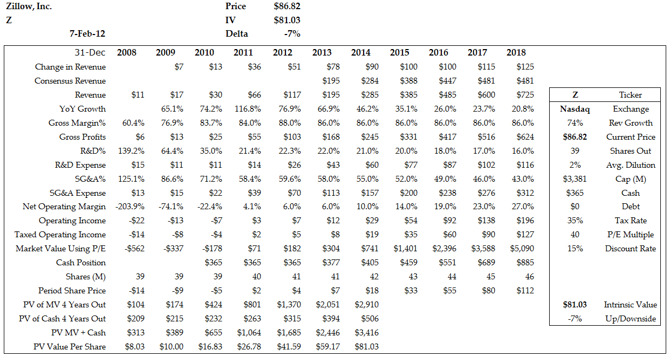 Stock Conclusion
We have been skeptical of Zillow given its high spending rates to achieve growth, but its market position is looking more unassailable as consumers find its site preferable to alternatives. Like it or not, real estate professionals will be forced to "go to where the buyers are looking" and use Zillow for lead generation. The same will probably occur for related service providers as well.
The high valuation makes it difficult to be aggressive at these prices, but it argues against being short this stock and does suggest a "buy on dips" approach as long as these strong fundamentals continue to hold up.
Disclosure: I have no positions in any stocks mentioned, and no plans to initiate any positions within the next 72 hours. I wrote this article myself, and it expresses my own opinions. I am not receiving compensation for it (other than from Seeking Alpha). I have no business relationship with any company whose stock is mentioned in this article.