A couple of weeks ago, I published an article titled These 4 Small-Cap Stocks Should Produce Big Gains In 2014. In that article I talked about WidePoint Corporation (NYSEMKT:WYY), a relatively unknown small-cap company that is headquartered in McLean, Virginia.
So what exactly does WidePoint do? The Company is a leading provider of secure, cloud-based, enterprise-wide solutions and other technology-based products to government and commercial markets. The Company operates in three segments: Communications Management, Cybersecurity Solutions, and Consulting Services and Products.
A Buying Opportunity Amidst Overreactions
On January 16, 2014, shares of WYY hit another 52-week high as shares climbed on above average volume. However, since then, shares started dropping like a rock losing more than 30% of its value. So what caused the sudden change in events? I have some thoughts on that as well as showing you why WYY is a great stock going forward.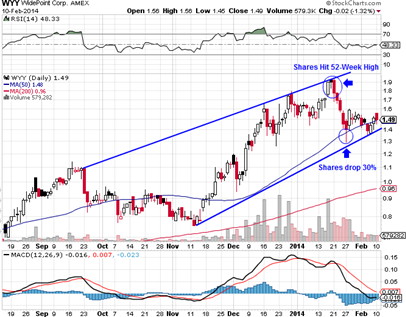 After publishing my article I had a lot of investors ask me what my thoughts were on WYY and if my thoughts had changed at all due to the sudden drop in share prices. My answer to them is that my thoughts have not changed at all with regards to WYY as nothing but positive news has come out for the Company. I believe the shakeout was due to a couple of things.
1) The markets were taking a beating - You've probably heard this quote around your house a time or two; "If mama ain't happy, ain't nobody happy!." The quote is pretty self explanatory and is shockingly accurate as most husbands and kids would attest. While this probably wasn't the greatest examples to use, I feel it does paint a picture of what the markets are like in a way.
If the markets are tumbling and are in a free-fall, then most stocks will likely follow. On the other hand, if the markets continue to surge and make new highs, most stocks will be making new highs as well.
Even though the markets produced one of the greatest returns for investors last year, this year has been quite the opposite as you can see in the graph below. This of course was one of the reasons why shares of WYY were sharply sold off during this time frame.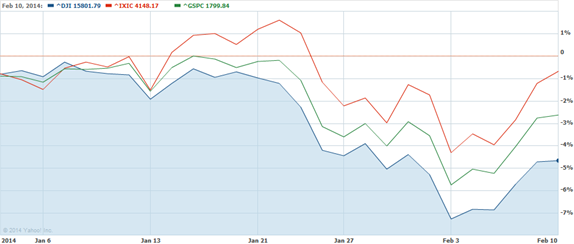 * Graph shows the markets performance since the start of the year
2) Profit taking after massive gains - Darn those profit takers! I'm sure many long term investors in WYY were thinking this after seeing shares drop 30% after witnessing shares hit a 52-week high just days before. The chart below shows WYY's great fall.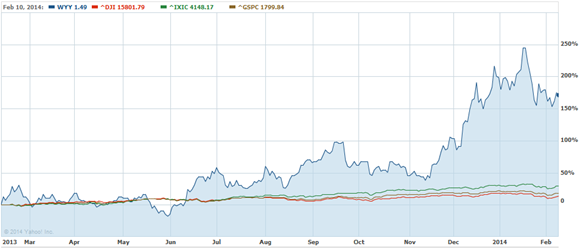 Like I said earlier, the markets last year had a run for the ages. Investors couldn't go wrong as stocks across the board rallied for one spectacular year. WYY was no different as shares were up more than 100% in just a two month span.
Surely you would expect a hefty amount of profit taking to take place as shares gave investors returns of more than 100%. This doesn't mean that shares won't be going higher in the near future though as I expect to see many of those same investors use their profits to increase their positions and holdings in WYY.
3) Confusion over WYY's $25M Shelf Offering - Last month WYY filed for a $25M mixed shelf offering. For those of you that are not familiar with this process, it simply allows companies to take advantage of the market conditions in the event that capital is needed to be raised. Let me explain.
Suppose XYZ company came across a situation that was too good to pass up. Because the Company was low on cash, it could not afford to take part in these opportunities. This is where offerings come into play, as companies raise cash by selling shares, etc. Depending on what the cash is being used for, shares can have a very positive or negative impact.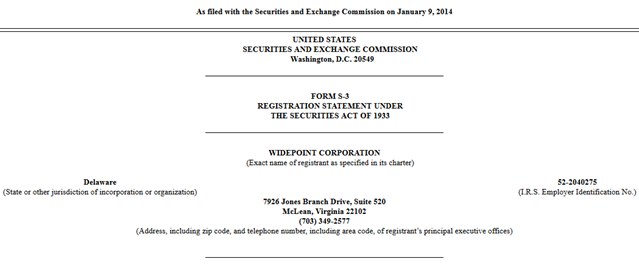 There has been a lot of confusion lately as to why WYY would file for such an offering. That is why I wanted to explain the process and help clear up some of the rumors and misinformation that is out there.
First and foremost, investors should know that just because a company files for a shelf offering does not mean they have to actually go through with it. Shelf offerings last for two years and if things don't work out, the Company can just let the offering expire.
One of the greatest advantages shelf offerings provide is that it allows companies to take advantage of the market conditions and gives them more flexibility about the timing of an offering. Suppose shares in a company surge over a period of time or spike after a big announcement. The Company at this time can use those catalysts to sell shares at higher prices so current investors are not as adversely affected.
While I have no idea what is behind the scenes or what the Company is going to do with the cash (if they actually end up using some or all of the offering), but you can bet the farm that they see something of significant value if they were to pull the trigger. As of right now, I do not expect WYY to use the offering right away and feel that investors should not be worried about this issue and to just ignore some of the noise that is out there.
New Products/Partnerships & Agreements (Contracts)
Over the last couple of months, WYY has been busy putting some nice pieces together. So without further ado, here is a recap of some of big announcements and what it means for the Company going forward.
Steven Komar, WidePoint CEO & Chairman talked about this agreement saying, "This agreement will allow us to demonstrate our managed mobility services on an international stage. As we continue to converge and build out an Enterprise-wide suite of solutions, including identity management and other mobile management solutions, this agreement should clearly show how our integrated managed mobility offerings can assist other organizations, both public and private."
New Products (IDaaS) 'Certificate-on-Chip' - On January 9, 2014 WYY introduced a very unique service. This service provides secure digital certificates to all types of mobile devices (e.g., smartphones, tablets, laptops, etc) in order to enhance the security assurance level of mobile transactions and access management to corporate networks, databases, and other IT assets.
According to the Gartner Group, the combined shipments of PCs, tablets, and mobile phones are projected to reach 2.48 billion units in 2014. Gartner further predicts that by 2017, half of all employers will require employees to bring their own device (BYOD), which will introduce a host of added potential vulnerabilities including:
1) The introduction of viruses or malware into the enterprise network
2) Employee access to, and handling of, sensitive data issues
3) Compliance issues with regulations related to accessing restricted proprietary data.
Whether a device is company-issued or BYOD, appropriate security measures will need to be implemented by organizations to address the risk of workforce mobility places upon an organization's technology and its infrastructure.
WidePoint's IDaaS "Certificate-on-Chip" service can mitigate all of these problems which allows organizations to create secure connections, keeping sensitive data in the right hands.
WidePoint Partners With Xceedium - On January 13, 2014, WYY announced that it has partnered up with Xceedium to offer an end to end certificate-authenticated VPN solution that monitors and records the activities of privileged users across hybrid cloud environment.

In layman's terms, this kind of protection has become necessary due to security breaches that has taken place over the last couple of years (NSA/Edward Snowden case). That Snowden case was the latest to show that there is still risk to privileged users and the damage they can cause without the appropriate controls in place. WYY's partnership with Xceedium will help protect those that have access to privileged information.

The CDC Agreement - On January 16, 2014, WYY announced that its wholly owned subsidiary, iSYS LLC (NASDAQ:ISYS), was awarded a contract with the Centers for Disease Control (NASDAQ:CDC) by the Federal Communications Commission (FCC). The contract has a one base-year period with four one-year option periods.
In just the last two weeks WYY has expanded its services with new and already existing clients to continue to develop partnerships as part of the Companies 2014 growth strategy. These latest additions extends WYY's reach into new distribution channels as they look to continue the growth of the Company.
The $600 Million Agreement - Perhaps the biggest agreement of all came on December 23, 2013, when WYY announced that the Department of Homeland Security selected the Company's wholly owned subsidiary, iSYS LLC, as the single awardee for Cellular Wireless Managed Services. The agreement is for one year and has four optional ordering periods. The total ceiling amount is $600M. Yes, you saw that right, $600M for a Company that is currently valued at just under 100M.
Steve Komar, CEO of WidePoint talked about the award saying that it has the potential to contribute roughly $75M in incremental revenues each year when fully rolled out. So how much money are we talking? Check out the table below.
| | | | | | | |
| --- | --- | --- | --- | --- | --- | --- |
|   | 2014 | 2015 | 2016 | 2017 | 2018 | Total |
| Revenues | $75M+ | $75M+ | $75M+ | $75M+ | $75M+ | =$375M |
| Share Price | $1.17* | $2.35* | $3.52* | $4.70* | $5.87* | $5.87* |
*Based on 63.8M shares outstanding
Looking at the numbers, I assume Komar has taken things such as expenses (R&D), taxes, etc., into consideration. That means that WYY, with a market capitalization of 94M, would have 80% of its value explained by one contract with Homeland Security this year. Meanwhile its software, patents, trademarks, existing contracts, etc., are currently being valued at just 20%.
Not only that, but WYY currently provides services for many other clients through existing agreements. It's been reported that the Company has $175M worth of contracted capitalization potential under those terms.
It's no wonder why the Company was upgraded to a Buy from a Hold at Craig-Hallum. The new price target for shares of WYY was raised to $2.40 from $1.00. With shares closing the day at $1.49, this represents upside of more than 60%.
Conclusion
Over the last couple of months there has been many security breaches all over the world. Some of the latest happened during the biggest shopping season of the year. Target (NYSE:TGT), Neiman Marcus and many more retailers have been affected.
Last month, Target reported that criminals had gained access to 40 million shoppers' credit- and debit-card information. Then just a couple of weeks ago, Target announced that the data breach was worse than expected, affecting close to 70 million customers.
Cyber criminals now make up a billion dollar industry. Clearly with the world transitioning into the digital and online world, things will most likely just get worse. This is why Cybersecurity will skyrocket over the years and WYY is poised to gain from it.
In just the last couple of months, there has been several mergers and acquisitions in the industry (FireEye (NASDAQ:FEYE) acquiring Mandiant), with several more possibly on the way as consolidation continues to take place.
I feel that shares of WYY are a good pick up at this point and gives investors a great reward to risk ratio. I believe the $2.40 price target is pretty conservative from Craig-Hallum and feel that shares could head closer to $3 a share in 2014, representing a return of 100% for investors. Now who wouldn't want a return like that?
Think about it for a moment. WYY's total market capitalization is currently sitting just under 100M. With the Company receiving $75M a year for one of its contracts, not to mention the other contracts they already have in place and in the works, the Company is undoubtedly undervalued in my opinion.
On top of that, WidePoint trades cheaply compared to its peers despite a string of solid contract wins and partnerships among other things. With several looming catalysts this year, there is plenty of room for shares to soar this year.
I strongly believe that investors will be rewarded over time and should take advantage of this great opportunity as shares are still highly undervalued. In my opinion, the rewards greatly outweigh any risks at this point in time.
As always, I'm providing you with my track record and other particular stocks that I recommend. The link provided will show you all of my picks, how they have fared, and where I think they will be going in the near future. I think you will find my track record to be very impressive as well as useful.
Disclaimer: Investors are always reminded that before making any investment, you should do your own proper diligence on any stock mentioned in this article. Have a great day and as always, I look forward to hearing your thoughts or questions that you might have.
Disclosure: I am long WYY. I wrote this article myself, and it expresses my own opinions. I am not receiving compensation for it (other than from Seeking Alpha). I have no business relationship with any company whose stock is mentioned in this article.