Metalico, Inc. (NYSEMKT:MEA) is a metals recycling company. It processes metals such as molybdenum, lead, tungsten, aluminum, precious metals, and even catalytic converters from automobiles. This company has recently announced some good news and the stock began to trend significantly higher. However, a stock market pullback has given investors another chance to buy at lower prices. Metalico shares remain in an uptrend but the stock is now at a very attractive level which I call the "buy zone". Furthermore, investors have seen many industries rebound from the financial crisis lows, and have seen huge moves in plenty of stocks. That means there are not many opportunities left to capitalize on "turnarounds" which can be so financially rewarding. However, a historical and current review of this company and the metals recycling industry shows there are multiple signs of a looming earnings and share price rebound.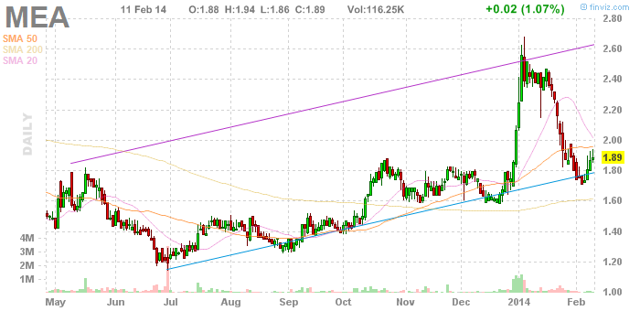 As the chart above shows, this stock is in a major and very solid uptrend which started in July of 2013. Buying shares whenever the stock has traded at the low end of the trading range has rewarded investors for the past several months. After a recent surge to about $2.68 per share on good news, the stock is now trading right near the blue uptrend line (a key support level), which is why it is in the "buy zone". While the recent stock market decline has temporarily taken investors focus off of the good news coming out of Metalico, it may not be long before this stock resumes its uptrend. I expect the stock to rebound back above $2 very soon and then work its way even higher. Based on the past "up-cycles" this company and its industry have seen, it would not be surprising for this stock to be a "multi-bagger" in the next couple of years. Let's take a closer look at some of the very positive news that can continue to drive this stock higher:
In late November, Metalico announced that it signed a refinancing deal worth $125 million. It also retired $37 million worth of convertible notes which is very important since this means the notes will not be converted into stock. The company CEO, Carlos E. Aguero stated:
"We are very pleased with the completion of the refinancing well ahead of our pending debt maturities, and the flexible terms of the new agreement. This will allow us to continue our growth strategy as we focus on improving and sustaining cash flow, pursuing acquisition opportunities and enhancing long-term value for our shareholders.

"This financing not only demonstrates the confidence our new lenders have in our business franchise, but also further strengthens our balance sheet and restores our reported working capital as our senior debt is now classified as long-term. We accomplished this without any dilution in equity."
The other good news came from Metalico in late December when it announced it would acquire the assets of Furlow's North East Auto, Inc., which includes junk cars, auto parts and real estate located in Pennsylvania. Metalico plans to grow this business and also use it to strategically feed scrap metal from salvaged cars to the shredder facility it owns in Buffalo, New York. This acquisition appears to provide Metalico with additional growth and profit potential and it also offers synergy with its shredder operations.
Metalico shares appear undervalued when considering a few factors. For example, it is trading below book value which is $3.13 per share. This company has well over $500 million in annual revenues which is equivalent to over $11 per share (on a revenue per share basis). This puts the price to sales ratio at around 5.5 times which could indicate significant upside potential. This will depend on profit margins which now appear poised to expand. Metalico has been recently reporting improved financial results. This is due in part to rising revenues, and higher metals prices, as well as expense reductions. For the third quarter of 2013, the company reported adjusted net income of $938,000 or 2 cents per share. This is a significant improvement over the $2.7 million or 6 cent per share loss it reported in the second quarter of 2013.
With the company now reporting profits as the economy recovers and as metals prices improve, the potential downside risks are greatly reduced. The upside of buying a potential turnaround stock just as the business cycle is turning, can be significant. Metalico has been profitable in most of the years, since 2003. In 2006, it earned 45 cents per share. In 2007, it earned 53 cents per share. This stock even traded for about $17 per share in 2008, as metal prices surged before the financial crisis began. It is important to see what a company has earned in the past and if it was typically profitable. In both cases, Metalico looks solid and so does the management team.
The CEO, Carlos E. Aguero, has made open market purchases of stock in the past and he owns a very significant amount of stock in Metalico. According to the latest data, he owns over 5.5 million shares which is a stake worth many millions of dollars. When management owns a significant stake, this often means their interests are aligned with those of their shareholders. With millions of shares owned, there is probably nobody with more motivation than the CEO, to get this company earning big profits again.
The CEO appears to be making the right moves on many fronts, from the recent refinancing and convertible note deal, to strategic acquisitions and expense reductions. With the economy improving and scrap metal prices rising significantly, the likelihood of a major turnaround in profits (and the share price) is growing. A recent article from Timesunion.com dated January 11, 2014, confirms that scrap metal prices are strong now and should continue to trend even higher as we get further into 2014. For example, a ton of scrap steel is now worth about $100 per ton more, (or about 30% more) than it was worth just a year ago. That could make a very big difference in profit margins for companies like Metalico. The article states:
The scrap market should further strengthen this year, said Joe Pickard, chief economist and director of commodities for the Institute of Scrap Recycling Industries, a Washington, D.C.-based trade group that represents about 1,600 scrap companies around the world.
"We are seeing a rebalancing of the U.S. economy. Some parts, like construction and automobiles, are doing better, and there is a lot of pent-up demand. All these things could translate into better market conditions this year," Pickard said.
In summary, Metalico shares appear very undervalued, especially after the recent pullback. This company has a history of producing solid profits in most years and management has been making the right moves. Potential downside risks are fading with the recent refinancing deal and a profitable third quarter. With the price of scrap metals rising, it might be just a matter of time before this company is once again reporting the kind of earnings that can support a much higher share price. The stars seem to be aligning for this stock, especially now that scrap metals prices are rising. In the short-term, I believe this stock is poised to re-test recent highs of about $2.68, as the stock market stabilizes from the decline it has experienced. Longer-term, the potential is much larger and dependent of the level of profitability this company achieves. If it earns around 50 cents per share (as it has in the past), this stock would seem more reasonably valued at about $5 to $6 per share (based on a PE ratio of 10 to 12). That would give investors who buy for around $2 now, very significant potential gains.
Here are some key points for Metalico:
Current share price: $1.94
The 52 week range is $1.15 to $2.68
Annual dividend: n/a
Data is sourced from Yahoo Finance. No guarantees or representations
are made. Hawkinvest is not a registered investment advisor and does
not provide specific investment advice. The information is for
informational purposes only. You should always consult a financial
advisor.
Disclosure: I am long MEA. I wrote this article myself, and it expresses my own opinions. I am not receiving compensation for it (other than from Seeking Alpha). I have no business relationship with any company whose stock is mentioned in this article.