By Brad Zigler
Inventory figures released by the US Energy Department this morning showed crude oil stocks increased by 1.9 million barrels from the previous week.
Crude oil prices were lifted overnight on the heels of a 2.0 percent Tuesday sell-off. Traders apparently paid more attention to analysts' expectations of an 800,000- to 1.0-million-barrel inventory build versus a call for a 5.3-million-barrel surge by the American Petroleum Institute.
This week's API estimate for a 658,000-barrel drawdown in gasoline stocks was closer to the mark. Supplies fell 1.2 million barrels, according to the government. The Street had expected inventories to rise between 600,000 and 800,000 barrels.
Analysts won the derby on distillate stocks, though. The API's call for a 1.4-million-barrel decline was squarely at odds with Oil Patch watchers' forecast of a 1.2-million- to 1.4-million-barrel build. Definitive figures from the Energy Department revealed a 2.9-million-barrel spike in supplies.
No one called refinery usage correctly. The API estimated a decline to an 84.7 percent utilization rate, while Wall Streeters figured usage would remain flat at 85.9 percent. Actual utilization jumped to 89.0 percent.
Most of the increased refinery usage went into cranking out middle distillates. Gasoline production decreased to an average 9.2 million barrels per day, while distillate fuel production increased to 4.2 million barrels daily.
According to the Energy Department, gasoline demand averaged 9.2 million barrels per day, up 3.1 percent from year-ago levels, while daily average distillate fuel demand, at 3.6 million barrels, rose by 1.5 percent.
Trading Week
Crude oil inventories at the Cushing, Okla., delivery point for NYMEX futures rose to 34.6 million barrels, approaching the record-high 35.6-million-barrel storage reported in December 2009. Over the past four weeks, Cushing stocks of West Texas Intermediate crude have built up by 3.4 million barrels, or 10.8 percent.
Ballooning stocks in the US market have also widened the NYMEX contango to levels not seen since April 2009. The average three-month roll jumped from $3.31 a barrel to $4.33 this week.
For the week ending Tuesday, crude oil prices were off 1.2 percent, while gasoline prices climbed 1.7 percent. Heating oil was the week's standout, however, jumping 3.3 percent.
The drop in input costs improved crack spreads, most especially for distillate-heavy refinery runs. Refining margins improved to 17.4 percent for 2-1-1 operations, narrowing the discount to gasoline-rich springtime runs. As of Tuesday, 3-2-1 refiners were earning a gross margin of 17.9 percent.
Average daily volume for NYMEX crude fell more than 52,000 contracts, or 7.9 percent, to 714,100 contracts, while open interest climbed 2.3 percent to 1.387 million contracts.
Swelling inventories continued to pressure WTI prices, causing a steepening of the US benchmark's discount to heavier North Sea Brent crude. This week, the European standard grade commanded an average $1.53-per-barrel premium over WTI vs. $1.40 last week.
NYMEX Nearby Crude Oil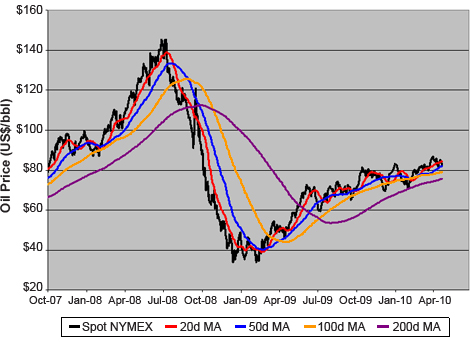 Technical signals, including the RSI, MACD and stochastics indicators, have turned bearish for the near term. Still, the longer-term bull move in crude oil prices remains intact as spot prices continue to struggle to retrace the 2008-09 decline. A move above the $90.40 level would put spot prices halfway there.
In the more immediate future, a break below the $81.70 level would greatly boost bearish confidence. If prices dipped below $77, the outlook for the 14-month uptrend would cloud considerably.
Disclosure: No positions