Executive summary:
UBS survey finds many Amazon Prime members would not renew if prices are increased.
Amazon has little pricing power, which will keep margins constrained.
Amazon is more like an online Wal-Mart than online Costco.
Shares are pricing in a decade of growth and should be sold here.
_________________________________
Value oriented investors have been flummoxed for years over Amazon.com's (NASDAQ:AMZN) performance. Over the past five years, shares continue to rally even as the company fails to earn much money with EPS continually coming in around the flat-line. The company has de-emphasized earnings and said it continues to invest in capacity and logistics to facilitate further revenue growth. When it has completed its investment cycle, earnings will materialize it argues. We've been told that story for years, and earnings have still yet to show appreciable growth, which leaves some investors wondering when this investment cycle will end.
It has been said that earnings don't matter until they do. If that is indeed the case, Amazon will someday face a much more skeptical investing audience. Many bulls have argued that once Amazon takes enough share from brick and mortar retailers, it will be able to raise prices. This action will be fantastic for margins and will quickly grow earnings. The argument goes that Amazon should operate near the flat-line today to gain share and put some retailers out of business, and then raise prices to grow profits once its foothold in the retail sector is fully secure. This thesis became much more uncertain after a UBS (NYSE:UBS) research report downgrading the company to neutral, which has sent shares down 2% (summary available here).
Like Wal-Mart (NYSE:WMT), Amazon basically serves as a distribution channel and has very little proprietary merchandise apart from the Kindle. To build greater loyalty, the company has developed Amazon Prime, which gives users free shipping and access to a streaming library. The offer is currently very inexpensive at $79 per year, so for customers who make several purchases a year on Amazon, it is a great deal. In fact, 94% of users plan on renewing at the current price, which is reflective of its value proposition.
Now, Amazon has been floating the idea of raising prices on Amazon Prime by $20-$40. Unfortunately, according to the UBS survey, consumers would flee the service. Only 58% would renew at $99 and only 24% would renew at $40. This means that Prime revenue would actually fall 27% after a $20 increase and 64% after a $40 increase. As much of the content expenses are fixed, a price increase would make Prime more of a profit drag. Many investors have compared Amazon Prime fees to Coscto (NASDAQ:COST) membership fees, but Costco has been able to pass on increases without seeing mass member exodus because it offers unique, high-quality products in bulk at extremely low prices with margins that are half of Wal-Mart's.
Unfortunately for investors, this survey shows once again that Amazon is more like an online Wal-Mart than an online Costco, and it cannot pass on price increases to its most loyal customers. Given that, it is highly unlikely that the company will be able to mark-up much of the merchandise it sells in the medium-term. Simply put, Amazon has very little pricing pressure as it functions as a distribution channel with minimal value-addition. The company maintains gross margins of 27.2%, which if you normalized for its cloud business and Sam's Club would be very similar to Wal-Mart's 24.9%. Costco has been able to charge higher membership fees because its gross margins are a much smaller 12.7%.
Amazon is essentially operating a discount retailer online, and as a consequence, it has little pricing power. The UBS report shows the company cannot increase the price of Amazon Prime, which is a service for its most loyal customers. If it cannot raise prices for its most loyal customers, it will never be capable of appreciably raising prices on regular products, which will keep the company operating with razor-thin margins and decelerating revenue growth. In the best case scenario, Amazon continues to grow revenue double-digits and slowly move profit margins to Wal-Mart's level. In this case, Amazon could earn about $24 dollars in a decade.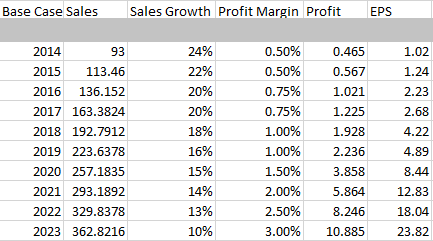 At a 15x multiple, Amazon shares would be worth about $355 in a decade or where they are trading today. Basically, shares are fully pricing in ten years of growth, which would suggest fair value is a bit below $200. Even if investors assumed a 20x multiple in 2023, the projected 10 year annual return would only be 3%. With minimal pricing power as further evidenced by UBS' Amazon Prime research, Amazon will struggle to grow profit margins and will fail to grow earnings as quickly as optimistic investors hope. Shares remain a must-sell at current levels. UBS should have downgraded sales from buy to sell rather than merely buy to neutral.
Disclosure: I have no positions in any stocks mentioned, and no plans to initiate any positions within the next 72 hours. I wrote this article myself, and it expresses my own opinions. I am not receiving compensation for it (other than from Seeking Alpha). I have no business relationship with any company whose stock is mentioned in this article.