A report emerged yesterday from gforgames that the next iPhone is unlikely to feature a sapphire screen because it would lead to skyrocketing iPhone prices. I have no problem with speculation on whether sapphire displays will or won't appear on Apple's (NASDAQ:AAPL) next iPhone. I do have a problem when the reason given makes zero dollars and cents. The reason given by gforgames for sapphire's exclusion from the next iPhone is because of price: "Fitting a sapphire screen on the next iPhone would make its price skyrocket." Additional details provided by gforgames are listed below:
According to Chinese media sources (which are citing 'Taiwan supply chain insiders'), Apple has put a lot of effort into fitting the next iPhone with a sapphire screen. These sources claim that 'beta' iPhone units (read: some of the prototypes Apple is currently testing) are already sporting sapphire protected panels, but unfortunately, chances are that they will not make it on the final product.

The problem is not necessarily due to low yield (which still is a problem, at least until Apple's Arizon plant will be fully operational), but mainly because fitting a sapphire screen on the next iPhone would make its price skyrocket.

Fortunately though, the same sources also say that Apple will manage to fit sapphire screens on the rumored iWatch. The smartwatch is said to feature a 2-inch panel, and evidently, the production costs would be much lower.
I'll get into the price debate in a bit, but I want to paint a picture of the competitive landscape Apple is currently in within the smartphone market. The IDC released their final tally of 2013 smartphone sales worldwide on Jan. 27, right after Apple closed the books on their December 2013 ending quarter. Smartphone sales worldwide grew from 725m in 2012 to 1,004m in 2013 representing a year-over-year increase of 38.4%. In Q4 2013, Apple set a quarterly record for iPhone sales with 51m units sold. Things must be going well for Apple, right? Well, the truthful answer is yes and no.
In 2013 smartphone unit sales grew 38.4% YOY vs. 2012. Apple sales grew only 12.9% (25.5% lower growth than the industry trend). If you want to use the excuse that Apple has a bigger base and that growing the percentage is more difficult, I might buy that. So I dug into unit sales increase YOY from 2012 to 2013 by manufacturer. Out of the top five smartphone manufacturers, all of them beat Apple in terms of unit growth and percentage growth in 2013 compared to 2012. LG even exceeded Apple's sales growth, and I only thought they made TVs, washers and dryers. Needless to say, based on this information Apple needs to change things up on its upcoming iPhone 6, because almost everyone is exceeding the industry growth rate besides Apple. The two charts below were pulled from the IDC.
Click to enlarge images.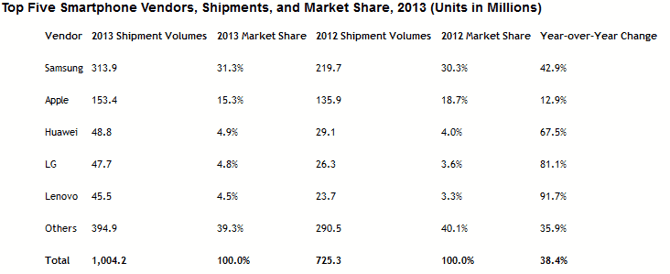 The unit growth story was not a good one for Apple in 2013. However, if you look at the gross profit generated from mobile phone sales, Apple eats the biggest piece of the pie, in excess of 50% of the overall gross profits. AppleInsider provided a terrific breakdown of the mobile market profit shares. In Q3 2013, Apple captured a 56% share of total profits, Samsung 53% and all other manufacturers had a collective loss of 9%. What is even more interesting is that Apple's margin in 2013 was hovering around 34%, while Samsung was only around 20%. Even though Samsung sold double the number of iPhones in 2013 (314m to 153m), Apple still earned the largest share of industry profits. The chart below was pulled from AppleInsider.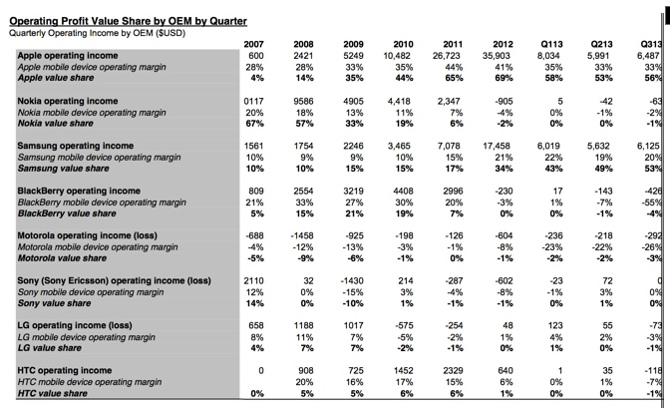 So let's get back to the potential for skyrocketing iPhone 6 prices that will occur because of the addition of sapphire displays. I've taken Apple's 2013 unit volume sales, along with gross margin, to calculate a gross profit for iPhone sales. Next to the 2013 actual sales, I modeled Apple's financial numbers if they actually grew at the industry growth rate of 38.4% vs. 12.9% in 2013 (see the chart I created below). Next to each industry growth rate, I have added three sapphire price increase models ranging from $10 to $30 extra per screen. As you can see from the details below, even with sapphire screens potentially adding $30 to the cost of the iPhone, Apple still would have generated $1.7B of additional gross profits had they met the industry growth rate in 2013.

In my previous article, I defined how Apple's sapphire supplier GT Advanced (GTAT) has reduced the cost of sapphire displays to $3-$5 per screen. The exact cost of the sapphire displays is only known by GT, but needless to say, the cost will be no where near $30 extra per screen. Even if it was $30 extra, the additional cost can be easily absorbed through higher iPhone sales. I am not assuming sapphire alone will drive Apple's annual sales growth up to the industry average, but I believe sapphire will allow Apple to add some very "cool stuff" under a nearly indestructible sapphire cover screen.
If Apple can leverage sapphire displays through their creative marketing and innovative technology to just meet the industry smartphone growth rate, the added cost for sapphire screens will more than pay for themselves, while shareholders cheer everywhere.
Disclosure: I am long GTAT. I have no plans to initiate a new position or sell an existing position within the next 72 hours. I wrote this article myself, and it expresses my own opinions. I am not receiving compensation for it (other than from Seeking Alpha). I have no business relationship with any company whose stock is mentioned in this article.