Investors looking for value amidst the latest emerging market sell-off may be somewhat disappointed after taking a closer look at yields offered by the asset class. Surely, after two and a half years of painful underperformance, emerging market stocks should be cheap. On some metrics they may be. But on one tangible metric, dividend yields, the emerging market asset class hardly looks compelling, especially considering the headwinds going into 2014.
Major ETFs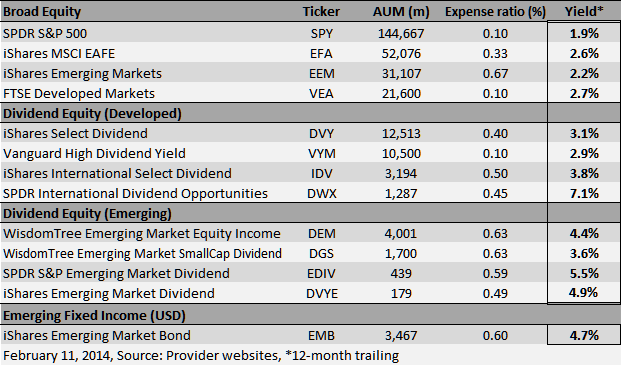 A look at the 12-month trailing yields of some major funds shows the following;
International ETFs offer the highest yields among broad equity
The cap-weighted emerging market asset class represented by iShares MSCI Emerging Markets (NYSEARCA:EEM) currently offers a higher trailing yield (2.2%) than the US market ETF benchmark, SPDR S&P 500 (SPY), but a lower yield than the largest non-US developed market ETFs, iShares MSCI EAFE (NYSEARCA:EFA) and Vanguard FTSE Developed Markets (NYSEARCA:VEA), which paid out 2.6%-2.7% over the past 12 months.
Higher yields for dividend-focused EM ETFs
Select dividend-focused emerging market ETFs show higher yields compared to developed market dividend products. Trailing yields for emerging markets funds like WisdomTree Emerging Markets Equity Income (NYSEARCA:DEM) range from 4%-5%, compared to 3%-4% for developed market dividend funds like iShares International Select Dividend (BATS:IDV). This shouldn't be too much of a surprise given the funds have even underperformed the benchmark, EEM in the last 12 months.
Interestingly, USD-denominated emerging market debt yields a similar amount as emerging market equity dividend funds, and well above the 1%-2% yields for similar USD or Euro-denominated debt.
One outlier on the table is the SPDR S&P International Dividend (NYSEARCA:DWX) fund, which yielded over 7%. DWX has exposure to developed markets and a small percentage of emerging market exposure. The fund is particularly exposed to Australia (23% of holdings) which is a market that, to a large extent, is driven by demand from developing countries like China.
The question one must answer is whether the emerging market equity ETF yields appropriately reflect risks and economic headwinds facing emerging markets. Clearly, 2014 has not gotten off to a good start.
Headwinds for EMs
For US dollar-based investors, international exposure currency is consideration number one. Over the past few months, many currencies across the emerging market spectrum have declined relative to the USD - some like the Brazilian Real and the South African Rand significantly.
12-Month currency performance relative to USD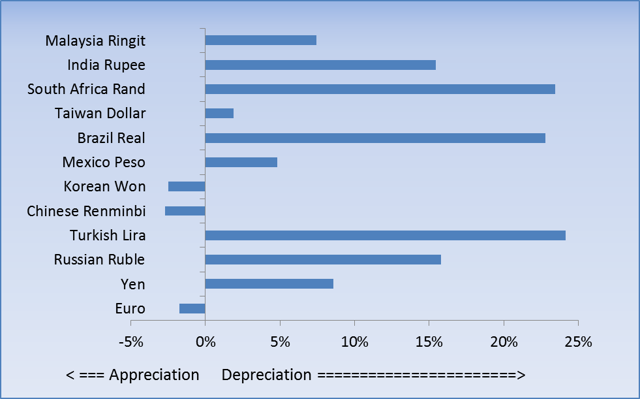 Source: Bloomberg, February 12, 2014
The major exceptions have been the Chinese Renminbi and South Korean Won.
Assuming dividends stay flat in local currency terms and currencies just stabilize, investors can assume dividend payouts will decline in USD terms to reflect the broad emerging market currency weakness.
Weaker currencies will improve the competitiveness of exports from emerging markets, but with China slowing and developed markets in a prolonged low-growth mode, weak global demand will remain a challenge for exporters. One other point worth contemplating is the impact robotics will have on developing economies. Louis-Vincent Gave articulated this long-term risk in Too Different for Comfort, which highlights how advances in robotics may displace cheap labor - traditionally a big competitive advantage for emerging markets.
Rising interest rates are a problem
A second more immediate problem for emerging markets is higher interest rates, including in China. Believe it or not, most emerging markets have had rates sit at historically low levels for the last several years. Higher interest rates, should they persist, will place real pressure on economic growth.
Finally, political risks have surfaced throughout many EMs. Voters in six large emerging markets - Brazil, Colombia, India, Indonesia, South Africa, and Turkey - will go to the polls in 2014. Incumbent parties have ruled for a decade or more in all these countries and populist policymaking is likely to prevail, delaying substantive reform of pensions, privatization, labor markets, and taxation.
Interestingly the political-economic risk outlook in developed markets appears more benign compared to recent years. Politics in the US is getting less contentious, while Europe continues to muddle along. Japan looks the biggest wild-card given its tensions with China and PM Abe's great inflation experiment reaching its second year.
Share buy-backs are rare in emerging markets
Another headwind related to shareholder returns worth highlighting is the equitization of the asset class, which is in contrast to the de-equitization of developed markets. Emerging market companies rarely buy back shares, while in developed markets it is the norm. As a result, the asset class struggles to attract a seemingly finite shareholder audience for a growing amount of new issuance, or shares outstanding, a point illustrated in my earlier report.
Why we should look at yields
Admittedly, trailing yields are a backward indicator. Yield data, however, can provide a useful and tangible reference point for both valuation and where payouts may be in the near future. Understandably for many emerging market investors, growth has taken priority over dividends. Yet, many emerging market companies have "emerged" and are mature. Companies operating in natural resource segments like energy and materials face slowing output and demand. Technology and telecommunication sectors are mature, while industrial manufacturers compete on a similar playing field as their developed market peers. Financial services, the largest emerging market sector, have scope to grow in terms of penetration, but the easy growth is gone and the sector faces imminent growth challenges, especially relating to funding.
Conclusion
After considering the emerging market "value" proposition post the latest sell-off, it is still hard to get excited about the broad asset class as it is constructed currently. Investors seeking international diversification may want to consider international equities, where yields are comparable and risks lower.
Disclosure: I have no positions in any stocks mentioned, and no plans to initiate any positions within the next 72 hours. I wrote this article myself, and it expresses my own opinions. I am not receiving compensation for it (other than from Seeking Alpha). I have no business relationship with any company whose stock is mentioned in this article.