Yes, I know that you may be hesitant to buy Continental European stock market exposure, given the travails of the eurozone since 2008. And you would be right to object that the Euro zone sovereign crisis has by no means been definitively solved, with debt loads of countries such as Portugal, Spain and Italy still pretty enormous.
This is all true, I wouldn't dream of denying any of these facts. But hey, if you are to look at sovereign debt mountains, then you wouldn't invest a single penny in the US, Japan or the dear old UK! The final exit from the sovereign debt mountains amassed both before and during the last financial crisis will take a very long time for the respective governments to unwind, as noted by the economists Rogoff and Reinhardt in their seminal tome "This Time is Different" (although there have been some subsequent issues raised concerning their calculations).
What I would argue is that there are a number of green shoots poking through for the eurozone economy, which should be a harbinger of better days ahead. Added to this, I am a firm believer that the European Central Bank (the ECB for short) will need to stimulate the eurozone further in the months ahead, which should be unabashed good news for the European stock market. And you have a chance today to buy into relatively cheap European stocks before the ECB unleashes one of their economy-boosting "big bazookas".
Euro Confidence Is On the Up
Whether you look at leading economic indicators or economic sentiment indices like the Sentix economic confidence index highlighted below (Figure 1), the improving macro trend is clear:
1. Sentix Confidence Index Is Heading Back to the 2011 High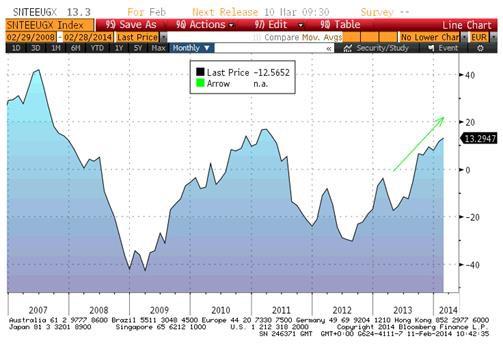 Source: Bloomberg
Secondly, it is clear that the bond market is giving peripheral economies like Spain, Italy, Ireland and Portugal the thumbs-up for the efforts at erasing budget deficits (the difference between what a government earns in taxes and other revenues, and what it spends) and thus stabilizing their debt loads. Figure 2 illustrates that the extra yield you can earn for holding Portuguese 10-year government bonds over their German counterparts has shrunk steadily over the last couple of years, to stand at only a 3.3% yield premium today:
2. A Narrowing Portuguese-German Bond Spread Underlines Improving Bond Investor Confidence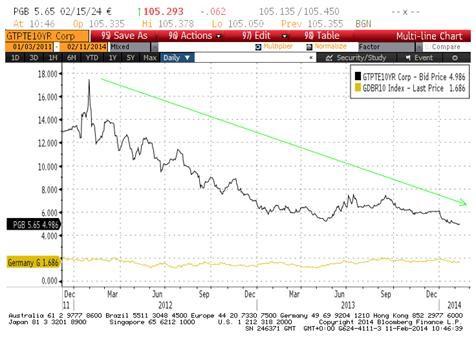 Source: Bloomberg
And Euro Company Earnings Are Growing At Double-Digits
From a company-level point of view, this improving confidence and stronger underlying economic growth is translating into relatively strong earnings growth of 18% for 2013 versus 2012, and another 15% forecast for end-2014 versus 2013 (Figure 3):
3. Euro Company Earnings Per Share On The Increase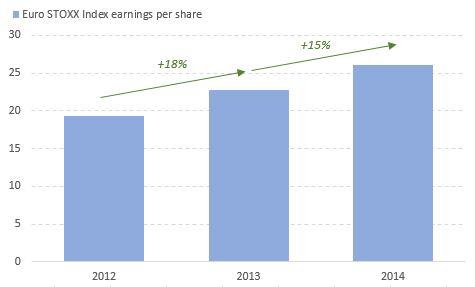 Source: Author, Bloomberg
What is more, you are not paying a lot for this earnings growth profile, with the Euro STOXX index valued at a 12.0x 2014 P/E ratio, additionally offering a forward dividend yield of 3.8%. Far cheaper than the equivalent valuation metrics for the US stock market, for instance, with the S&P 500 index standing at a 13.8x 2014 P/E and offering only a 2.3% dividend yield.
The Catalyst: ECB Action, And Soon...
There are a number of reasons why the European Central Bank will need to act soon to add stimulus to support the eurozone economy, even if they did a whole lot of nothing at their last ECB Council meeting on February 6.
Firstly, the bond market is pointing to ever-lower expected long-term inflation - according to German sovereign bond break-evens (essentially comparing the yield difference between nominal and inflation-protected German bunds), long-term future German inflation is being priced at only 0.8% (Figure 4). This is uncomfortably close to deflation for the liking of the ECB, and deflation would be an economic catastrophe for Europe - just look at the Japanese experience of the 1990s and 2000s...
4. Expected Long-Term German Inflation Still Sinking Lower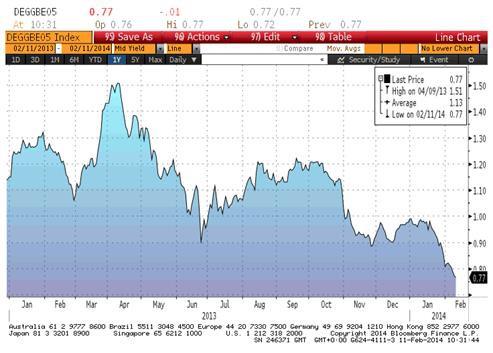 Source: Bloomberg
On top of that, Euro bank lending to corporates continues to fall (Figure 5), pointing to the unwillingness of banks to lend and the unwillingness of companies to borrow money for investment purposes. This negative credit growth is acting as a brake on the Euro economy, as is happening despite the best efforts of the ECB to inject cheap funds into the banking system with their two rounds of Long-Term Refinancing Operations (LTROs).
5. Euro Bank Lending to Corporates Continues to Decline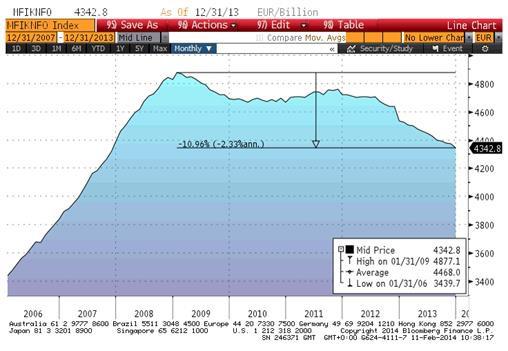 Source: Bloomberg
Don't forget that this unwillingness of banks to lend to companies is to a large extent due to the massive pressures on bank capital being exerted by various regional and local banking regulators, forcing banks to reduce the size of their balance sheets to meet new capital rules. One way to do this is simply not to lend to companies! Unfortunately, this also creates a sizeable drag on the overall economy, which is an undesirable side-effect...
With all this in mind, I believe that the ECB will attempt once again to help out the Euro economy while governments and banks are trying to clean up their acts. However, recall that the main ECB refinancing rate is already at 0.25%, so there is not much that the ECB can do with regard to classic interest-rate policy. Instead, the ECB is likely to put in place further "unconventional monetary policy" such as another LTRO, or perhaps even some form of Quantitative Easing à la US Federal Reserve and Bank of England. This firing of an ECB "big bazooka" could even come as soon as March 6, when the ECB Council is next due to meet.
The Best Ways To Invest Ahead of the ECB
There are a number of ways to invest in Continental European exposure before the ECB acts: you could sell the euro (against the US dollar, for instance), as any such ECB action is likely to weaken the euro. You could also decide to invest in peripheral government bonds (such as Portuguese, Spanish or Italian bonds). The problem here is it is late in this particular game, as their bond yields have already declined a lot.
I would suggest that the best way is simply to invest in eurozone stock markets via low-cost funds, of which there is a wide selection available in US-listed securities. Here are three that I particularly like:
1. The European Equity Fund Inc. (NYSE:EEA): This closed-end fund is run by European fund behemoth, Deutsche and Wealth Management, has outperformed the EuroSTOXX index by 18% cumulatively since the end of 2008, and currently trades at a near-11% discount to its net asset value. It, however, also carries a fairly hefty 1.79% expense ratio.
2. The Wisdomtree Europe SmallCap Dividend Fund (NYSEARCA:DFE): I think that one of the best ways to benefit from the resurgence in the eurozone economy is via small-cap stocks, which are typically more domestically-focused than their large-cap counterparts, which tend to be more globally-exposed. This low-cost ETF (0.58% expense ratio) is a cheap way to buy this exposure, while also collecting a 2.3% net yield. Interestingly, this ETF is within a whisker of its all-time high.
3. The Wisdomtree Europe Hedged Equity Fund (NYSEARCA:HEDJ): If you are worried about losing out from depreciation of the euro against the US dollar, then this ETF is the one for you, as it provides exposure to European stocks while neutralizing currency risk relative to the US dollar. It also carries a 0.58% expense ratio.
Full disclosure: The author has invested in UK-listed European stock market ETFs in his personal pension.
Disclosure: I have no positions in any stocks mentioned, and no plans to initiate any positions within the next 72 hours. I wrote this article myself, and it expresses my own opinions. I am not receiving compensation for it (other than from Seeking Alpha). I have no business relationship with any company whose stock is mentioned in this article.