I feel based on my typical family experience that Netflix could double in revenue with no additional services and quadruple if they added some premium services. Therefore I feel it is undervalued at this time.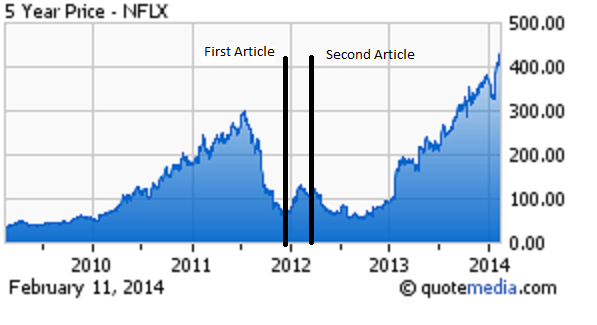 Over the years I have written articles and posts about Netflix NFLX. Starting in December 2011 when the stock was at 72.62 a share I wrote an article stating that Reed Hastings was correct in splitting his services. That article generated 53 comments stating that I was delusional or crazy. There was no way that the stock would survive according to the Seeking Alpha comments.
You are deluding yourself. The streaming business cannot presently survive on its own and either needs the cash flow of the dvd business or will have so issue millions of more shares in the streaming business to fund its expansion costs and skyrocketing streaming content costs obligations.
I was prompted again three months later in March 2011 when the stock was at 113 a share up over 40 points to write my second article Netflix Continues to Rise. This article also generated numerous negative comments. Apparently I was not deluding myself as Andrew Shapiro was stating.
Reed Hastings is way over his head...he is buying programs that TV viewers will end up watching for lack of quality movies...the vultures are circling.
So now it is 2014 and I hope both Mr. Shapiro and Beachtrader both still feel the same way about Netflix which is now trading near a 52 week high at 430 a share.
Why did people have so little faith in Netflix? Why did everybody think I was crazy to believe Netflix was a great investment? I have to believe it is a form of Marketing Myopia. Marketing Myopia refers to the belief that the current paradigm will be forever and people cannot make the leap to the new reality. It is the buggy whip manufacturer not switching to another product. The Netflix doubters cannot believe that the traditional DVD/Blu-Ray market is in full collapse.
As proof the top 100 DVD and Blu-Ray tiles in 2013 sold 2.6 billion dollars worth on 139 million units. Which seems pretty impressive. Impressive until you look at 2012 sales of the same top 100 DVD/Blu-Ray releases. For 2012 sales of 3.8 billion dollars on 205 million units sold according to the-numbers.com
| | | | |
| --- | --- | --- | --- |
| Combination DVD/Blu-Ray | 2012 | 2013 | % Change |
| Sales | 3,870,303,778.00 | 2,666,710,195.00 | 32.4% |
| Units | 205,332,516.00 | 138,885,247.00 | 31.0% |
Where did the 1.8 Billion dollars in sales go? Why were there 66 million fewer disks sold? Did people consume less content in 2013? No I believe people finally figured out that a digital movie is not only equivalent but far superior to the physical disk. Now that people are making the switch I see much more growth for Netflix in the future.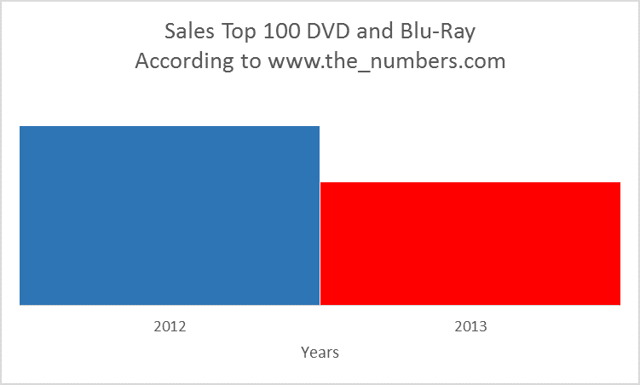 The main reasons I believe Netflix will only continue to grow in the near future are as follows.
· Original Content
· Binge consumption
· Multiple screens Roku.
Original Content
Not being governed by FCC regulations they are free to make owned content which they control. These series ensure that current subscribers will not leave and new subscribers will come to get the content they cannot get elsewhere.
Orange is the New Black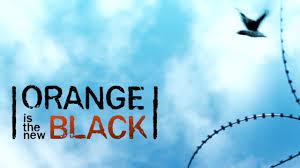 Show about women in prison has content which could not be shown on normal cable TV. It is adult content, viral and critically acclaimed.
Hemlock Grove

This horror series will breed fans and increase user loyalty.
House of Cards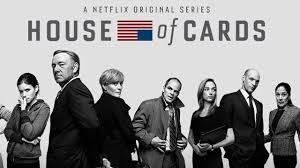 Top notch actors and great drama draw many in to subscribing to Netflix.
For this and any other Netflix original content you cannot buy a DVD of these series. You cannot watch them for free over a cable provider. You must subscribe to Netflix. After seeing that for months Netflix had become the primary entertainment medium in my household we cut off the cable at tremendous savings. Life is too short for commercials.
Binge Viewing
A wonderful piece on Tech Radar on binge viewing is the second reason I believe Netflix has room to grow. After watching the first five seasons of Breaking Bad on Netflix I was excited about watching the last nine episodes on AMC. The problem was the next nine episodes were so much of a lesser product for me as I had to watch commercials and wait for a week to see the next episodes. These are two problems which Netflix solves very well.
Binge watching has actually changed mine behavior. For example the series How I Met Your Mother ends this season. Over the past few years I wanted to watch the show on television, but I knew the plot arcs and twists would only be good if each episode is watched back to back. So I made the conscious decision to avoid the broadcast version and wait until the final episode was scheduled. Then I timed my binge watching in the weeks leading up to the final episode. Only when the end was near did I watch the current season after binge watching the prior year's episodes. This change in my behavior cannot be an isolated experience and I feel that it bodes well for Netflix going forward.
Multiple Screens/Roku
For those who do not know a Roku player is a device which streams internet content to you TV. You can read more here.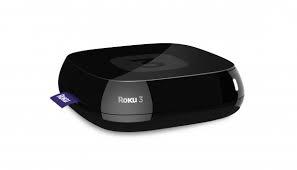 With young children, wife and a teenager in the house I was informed (by Netflix) last week that I was unable to open a new Netflix session under my current plan. It offered me a choice of closing a screen or upgrading to a service allowing more concurrent screens. With three Roku in the house and multiple computers and tablets we had finally surpassed our limit (4 concurrent) on the $9.99 a month plan. The upgrade would be around $4 a month to add a few concurrent screens. Although I did not upgrade at the time (one Roku was playing to an empty playroom) I was excited as I know that will be a future additional revenue stream for Netflix.
Conclusion
I put the over under on negative comments on this article at 50. People keep getting Netflix wrong and no amount of reality will change their minds. I live a very frugal life and do not waste money often. When doing a recent family budget I looked at the entertainment line and wondered how expensive Netflix would have to be before I dropped it from the budget. I came up with 40-50 dollars a month at current service level. If they could add current season content I think I would be willing to pay up to 90 dollars a month on a premium basis. Netflix is still in my opinion wildly undervalued.
Disclosure: I have no positions in any stocks mentioned, and no plans to initiate any positions within the next 72 hours. I wrote this article myself, and it expresses my own opinions. I am not receiving compensation for it (other than from Seeking Alpha). I have no business relationship with any company whose stock is mentioned in this article.