Conclusion: Over the next 18-to-24 months, iShares Dow Jones Select Dividend Index Fund (NYSEARCA:DVY), has the potential of generating an attractive total return for investors as the corporate dividend cycle appears to have turned positive (see chart below).
A cyclical increase in corporate dividends would likely be reflected in increased dividends of DVY as its investment objective is to own the highest dividend yielding securities in the Dow Jones U.S. Index. A trend of increased dividends would likely be reflected in a higher stock price. DVY's current yield is 3.6%.
I anticipate an internal-rate-of-return (IRR) in the mid-teens over the 18-to-24 month investment holding period.
Click to enlarge: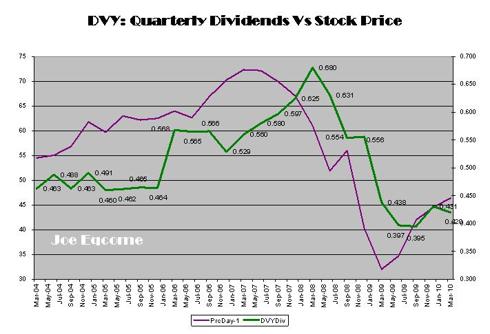 An Inflection Point: It looks like DVY's stock may be at or near an inflection point as a positive quarterly dividend trend appears to be developing.

However as the chart also demonstrates, the stock price anticipates the trend in dividends. So, by the time the stock is nearing its peak quarterly dividend investors are anticipating a decline and therefore the yield requirement increases and the stock valuation is lower.
So, investors should be cognizant of the anticipatory factor when considering the purchase and sale of this stock. That is why it is recommended to hold the stock 18 to 24 months in a dividend cycle that could extend 36 months.
Caveats: Since 2003, qualified dividends have been taxed at the same rate as long-term capital gains: 15%. With the "sun setting" of the "Jobs And Growth Tax Relief Reconciliation Act of 2003", passed under George W. Bush, the tax rate for dividends would revert back to its former status of being taxed at ordinary income tax rates.
It now seems more likely that both the qualified dividend and long-term capital gains tax rates will be raised to 20% or more under proposals being seriously considered. However, as with anything political of late, anything is possible.

Disclosure: Long DVY and buying more