It is not uncommon for investors to make arguments that shrug-off the buy and sell recommendations of the Wall Street consensus. But when we look at the potential performance of IT services colossus Hewlett-Packard Co. (NYSE:HPQ) over the next few quarters, there are several analyst upgrades that support the company's outlook and could have a positive influence on the stock. HPQ saw rallies of nearly 75% in 2013, driven largely by the actions of CEO Meg Whitman. Recent strategy at HP has sought to reduce its prior dependence on central areas of its business (areas like storage, printers, and PCs) and began moving forward with its new strategies in cloud computing, tablets, network building, and infrastructure software.
But there are still important questions for investors still looking to buy or sell the stock: Has the massive turnaround in HPQ run its course? Will the company be able to continue with a successful transition between its weaker and stronger (read: past and future) businesses? Is HPQ still a buy at current levels?
Shifting Consensus
When we look at the shifting consensus that has become visible in the markets, the answer appears to be "yes." Of course it is never a good idea for investors to take analyst upgrades at face value, as the underlying logic is what ultimately makes or breaks any long-term positioning. But we are seeing a clear trend at this stage that is in favor of continued upside at HPQ. The most recent example has come from Citigroup Inc., which has raised its upside target to $40 (from $32 previously). These changes were based in CIO survey findings which suggested HP's long-stalling services businesses are starting to gain traction after nearly two years of losses.
These trends do not stop here, however. Similar examples of equities research analysts have been released recently, with a strong bullish undertone marking the general bias for the stock. Upgrades have also been seen from Merrill Lynch and Bank of America Corp. BofA has established a $39.00 price target for HPQ, a strong upward revision from the $30.00 seen previously. This projection shows potential upside of roughly 37% from the latest closing price in HPQ. Atlantic Securities marks another bullish example, establishing an "overweight" rating on the stock. So, while those operating with contrarian strategies might see HPQ as a screaming sell, it is important to look at the underlying outlook as it fundamentally supports the chances of a continued run higher in market valuations.
Operational Improvements
Most of these bullish projections are based on the likelihood HP will continue to see operational improvements and its consistent undervaluation on a relative basis. To gain some sector perspective here, HP's price-to-earnings ratio still comes in well below key competitors like Oracle (NYSE:ORCL) and IBM (NYSE:IBM), despite the massive run-up that we saw last year. All of this points to further upside in HPQ, and indicates that, at the very least, investors with "buy on dips" strategies should be considering moving into the stock as a means for gaining additional exposure to the sector.
Risk and Reward
So, while it might seem easy to dismiss HP as a bullish stock that has run its course, there are still key risk and reward features that favor HP over its key competitors. Sentiment should continue to build as long as HP is able to continue closing the P/E gap (relative to companies like Oracle and IBM), making progress in its restructuring and stabilized EPS revisions, and maintain strong performances in its ability to generate free cash flow. Indicators of this can be seen in the fact that HP has been able to rally even during times of sector weakness.
The latest sell-off at Intel (NASDAQ:INTC) was driven by an earnings report showing the potential for industry concerns in PC spending. The report brought down several key PC companies along with Intel. But HP still managed to make gains as a reflection of the improved sentiment that is building around the stock. Even with the previous rallies, HPQ is still trading at a forward P/E of 7 -- well below the sector average. And since bad sector news is not even enough to dent long-term expectations, HPQ is still a buy at current levels.
Chart Perspective: HPQ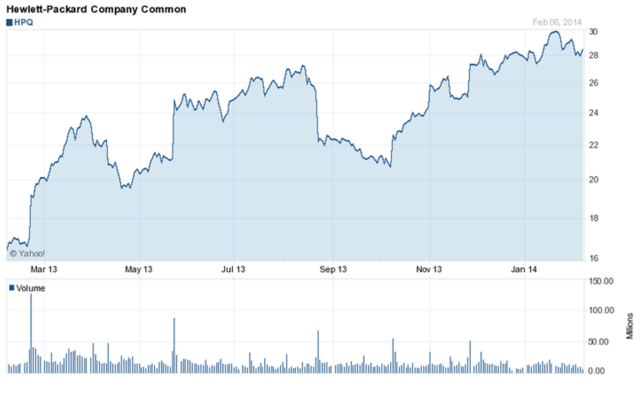 HPQ continues to push to new highs, with prices now threatening to break $30. This upside break is looking more and more likely given the stable uptrend and tendency to post short-term corrective moves to the downside. Bias remains bullish as long as $26 remains intact.
Disclosure: I have no positions in any stocks mentioned, and no plans to initiate any positions within the next 72 hours. I wrote this article myself, and it expresses my own opinions. I am not receiving compensation for it (other than from Seeking Alpha). I have no business relationship with any company whose stock is mentioned in this article.