By Ivan Y.
It's a good idea to take an opposing view on your investments by trying to make a case for why you shouldn't be holding a particular stock or perhaps even be shorting it. However, it's difficult to make a case for why the price of silver will go down in the long-term. Anything can happen in the short-term because the COMEX silver market, which sets the price for the global silver market, is ruled by technicals. It's a battle between the hedge funds, commercial traders and other players. Fundamentals don't really matter in the short-term, but in the long-term they do matter. And the fundamental picture for silver leads me to believe that the price of silver is headed higher in the long-term. How high? As a follower of many market pundits, I have heard a lot of wild predictions about the future price of silver. Though I have much lower price targets, there are pundits and investors like David Morgan, James Dines, Ted Butler, Eric Sprott and Rick Rule who believe that silver is headed for over $100 eventually:
My colleague Eric Sprott and I think that within a reasonable timeframe silver will probably trade over 100 dollars - a big move from its current price of 20 dollars an ounce. (John Embry)

Certainly, we think not only have long term silver investors been here before, but if we were to repeat the last cycle silver moved up almost 600% once it completed the bottoming process. This type of move suggests the $100 level which is our long-term forecast from the beginning of this bull market and it may be conservative. (David Morgan)

I tell you now that the price of silver is going far higher than anybody realizes. It's going far higher than $50. It's going to test the $100 an ounce level, and beyond that somewhere between $300 and $500 an ounce. Believe the unbelievable or not. (James Dines)
Cost of Production
The cost to produce an ounce of silver is roughly $20-$22. Dundee Capital estimates the all-in cost to be $20.08 while David Morgan estimates the cost to be $22 for primary producers. There is no exact number. It could even be less than $20 or greater than $22, but this is roughly the range.
Fundamentally, silver cannot trade below the cost of production for too long. So with over 800 million ounces of mine supply, why was 2013 a record year for silver production? That's because there is a lag effect in the relationship between silver prices and supply. 2013 was a record year for production because of the investments made by mining companies during silver's bull market that lasted until April 2011. Conversely, silver production won't begin to decline until perhaps after 2015 in response to the silver price today trading below the cost of production. As an example, last year Silver Standard (NASDAQ:SSRI) delayed its construction decision on its large Pitarrilla silver project in Mexico due to the depressed price of silver. That mine was originally expected to produce about 15 million ounces of silver a year beginning in 2015-2016. That expected supply is not going to be there anymore.
If supply will diminish in 2-3 years, can stockpiles of silver be used to make up for the lower supply? The answer is "no" because there are no stockpiles of silver. That's what makes silver different than gold. Most of the silver that has ever been mined has already been consumed and destroyed. All the gold that has ever been produced is still around. As an example, at the end of World War II, the U.S. government held about 4 billion ounces of silver in inventory. Today they have basically nothing. There simply are no stockpiles of silver around the world. The only place where you can find a lot of silver is held on behalf of investors in the physically-backed ETPs like iShares (NYSEARCA:SLV), Sprott (NYSEARCA:PSLV), ETFS Silver (SIVR) and Central Fund of Canada (NYSEMKT:CEF).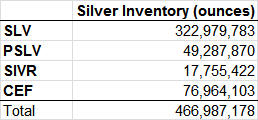 There is also about 182 million ounces of silver held at COMEX vaults, which is nowhere near enough to even fulfill delivery of the outstanding futures contracts.
Investing For the Long-Term
I prefer the safety of the physically-backed silver ETPs like SLV and PSLV over the silver mining stocks. I'm just not a believer in the mining stocks. There are too many things that can go wrong with a mining stock such as resource nationalization, stock dilution, mechanical failure, etc. In addition to a long-term buy-and-hold strategy for SLV and PSLV, I am also in favor of purchasing SLV LEAP call options, which currently are cheap. For example, a January 2016 call with a strike price of $20 costs only $2.90. The option doesn't expire for another 23 months. All SLV has to do is rise higher than $22.90 in the next two years for the call to be profitable. That's not asking a lot.
For long-term investors, what I would not do is purchase the leveraged silver funds like ProShares Ultra Silver (NYSEARCA:AGQ) and VelocityShares Silver (NASDAQ:USLV) that provide 2x and 3x long exposure to the price of silver, respectively. Those funds are designed for short-term traders to provide 2x/3x performance only for one day. They do not work in the long-term because they deteriorate in value every time the price of silver changes direction up or down. They are long-term sucker bets and I wouldn't hold any of them for more than a few days.
Finally, long-term investors in silver need not worry if silver still has not found a bottom. Silver appears to have bottomed at $18.40 last June, but who knows if that was the actual bottom. In a market ruled by technicals and short-term thinking, anything can happen. Any dips below $18 should be seen by real investors as an opportunity to accumulate holdings, because in the long-term either the price of silver must go higher or there will be supply shortages.
Disclosure: I am long SLV, CEF. I wrote this article myself, and it expresses my own opinions. I am not receiving compensation for it (other than from Seeking Alpha). I have no business relationship with any company whose stock is mentioned in this article.