Last Wednesday, Brian Rosen, lead attorney for Washington Mutual's (WAMUQ.PK) holding company, accused the company's shareholders of attempting to milk the bankruptcy system.
Since March, the shareholders have been severely agitated by a global settlement made without their participation. In response they have moved to hold an annual meeting and are looking to replace the parent company's current board of directors.
"Our organization is extremely outraged by the actions of WMI in its global surrender to JP Morgan and the FDIC. It is absolutely absurd that either party should receive Washington Mutual's rightful claims to the $5.6 Billion in tax refunds or $4 Billion in its deposit account. What is even more absurd is that the company is selling JPM 5.4 Million Class B Visa Shares for $50 Million when they are worth over $250 Million. The company, which was solvent through the date of its seizure, has a number of strong legal claims against both the FDIC and JP Morgan, and should pursue these claims in open court," stated WamuTruth Executive Member Sean Fitzgerald.
The equity's hope is that a new board would be more interested in pursuing further recoveries for its estate. WaMu's parent company had been actively pursuing litigation against JP Morgan (NYSE:JPM) and the FDIC until the end of December when it suddenly and inexplicably halted the discovery process. The US Trustee presiding over the case responded by abruptly establishing an equity committee citing "exigent circumstances."
Since then, WaMu's Brian Rosen has made every attempt at hampering the committee's progress, including Wednesday's oral arguments against a shareholder's annual meeting.
If the current settlement is approved Washington Mutual would surrender the majority of its projected tax refunds and all of its litigation assets in return for a speedy end to the last nineteen months of protracted legal wrangling. While such would be advantageous for WaMu's bondholders, who are on track to receive 100 cents on the dollar, equity would be completely wiped out.
JP Morgan would greatly benefit from the deal, receiving some $5.3B of mixed assets from WaMu that are currently held in dispute. This additional form of revenue would mean that JP Morgan would eventually end up being paid $3.4B to assume Washington Mutual Bank, this after subtracting their initial purchase price of $1.9B in September 2008. The FDIC would receive approximately $1.6B as well from WaMu.
Morgan's acquisition of WaMu has already proven quite profitable. In May 2009 Bloomberg reported that JP Morgan could profit by as much as $29B on the WaMu loan portfolio. Originally Morgan wrote off the majority of the portfolio on their books as a $31B negative goodwill, citing a market melt down that never occurred.
But will JP Morgan be allowed to maintain this lucrative gain? Barclays Plc (NYSE:BCS) is currently facing trial against Lehman Brothers Holdings Inc. (OTC:LEHMQ) over an alleged "windfall" the bank received when it purchased Lehman's brokerage at a fire sale price. Lehman contends that Barclay's should pay as much as an additional $11 billion to the bankrupt firm. If Lehman were to win, precedent would be created for WaMu to press for a similar case. JP Morgan appears to recognize the possibility of this and has already set aside $2.4B for ongoing "WMB litigation" according to their most recent quarterly report.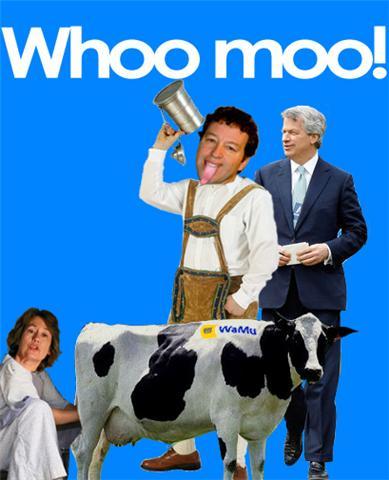 Angered by Rosen's "milk" statement made public in open court, images such as this have begun to circulate on the internet. Whereas bankruptcy cases are typically ignored in general, shareholder ire is beginning to rise among retail investors of WaMu.
Over the past month nearly 1,100 individual letters condeming the proposed settlement have flooded the courthouse. They now comprise a third of the total filings made to the docket since the case's initiation.
Shareholders have also become busy contacting other forms of government including the House of Representatives and Office of the Inspector General. Consequently both branches will be launching their own investigations independent of the Senate Permanent Subcommittee's investigation which wrapped up earlier this month. According to the Inspector General the investigation would, "assess the FDIC's resolution process for WaMu to determine whether that process complied with applicable laws, regulations, policies and procedures."
Statements made during the Senate's hearing indicated that WaMu was seized not because of its capital structure but because of liquidity problems. FDIC chairwoman Shelia Bair testified that WaMu held only $4.4B in liquidity on the day of its seizure, thereby warranting the action taken. However her statement appears to lack some credibility after a Puget Sound Business Journal investigation revealed that WaMu had ready access to some $29B of liquidity.
If that amount was correct then WaMu had sufficient liquidity to weather the remaining six business days until the passage of TARP. In the meantime the FDIC is continuing to press for additional powers that would allow them to shutter not only banks but financial holding companies as well. Such powers would have far reaching consequences and give the FDIC authority over corporations such as American Express (NYSE:AXP), General Electric (NYSE:GE), and Sears (NASDAQ:SHLD) because all of these entities deal in consumer credit.
Disclosure: Author is long WAMUQ.PK (pre-seizure)