Advanced Micro Devices (NASDAQ:AMD) and Intel (NASDAQ:INTC) face the challenge of transforming their technology as the masses shift towards portable and wearable devices. The PC-oriented business of both these companies is shrinking as a result of this shift. AMD is in the process of executing a strategic shift towards graphics, gaming and micro servers. Intel, on the other hand, is trying to make its way into the smartphones and tablets market through its Baytrail offerings. In this report, we will explore AMD's upcoming products and technologies and compare them with the forthcoming offerings of Intel. Furthermore, we will also analyze the chances of both companies successfully transforming in line with the technological renovation.
AMD has been lagging behind Intel in the desktop market for several years. It was the first to introduce the dual core technology in the past, yet Intel has dominated the PC market because of its differentiated offerings, even at premium prices. Arguably, AMD has been better in terms of price performance on several occasions, but this fact alone was not enough to bring down Intel. However, the industry dynamics are changing. Declining PC sales and the increasing tablet and cloud computing market demand a strategic shift. AMD is executing its own shift by focusing on ARM-based dense servers and low power APUs directed towards the tablet market. On the desktop side, it appears to have decided to cater to a niche, i.e. professional and gaming graphics. The company is also competing in the desktop market with its latest Kaveri APU. AMD's recent/upcoming product launches are detailed as follows:
Desktop
Processors
AMD is continuing its FX series for desktops. The 2nd Generation FX series features 32nm 4-8 Piledriver cores. This series offers processors ranging from high to medium-end.
| | | | | | | |
| --- | --- | --- | --- | --- | --- | --- |
| Model Number | Frequency | Total L2 Cache | L3 Cache | Packaging | Thermal Design Power | CMOS Technology |
| FX 9590 | 4.7/5.0 GHz | 8MB | 8MB | socket AM3+ | 220W | 32nm SOI |
| FX 4100 | 3.6/3.8 Ghz | 4MB | 8MB | socket AM3+ | 95W | 32nm SOI |
The FX-9590 is rated 8.8/10 compared to the 9.3/10 rating of Intel's i7 4770K by CPUBoss. Intel's processor is superior in performance per watt due to a huge difference in TDP (4770K: 84W), while AMD is slightly better in terms of price performance. These processors are directed towards enthusiasts who are usually indifferent about slight price differences. So, even at a higher price, Intel's i7 will be dominant because of its low power consumption and slightly better performance. The top three products in terms of price performance belong to AMD's FX series. PassMark even rates FX9590 above i7 4770k in terms of performance.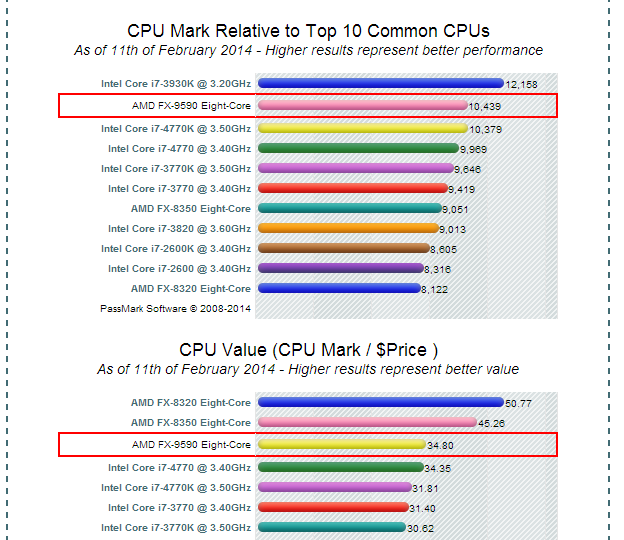 *Source: cpubenchmark.net
The competition is quite tough in terms of overall performance. AMD is ahead in price performance, and Intel's performance per watt is superior. Commercial gaming cafés will prefer Intel because of its lower power consumption, and individual enthusiasts will also favor Intel because they are only concerned about absolute performance, in which the company is slightly ahead. In our view, the advantage is with Intel in high end enthusiast processors.
Discrete Graphics
AMD launched its R9 290X in late 2013. This high end enthusiast card's price was around $549 back in November according to AMD's website, but now it is being sold on a $100 premium. The card is widely available so the price spike indicates an increase in demand. The 290X beats NVidia's GTX780 in terms of performance, but is slightly behind GTX780Ti. However, GTX's 7% to 13% increased performance comes at an increased cost of around $80, even when the 290X is selling at a premium. Besides, the 290X is GCN based and supports MANTLE. With MANTLE enabled games, it will surely beat the GTX780i and that too at a lower price. In our view, R9 290X will attract most of the revenue from the enthusiast segment, and it has been the clear winner to date. As far as medium to low end gaming is concerned, AMD will dominate 2014 because of its competitive offerings and the fact that GCN and MANTLE will benefit medium to low end gamers the most.
Accelerated Processing Units (APUs)
Desktop
The key success factor for AMD or Intel will be their APUs. AMD recently launched Kaveri which holds promise for gaining share in the declining PC and laptop industry. On the other hand, Intel is focusing on updating its Haswell offerings during the year.
Kaveri: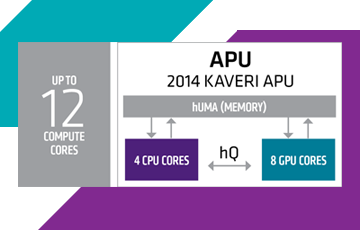 AMD launched the A-10 7850K and A-10-7700K recently. The 28nm Kaveri features up to 12 steam roller compute cores (4cpu+8gpu). It also features R7 graphics and is based on HSA.
AMD A-Series Accelerated Processor Model Number and Feature Comparisons

Model

Radeon™ Brand

Compute Cores*

CPU
Clock
Speed

GPU
Clock
Speed

TDP

Total L2 Cache

DDR3 Speed

A10-7850K

Radeon™ R7
Series

12
(4 CPU + 8GPU)

4.0GHz/
3.7GHz

720MHz

95W

4MB

2133

A10-7700K

Radeon™ R7
Series

10
(4 CPU + 6GPU)

3.8GHz/
3.4GHz

720MHz

95W

4MB

2133
Comparison with Intel's i5 4670k reveals the following facts about the specifications:
Moreover, the amount of transistors in A-10 is 2410 million as compared to 1400 million in the i5. A-10 also supports up to 2133 Ram speed. So on paper, the specs of A-10 7850k are better than i5 4670 Haswell. The MANTLE enabled Kaveri outperforms the i5 in several game scenarios. Hence, a lower priced A-10 is a better choice. The only drawback is the power consumption, but with higher performance and lower price, the A-10-7850K is set to attract sales in the current year.
However, AMD will face stiff competition from the expected update of Haswell this year. We believe that the updated Haswell will have a relatively higher performance but also a higher price than the A-10.
Mobility
AMD is launching mobility chips including Beema and Mullins during the current year. Both are intended for portable devices. Beema is based on 28nm 2-4 Puma CPU cores, GCN architecture and a TDP ranging from 10w-25w. Mullins, on the other hand, has a very low TDP of around 2w. AMD claims that these APUs will be around 250% better than the Baytrail offerings of Intel. Management also claims that Jaguar-based CPU delivers 125% advantage vs. Intel Atom when running multiple industry-standard graphics-intensive benchmarks. AMD is also integrating an ARM Cortex-A5 core with TrustZone technology that will help with security.
Threat to AMD's mobility: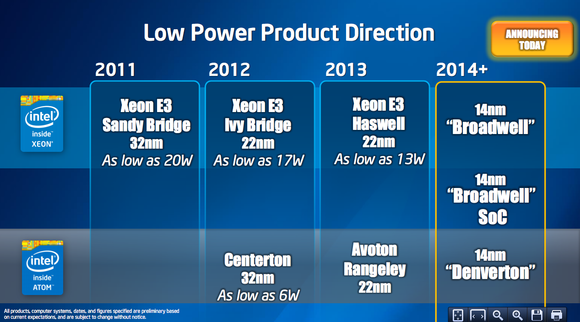 Intel will be launching chips based on its Broadwell architecture, the successor to Haswell. The company announced that it will launch a chip, codenamed Denverton, that is similar to the Avoton but based on a 14nm architecture. This means a faster chip with lower power consumption. "Broadwell will draw 30 percent less power than Haswell" Intel CEO Krzanich said. On the other hand, ARM and AMD are restricted to 28nm. This development is alarming for AMD, as it could affect the anticipated future position of the company, both in low power chips and the dense server market. The performance of Mullins and Intel's 14nm chips cannot be compared based on current data, but as the 14nm chips are not expected until late 2014, AMD should ship its low end chips soon if it wants to gain market share. In our view, as long as Intel does not ship the 14nm chips (like Cherry Trail), the current Baytrail cannot compete with AMD's products and ARM based low power chips. Note that it is not clear whether Intel's Cherry Trail will have any advantage over ARM or Mullins in real world application, and it all boils down to the designs wins secured by a chip developer.
Overall, mobility is a tricky and challenging segment for both AMD and Intel because of the dominating position of Qualcomm (NASDAQ:QCOM), ARM etc. AMD's Mullins will assist the company in gaining some share of the market, and Intel is not expected to gain market share until it launches its 14nm Cherry Trail. Even then, it depends on design wins because Baytrail came with its own set of problems, and no one can be sure about Cherry Trail until it is tested. Mullins features new HSA technology, and because of its superior graphics, it could enable casual mobile/tablet gamers to own a device with smooth and better quality graphics. And who knows,a cross platform MANTLE could just be around the corner; but then again, it all comes down to the company's design wins.
Servers
The upcoming ARM based x64 server is in the spotlight at present. AMD is banking on the ARM powered server to gain market share in the dense server market. The company is extending memory support along with storage and network connectivity. We have discussed, in several previous pieces, the implications of AMD's ARM strategy on long term competition.
Threat to Servers Segment
Intel's architectural update, i.e. Broadwell, can have an impact on the competitive positioning of AMD in the server market. The 14nm Broadwell can be used for dense servers, and Intel is expected to launch Denverton in late 2014, just around the time AMD will begin mass shipping of its ARM based server. This is a potential threat for AMD's micro server success, but only time will tell whether Intel's 14nm Broadwell strategy pays off or not. The power requirement of a chip is a very important metric in the servers market, as it can impact cooling requirements and electricity bills and, in consequence, affect the total cost of owning the server. ARMs are currently the low power chip and have an advantage over Intel in the dense server market. If Intel manages to reduce the power requirement of its chips through the Broadwell architecture, then the prospects of both AMD and ARM will not remain the same.
Conclusion
It is clear that neither Intel nor AMD will be able to dominate each and every segment on its own. The high end PC segment will be dominated by Intel because of its power efficient and high performing products. In the medium to low end market, both Intel and AMD will have some share due to Intel's superior performance per watt and AMD's better price performance. The discrete graphics market will be dominated by AMD altogether because of greater performance, new and innovative technology and lower price. The APU segment is important for both AMD and Intel. AMD will gain market share in the APU desktop market because of its recently launched Kaveri and because of the fact that Intel's Haswell update is not expected until late 2014. On the mobility front, AMD's Mullins is expected to be featured in several devices because of its low power, but ARM based chips are expected to dominate the industry. Intel is not expected to gain any share in mobility until its Cherry Trail arrives. In micro servers, the competition is tough. ARM based servers will gain popularity this year and will secure sales, but the deciding factor will be Intel's Broadwell server offerings. Overall, Intel is expected to maintain its dominating position in the PC market; portable devices and servers are not expected to contribute towards Intel's revenues for now. Revenues and earnings will remain flat as a result. The company's valuations are expected to remain stable and, hence, Intel is an investment for dividends. On the other hand, AMD will gain some share in the PC market. It has promising growth prospects in micro servers and semicustoms and is also expected to gain some share in the portable devices market. Therefore, AMD is a long term investment for capital appreciation purposes.
Disclosure: I have no positions in any stocks mentioned, and no plans to initiate any positions within the next 72 hours. I wrote this article myself, and it expresses my own opinions. I am not receiving compensation for it (other than from Seeking Alpha). I have no business relationship with any company whose stock is mentioned in this article.
Additional disclosure: Equity Flux is a team of analysts. This article was written by our Technology analyst. We did not receive compensation for this article (other than from Seeking Alpha), and we have no business relationship with any company whose stock is mentioned in this article.