The RBNZ (Reserve Bank of New Zealand) held its key interest rate, the OCR, unchanged at a record low 2.50% but signalled that a start on the path to neutral monetary policy is imminent:
As previously indicated, we expect to begin removing policy stimulus over the coming months, provided the economy continues to evolve as projected.

The increased wedge between the OCR and lending rates, as well as a steeply positive-sloped interest rate curve, is expected to make OCR increases more effective than in the past. Accordingly, these factors should reduce the extent to which the OCR will need to be increased relative to previous cycles.
On that note, it may well be that the new "neutral policy rate" i.e. the rate at which the OCR is neither expansionary or contractionary, ends up lower than usual - as alluded to in the last paragraph of the announcement.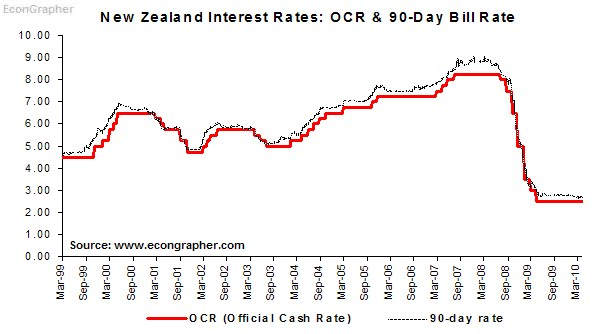 The RBNZ noted in their statement, as I have previously also noted, that the New Zealand economy is on the path to recovery, but that growth is set to remain subdued in the near term due to the depth of the recession, increase in unemployment, and trend for deleveraging:
Notwithstanding the impact of stronger than expected export earnings, New Zealand households remain cautious, with the housing market and household credit growth subdued. Similarly, business spending is weak and firms continue to reduce debt.

On balance, we continue to expect the New Zealand economy to recover in line with or slightly faster than our March Statement projection. Annual CPI inflation, which has been close to 2 percent for the past year, is expected to track within the target range over the medium term.
So New Zealand has turned the corner out of one of its worst recessions on record, in part aided by a recovery in exports driven by a strong recovery in the Asian economies, and a rebound in commodity prices; particularly the softs like milk prices.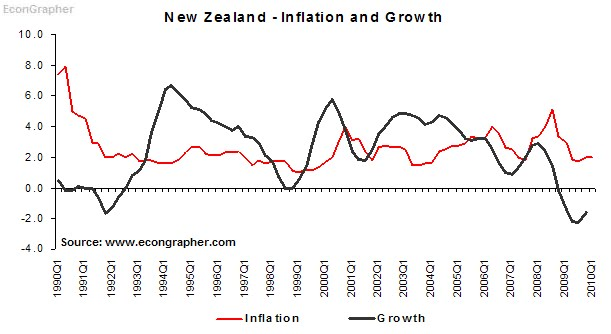 In terms of the outlook it seems almost a certainty that the RBNZ will pull the trigger on the first increase in June (coinciding with the Monetary Policy Statement - a more comprehensive overview of monetary policy and the economy). A move in June is probably the right thing to do, the longer the RBNZ leaves an increase, the higher those increases will need to be. Australia left the recession before New Zealand did, and it set a good example for New Zealand to follow.
Overall the outlook for the New Zealand economy is, notwithstanding the various domestic and global risks, a continued - yet subdued - economic recovery.

Sources
Disclosure: No positions