America is witnessing an energy boom not seen since before World War II, when it supplied 63% of the world's oil. As someone old enough to recall the 1973 oil embargo, ensuing odd-even days of gas rationing, and President Carter proclaiming on national television the country was running out of oil, the resurgence of the U.S. as a global oil power is astonishing. Current production levels in the U.S. are now at an all-time high, and projected growth estimates are staggering.
By 2020, the U.S. is expected to be the world's largest oil producer, surpassing Saudi Arabia.
Over the next 10 years, U.S. import of foreign oil is projected to decline by 50%.
The U.S. is on pace to becoming energy self-sufficient by 2035.
Those forecasts and more enlightening facts, capturing the breadth of this remarkable renaissance, are presented in an informational graphic prepared by The CME Group in September 2013.
Dividend investors enjoy numerous ways to participate in the bonanza. Exploration and production, contract drilling, refining, rail transportation and pipeline distribution, services and equipment, are among the many energy related industries bursting with growth opportunities, created by the resurrection of this precious resource.
Energy sector companies occupy 18% of my portfolio, including a pair of major oils, three prominent pipelines, and Keystone XL builder, TransCanada (NYSE:TRP). My favorite long-term investment in the group remains National Oilwell Varco (NYSE:NOV). The services and equipment Goliath was the topic of my very first SA post in June 2013. Seeking to invest directly on a U.S. oil opportunity, a couple of months ago I initiated a small position in drilling contractor, Helmerich & Payne (NYSE:HP).
Corporate Profile
"Helmerich & Payne, Inc. ("H&P") is the successor to a business originally organized in 1920. H&P is primarily engaged in contract drilling of oil and gas wells for exploration and production companies. The contract drilling business accounts for almost all of H&P's operating revenues, making it one of the major land and offshore platform drilling contractors in the world." (Source; HP's web site)
HP's contract drilling is comprised of three business segments: U.S. land, offshore, and international land. The U.S land segment is the dominant contributor to its revenues and earnings.
HP Operating Income by Segment, as Published in Annual Reports
All figures in millions
| | | | | |
| --- | --- | --- | --- | --- |
| | FY 2010 | FY 2011 | FY 2012 | FY 2013 |
| U.S. Land | $ 404.3 | $ 691.6 | $ 907.0 | $ 932.6 |
| Offshore | $ 53.0 | $ 45.3 | $ 41.8 | $ 53.0 |
| International Land | $ 48.3 | $ 19.8 | $ 20.4 | $ 44.6 |
Segment operating income is a useful non-GAAP financial measure of performance. It omits general and administrative expenses, corporate depreciation, income from asset sales, and miscellaneous income and expenses. Excluding those helps evaluate the trend of each segment, in a year-over-year performance comparison.
Reviewing the last four years, two trends are readily apparent. Offshore and international land drilling operations are flat while the U.S. land segment is booming. The trends take on a greater perspective when comparing HP's rig counts from 2002 to the present.
| | | | |
| --- | --- | --- | --- |
| | 2002 Rig Count | Current Rig Count | Pct. Change |
| U.S. Land | 54 | 315* | + 580% |
| Offshore | 10 | 9 | - 10% |
| International Land | 33 | 29 | - 13% |
* Does not include 16 additional rigs under construction, already contracted for, and scheduled for delivery in 2014.
Clearly HP is taking maximum advantage of the energy story unfolding in America. I will not be surprised if the rig count is closer to 340 by the end of this year.
Market Share Leader in U.S. Land Drilling
HP's industry leading 15% market share in U.S. land drilling separates it from a crowded pack of struggling competitors. While Patterson-UTI Energy (NASDAQ:PTEN), Nabors Industries (NYSE:NBR), and Precision Drilling Corp. (NYSE:PDS) suffered dwindling market share in U.S. land drilling over the past five years, Helmerich & Payne enjoyed 67% growth. Considering active rig counts declined 11.6% industry-wide over that period makes the achievement even more remarkable.
HP Slides from Goldman Sachs Global Energy Conference, Jan. 8, 2014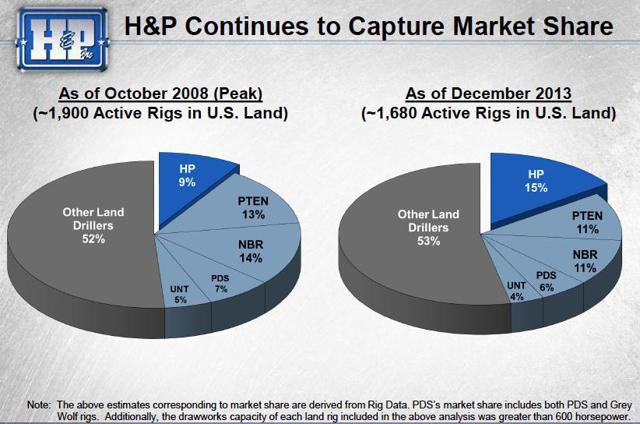 Market Share Leader in the Most Active U.S. Basins
The Bakken, Permian, and Eagle Ford are the 3 most active basins for HP's drilling operations. In the 1st quarter conference call transcript, (courtesy of SA), President and COO, John Lindsay (who takes over as CEO in March), offered an update on drilling operations at Eagle Ford and Permian:
"We remain the most active contractor in the 2 highest activity basins in the U.S., with 82 rigs in the Eagle Ford, which is approximately 35% of the market share, and 63 rigs in the Permian, which is approximately 15% market share."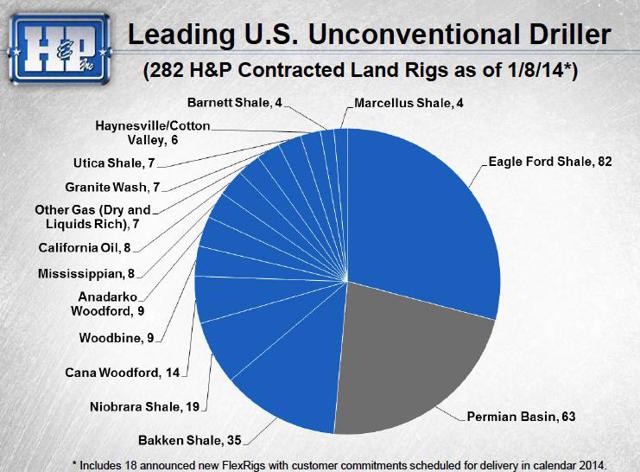 Driving the Growth in Market Share
Well complexity is increasing. Directional and horizontal wells account for 75% of all new wells drilled in the United States. Extraordinary drilling depths and lateral lengths require state-of-the-art drill rigs, which deliver maximum productivity under increasingly stringent safety requirements. HP's proprietary FlexRig® design is considered to be the most technologically advanced drill rig by many analysts covering this industry.
The productivity of the FlexRig® cannot be overstated. HP typically enjoys contract rates that are up to $5000 a day higher than others, because it can drill more quickly and efficiently than the competition. Another key factor is the increasing acceptance of multi-well pad drilling, an area of expertise for HP and well suited to the capabilities of the FlexRig®.
Finally, the increased utilization of AC drive drilling rigs, which HP helped pioneer, taps into HP's wealth of experience and expertise. Since 2008, when AC drive rigs commanded 15% market share, AC drive technology has continued to gain market share. AC drive rigs are now 41% of the U.S. market, equating to about 700 active rigs. The 276 AC rigs in HP's fleet is more than the next 3 competitors combined!
The Growth Momentum Continued with the Kickoff of FY 2014
1st quarter results announced January 30th:
Quarterly record levels of $889 million in revenues and $264 million in operating income.
U.S. land fleet attained all-time high level of 269 contracted rigs, including 155 under term contracts and 114 operating in the spot market.
U.S. land fleet utilization rose to 84%, with AC FlexRig® utilization improving to 95%.
Chairman and CEO Hans Helmerich commented:
"It is satisfying to once again report record quarterly levels in both revenue and operating income. We have also continued to see signs of market improvement in the U.S., both in terms of spot pricing and demand for additional FlexRigs. The flexibility afforded by our new build construction capabilities is allowing us to quickly respond to this renewed level of market demand. We are pleased to be able to announce an additional nine fully contracted new builds, bringing our fiscal year-to-date total to 35. We are confident in the Company's ability to continue to capture market share, create differentiated value for our customers, and deliver attractive returns for our shareholders."
Fully Contracted New Builds, An HP Mantra for 40+ years
Helmerich & Payne's enviable 2% debt/market cap underscores the fiscally conservative approach the company has practiced for more than four decades. New rigs are only built after they've been contracted for, minimizing financial risk. This pay-as-you-go growth strategy insures the cost of new rig construction is secured with long-term contracts that pay for the capital-intensive investment.
Only three months into the 2014 fiscal year and HP already exceeded its planned 24 new rigs, by nearly 50%, with 35 new builds already fully contracted to 9 different customers. Of those 35 new builds, 13 have been delivered to customers, with the remaining 22 scheduled for delivery during the fiscal year. The strong demand for HP's proprietary FlexRig® design prompted a step up in production to three rigs per month, starting in April. As a result, guidance on capital expenditures was raised to $950 million for the year, which management intends to fund from existing cash, and cash from operations during the fiscal year. The luxury to tap into the generous cash flow offers formidable evidence of HP's financial strength, and pristine balance sheet.
Offshore and International Land Segments
While offshore and international land drilling operations are a small percentage of revenues currently, (about 17% combined), management is enthusiastic about future growth in both segments. In the offshore segment, 8 of 9 rigs are actively drilling, and commencement of a pair of platform management contracts is expected to add about $6 million to operating income by the 4th quarter.
Prospects in the international land segment are improving. Horizontal drilling is becoming more acceptable than ever before in unconventional resource plays. The timeframe may not be realized until the back half of 2014 or sometime in 2015, but HP management is confident its customer base wants to begin executing some of the complex drilling techniques successfully utilized in the U.S., to other locations around the globe.
42 Consecutive Years of Dividend Increases
In complete fairness, for most of the first 40 years increases were measured in fractions of a penny. In 2013, the dividend jumped from $0.07 to $0.15 in February, before leaping to $0.50 in August. On December 3, 2013, HP announced its latest dividend increase to $0.625, payable on March 3rd. Now at a significant $2.50 per year, and yielding about 2.9%, it ranks highest among all the major drilling contractors.
At $2.50/year the payout ratio is about 37.6%. Payout ratio is calculated by dividing the yearly dividends by net income, expressed as a percentage. The lower that percentage the wider the margin of safety for continued dividend growth. This is especially important with the highly cyclical nature of most companies within the energy sector, which can expect wide fluctuations in earnings depending on the price of oil and the overall health of the economy.
Clearly, dividend growth will not continue at the recent pace. In the conference call, analyst Kurt Hallead inquired about further dividend increases, anticipating more modest raises going forward, to which Hans Helmerich responded:
"Well, I think, yes. We've hit some nice step change increases, and the last one being as recent as December, where we raised it to $2.50 per year. I would say the modeling Juan Pablo [VP and CFO] does, and what our projections are, are very much in line with what we're seeing now. It kind of reflects this comment you've heard us make about an "all of the above" strategy, where we believe we've got the capability to grow the company, to add to the fleet, to look hard at international opportunities and then, at the same time, return meaningful cash to shareholders, and that will be through, I believe, additional opportunities to grow the dividend, and it could also come in an opportunistic way on share buybacks. So we're in a great spot to be able to do a lot of these things. As you know, Kurt, our balance sheet would easily lend itself to some leverage with the right opportunity. So all of those things are in front of us, and it gives us a great position to look very hard at the opportunity set ahead."
The takeaway is HP remains firmly committed to growing the business and the dividend, though shareholders should not anticipate huge dividend increases from the new baseline. The 2.9% yield compares favorably with many Dividend Aristocrats®, providing a nice underpinning to a growth stock, which HP still is.
Robust Outlook as America Moves Closer to Energy Independence
After a half century of being held hostage to foreign oil, America is flexing its technological muscle on its journey to the center of the earth in pursuit of energy independence. Even Jules Verne would be in awe at the lengths and depths reached by today's sophisticated drilling rigs.
Helmerich & Payne is well positioned to continue adding to its market share lead, in both U.S. land and most active U.S. basins, by leveraging these competitive advantages:
Accelerating cash flow, extremely low 2% debt/market cap, no long-term debt beyond 2016.
Highest day work margins in U.S. land segment, and more than 50% higher than any of the major drillers.
Largest U.S. land AC drive drilling fleet eclipsing its next 3 competitors combined.
The youngest and most efficient drilling fleet in the U.S land segment, according to a report published by Zach's Investment Research.
HP does not engage in fracking. In many locales, there is growing political and environmental opposition to this process, because of concerns for public health and safety.
Two Views from F.A.S.T. Graphs™ 2004 - 2014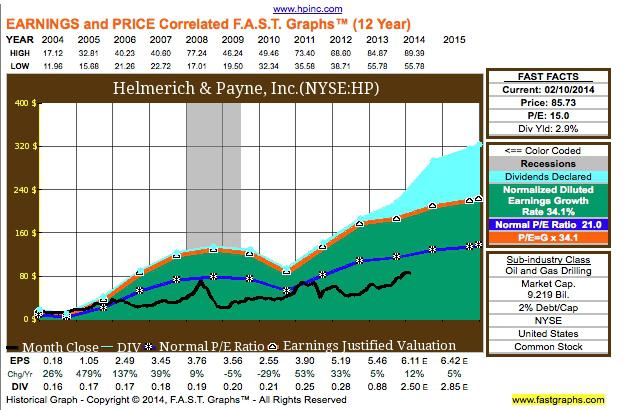 Top view is the historic P/E correlation while the view below looks at a different metric, operating cash flow ("OCF"). In both graphs, the black line is the stock price, orange line is the earnings justified valuation, and the blue line is the metric comparison (P/E in top view, and OCF in the bottom view).
The two metrics portray a slightly different picture. Above, the stock appears to be undervalued compared to historical P/E, lending credence to numerous analysts recently raising target prices to $90-$96. Below, the stock appears to be modestly overpriced when measured against historic OCF.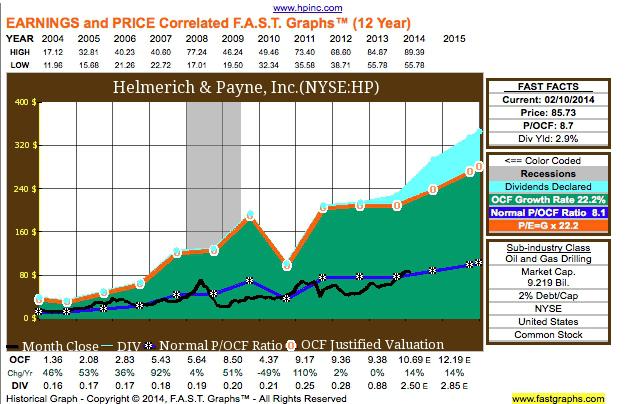 My conservative approach requires a greater margin of safety than either graph offers. Thus, despite my optimism for HP as a long-term growth and dividend investment, I need a price closer to $80, or HP upgrading future guidance, before adding to my position.
Inherent Risks that Can Undermine Profits, or Threaten Dividend Growth
My low tolerance for risk is why I focus my investments on dividend growth stocks. However, as attractive as a company's dividend growth appears to be, it is imperative to recognize what can put those dividend distributions at risk.
There is a strong correlation between any oil related company and the price of oil. They are inherently joined at the hip and will trade in lockstep to a great degree. In the last 5 years, oil prices have fluctuated wildly from $40 to $140 a barrel.
Environmental and safety regulations at all levels of government can grind drilling operations to a halt.
Political risk is high, especially on foreign soil. In 2010, the Venezuelan government seized 11 rigs owned by HP resulting in a financial loss. Argentina is currently in a state of political and financial chaos, with the outcome unknown. Last year 11% of HP's revenues were generated from international drilling operations, with two-thirds coming from Argentina, Columbia, and Ecuador.
HP enjoys a loyal but concentrated customer base, comprised of major oil companies and large independents. In 2013, approximately 61% of revenues were generated from HP's ten largest customers. The top three, BHP Billiton (NYSE:BHP), Devon Energy (NYSE:DVN), and Occidental (NYSE:OXY) accounted for 31% of total earnings. Management believes HP enjoys outstanding working relationships with all, but cautions the loss of even one would pose an adverse effect on earnings.
Disclaimer: Always perform your own due diligence, and respect that my enthusiasm for a dividend growth investment may not be suitable for your portfolio.
Disclosure: I am long HP, NOV, TRP. I wrote this article myself, and it expresses my own opinions. I am not receiving compensation for it (other than from Seeking Alpha). I have no business relationship with any company whose stock is mentioned in this article.