The market environment over the last few years has been muddled by many things including but not limited to corporate scandals, major bankruptcies and the overall effect of the recession. These recent events have been a constant black cloud over the confidence investors have in the markets as well as in individual companies in Corporate America. Investors tend to find some solace in their investments when the company proves to be reliable and transparent in their management as well as accounting practices.
Avoiding companies that make poor management decisions and that tend to experience earnings blow-ups are one of the major advantages experienced by clients of The Applied Finance Group (AFG). AFG has an expertise in understanding management's strategies and its ability to create wealth for shareholders, as well as an expertise in looking beyond traditional accounting numbers to see the true profitability companies earn.
With all of the doubts, concerns and general lack of trust in companies in Corporate America we have decided to provide our readers a list of the most reliable companies within the Russell 1000 index based on management's ability to create wealth, earnings quality (level of accruals) as well as valuation attractiveness. Our studies have shown that companies with poor earnings quality tend to experience negative earnings surprises with more frequency.
The 23 companies listed below have met all of the criteria to make them look like the most reliable investment opportunities within the Russell 1000 index.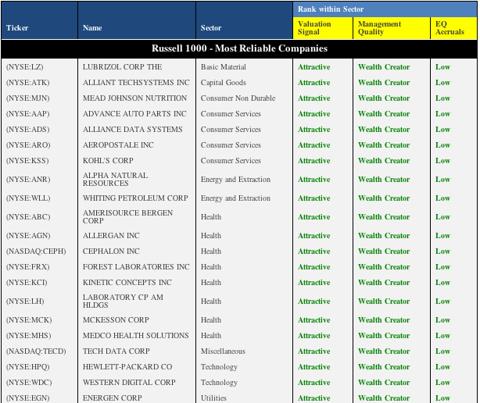 To stay updated on companies AFG believes are attractive investment opportunities register here.

Disclosure: None