Executive summary:
Procter & Gamble revised downward its fiscal 2014 EPS and revenue guidance due to volatile foreign currencies
However, the company is performing well when adjusting for forex currencies, with organic EPS growth of over 10%
With the stock trading near its 52-week low, it is now a buy at current prices
_________________________________
Late on Tuesday, Procter & Gamble (NYSE:PG) updated its fiscal 2014 outlook downwards due certain forex issues. The company noted that it is facing revenue shortfalls due to the wild swings seen in the some foreign market currencies, especially in Argentina, Turkey, South Africa, Venezuela, and others. As a result, Procter & Gamble saw its shares decline as much as 3% before recovering most of the losses before the end of the trading day.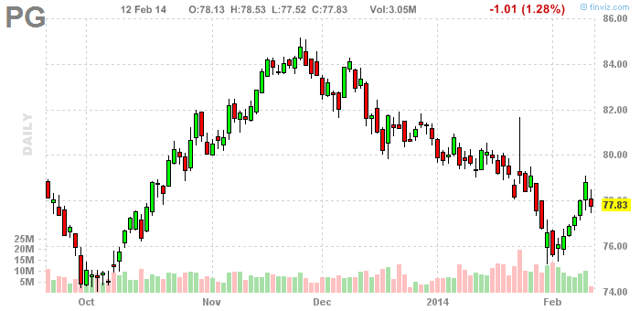 Why did Procter & Gamble lower its earnings outlook?
In its press release, the company noted that it is seeing much more volatility in foreign currency markets than it had previously projected. Basically, the problem has two angles. First, the raw materials used in its products are often priced in USD, which has been moving higher. Second, sales of its products are priced in foreign currencies, many of whom are moving lower due to political issues in those countries.
Procter & Gamble specifically mentioned Venezuela. In that country, the government has been has been placing restriction left and right on the sale of goods, importation of finished goods, and the payment of inter-company dividends. The reasoning of these moves by that government is to stave off inflation. However, they have only had limited success, with the official exchange rate of 6.3 bolivares fuertes per USD well below the SICAD market rate of 11.4. Do note that the black market rate is significantly higher.
For these issues in Venezuela, Procter & Gamble will be booking quite a large one-time loss of $230M to $280M after-tax, or $0.08 to $0.10 per share. In addition, the company may face other financial impacts which would lower EPS growth by 1% in fiscal 2014.
Other areas of concern for Procter & Gamble include Argentina, Turkey, South Africa, Russia, Ukraine, Brazil, and several other nations. While Procter & Gamble does factor in some forex volatility into its projections, the pace and magnitude of the currency moves is quite large in these countries. As an example, Procter & Gamble noted that the Argentine peso lost 20% against the dollar in a mere 3 weeks.
The end result of these forex issues for Procter & Gamble is that it will see fiscal 2014 revenue growth decline to 0% to 2%, down from 1% to 2%, while core EPS growth will slow to 3% to 5%, down from 5% to 7%.
Bad forex news is already priced-in
Given the anemic decline Procter & Gamble saw when it announced this guidance, I think most of the bad news was already factored into the stock. Procter & Gamble is already trading near its 52-week lows and not much good news is expected short term.
However, long-term investors should take heart. Procter & Gamble is performing well. Remember, the company has no control over these forex issues. What the company does have control over are its operations.
Currency-neutral core EPS growth for Procter & Gamble is estimated at 12% to 14% in fiscal 2014. Below is an overview of this projection: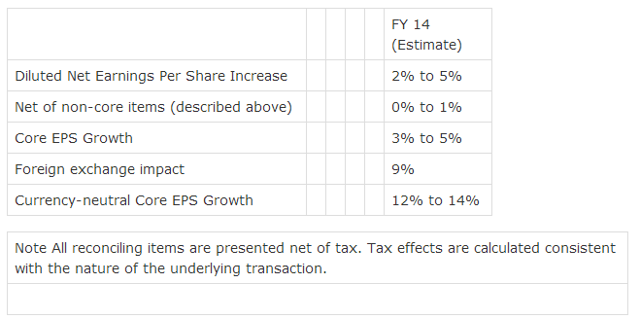 While some may argue that "adjusted" earnings are meaningless, they still point towards a company that knows how to manage its brands and grow its business. It also show what investors in Procter & Gamble will receive once some stability arrives to the forex markets.
As I noted in my recent article, Procter & Gamble is rather cheap compared to its peers. While a current 20x PE ratio may look expensive at first glance, Procter & Gamble's forward 2015 PE is a more reasonable 16x. In addition, by enterprise multiple, Procter & Gamble trades at 14.50x, well within its industry norms.
Furthermore, Procter & Gamble's current dividend yield of 3.10% is one of the highest for its peer group with a likely dividend increase coming in April. Assuming an 8% increase to the dividend, Procter & Gamble's forward yield is actually closer to 3.40%.
Conclusion
Procter & Gamble has a massive global presence, with its brands known throughout the world. With 22 brands generating $1B in annual revenues, the company is also diversified and not reliant on any a single product.
As a blue-chip stock, Procter & Gamble is not really an investment for those looking a quick return on their capital. However, for long-term investors, Procter & Gamble can often serve as a cornerstone stock for nearly any portfolio.
Disclaimer: The opinions in this article are for informational purposes only and should not be construed as a recommendation to buy or sell the stocks mentioned. Please do your own due diligence before making any investment decision.
Disclosure: I am long PG. I wrote this article myself, and it expresses my own opinions. I am not receiving compensation for it (other than from Seeking Alpha). I have no business relationship with any company whose stock is mentioned in this article.