The biggest spender in the U.S. isn't a tech conglomerate, banking empire, or energy consortium - it's the Federal government. National defense is one of the largest expenditures for the US government, which constitutes roughly 20% of the total budget - around $1 trillion in 2013.
The need for reliable information networks and communication arrays is absolutely critical for national defense. Battles are decided on expert reconnaissance and surveillance techniques, and state-of-the-art IT and analytical programs are essential. The possibility of cyberattack has become an imminent threat, producing a greater need for information security than ever before. Money flows in this area of defense are expected to increase throughout 2014 despite cut-backs due to sequestration.
To read more about defense stocks vulnerable to budget cuts click here.
CACI International (NYSE:CACI) is a $1.7 billion technical service company that provides information solutions for the Department of Defense in addition to improving government efficiencies. The company has more than 120 offices throughout North America and Europe and is headquartered in Arlington, Virginia. The company also maintains the TROJAN satellite communications system for Army intelligence.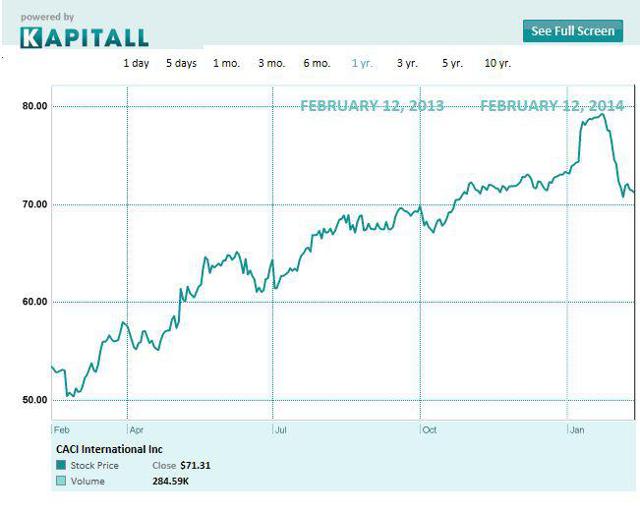 To get more information on CACI International click here.
Revenue guidance for 2014 was raised from $3.65 billion to $3.8 billion due to the acquisition of Six3 Systems, an advanced intelligence and cybersecurity company. Six3 is expected to contribute $275 million to $325 million of that revenue. Cyberattacks may be the biggest threat to national security in the coming century, and CACI's addition of Six3 should help the company land more government contracts.
CACI recently won $717 million in contracts with 25% coming from new business, which accounts for a 40% increase over the same period last year. Total backlog is around $7.6 billion, and pending orders are roughly $7.3 billion. Management plans to submit $8.5 billion in bids over the next 6 months as well.
Expenses were down $17 million due to cuts through cost-efficiency programs focused on bonus compensation and labor costs. Free cash flow has greatly improved to $190 million on a trailing 12-month basis. This gives the stock a price to free cash flow ratio of 8.8 which compares well to competitors like KEYW Holding Corporation (NASDAQ:KEYW) whose free cash flow ratio is a sky-high 107.
To get more information on KEYW Holding Corporation click here.
The stock is trading cheaply at 12 times earnings and a price-to-sales ratio of 0.47. Stifel recently upgraded the stock from a hold to a buy rating, and the average analyst target price is $79 - a discount of 11% at current levels. Investors should exercise some caution with CACI because the short interest is a relatively high 21%. There is potential for a short squeeze if the stock continues to rise and short sellers struggle to buy back to cover their positions.
Disclosure: I have no positions in any stocks mentioned, and no plans to initiate any positions within the next 72 hours.
Business relationship disclosure: Kapitall is a team of analysts. This article was written by Daniel Cross, one of our writers. We did not receive compensation for this article (other than from Seeking Alpha), and we have no business relationship with any company whose stock is mentioned in this article.