Philip Morris (NYSE:PM) generates fat margins and healthy cash flows, as it operates in an attractive industry. The company has geographically diversified operations, with exposure to developed markets, which offer attractive margins, and developing markets, which offer sales growth. Emerging markets offer sales growth; however, they also add uncertainty to the company's consolidated performance because of foreign currency changes and vulnerable economic conditions. The company has been relying on price increases to fuel its sales and earnings growths, as volumes for the tobacco industry are contracting. The recent weakness in the stock price, mainly as a result of foreign currency drag, provides an ideal entry point for long-term income-hunting investors.
Philip Morris has delivered solid performance in the past, as the company's core business model has been charging high prices, selling more cigarettes and maintaining a shareholder-friendly return policy. The company offers investors earnings and cash flow visibility. However, in the recent past, the contraction of sales volume has remained a concern for the industry. Sales volumes are falling because of health issues, higher taxes and stringent advertisement regulations. The dropping volumes are expected to slow down sales and earnings growth in the upcoming years, relative to recent years; however, I do not envisage a threat to the company's dividends in the upcoming years because of its solid cash flow generation.
Sales volume contraction has been the prevalent scenario for the industry, and the volumes for the industry are expected to decline 4%-5% annually. Weak consumer spending power has been an additional reason for the reduction in volumes. Sales volume for Philip Morris in Q4'13 dropped by roughly 4%. The drop in sales volume for the quarter was because of challenges in the company's important markets. Sales volumes changes YoY for different markets for the company for Q4'13 are as follows:
- Philippines (25%)
- Japan (16%)
- Russia (5.2%)
- EU (5%)
- Turkey (3.5%)
- Indonesia (1%)
Philip Morris expects the contracting sales volume trend to persist in the future, and it outlined volume guidance for 2014. The company expects industry volumes to fall by 9%-11% in Russia, 6%-7% in EU and 3%-3.5% in Japan. The company's management lowered its sales volume guidance for the EU region from 7%-8% sales volume drop to 6%-7% for 2014, which I believe is a more realistic guidance.
As I mentioned above, the company has been relying on price increases to offset sales volume drop and achieve sales growth; the following chart displays sales volume drop and price increases.
| | | | | |
| --- | --- | --- | --- | --- |
| Price Increases - YoY | EU | Asia | EEMA | Latin America & Canada |
| Q1-2013 | 5.5% | 15% | 9% | 10% |
| Q2-2013 | 4% | 3% | 7% | 7% |
| Q3-2013 | 7% | 8% | 9% | 3% |
| Q4-2013 | 4% | 7% | 9% | 8% |
| | | | | |
| --- | --- | --- | --- | --- |
| Sales Volume - YoY | EU | Asia | EEMA | Latin America & Canada |
| Q1-2013 | (10%) | (10%) | 1% | - |
| Q2-2013 | (6%) | (3%) | (4%) | (2%) |
| Q3-2013 | (5%) | (7%) | (6%) | - |
| Q4-2013 | (5%) | (9%) | (1%) | 4% |
(Philip Morris Quarterly Reports)

The following chart shows consolidated sales volume decline and price increase for Philip Morris for the last four years.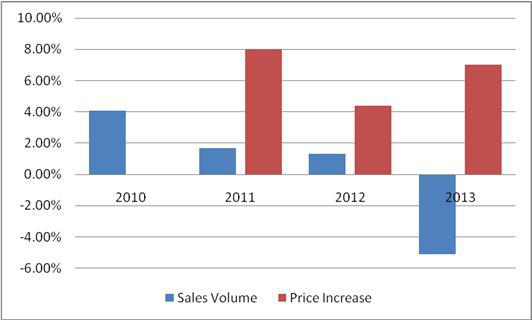 (Philip Morris Annual Reports)
As the company generates significant cash flows, it has undertaken massive share buybacks and offers high dividends. Since its spin-off in March 2008, the company has undertaken $33.5 billion worth of share buybacks, which represents a quarter of its initial outstanding shares. Additionally, the company has distributed approximately $30 billion through dividends since 2008. The following table reflects the share buybacks and dividends paid by Philip Morris since 2008.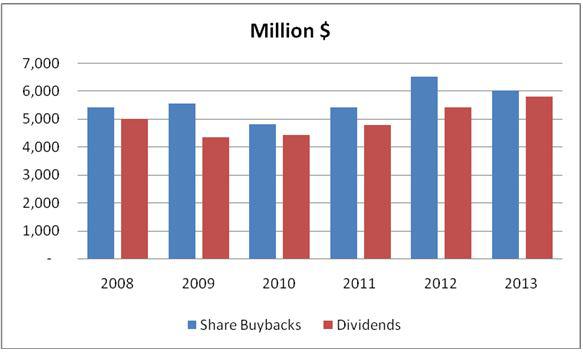 (Philip Morris Annual Reports)
The company anticipates share buybacks to be approximately $4 billion for 2014, down from $6 billion in 2013. The company is believed to have lowered its share buybacks in order to preserve its A-grade credit rating, pump investment into its Next Generation Product initiatives and because of foreign currency drag. Next Generation Product initiatives are intended to offset the sales volume decline of cigarettes and cater to the growing demand for alternate tobacco products like electronic cigarettes. Electronic cigarettes is a growing market, but the category is unlikely to have a material impact on the company's sales and earnings growth in the next 2-3 years.
As the company has international market exposure, foreign currency is expected to be a drag in 2014. The company, in recent months, has several times revised its foreign currency impact in 2014. The company expects foreign currency to have a negative impact of $0.71 per share on its earnings, up from previous figure of approximately $0.40. During the recent earnings call, the management provided more clarity on currency movement and its impact on 2014 performance. As a result of currency drag, earnings per share for the company are expected to increase in a range of 6%-8%, as compared to its long-term growth range of 10%-12%.
Valuations and Final Words
Despite the contraction of sales volume and foreign currency drag for Philip Morris in recent times, I believe it remains a good investment prospect for dividend-hunting investors; it offers a dividend yield of 4.70%. Also, margins for the company are expected to remain attractive. However, it is expected that the rate of sales and earnings growth for the company will slow down in upcoming years, primarily because of sales volume concerns. I am of an opinion that in the upcoming months, the company might lower its long-term earnings growth range to 8%-10%, as compared to the prior range of 10%-12%. Also, I believe that because of sales volume concerns, rising debt levels and reinvestment of profits into business, valuations multiple for tobacco industry and Philip Morris will contract in upcoming years, as earnings growth rate moderates. The table below shows valuation (P/E) contraction for Philip Morris and other companies in the industry, including Altria (NYSE:MO) and Reynolds American (NYSE:RAI). (Forward P/Es below are based on 2015 EPS estimates)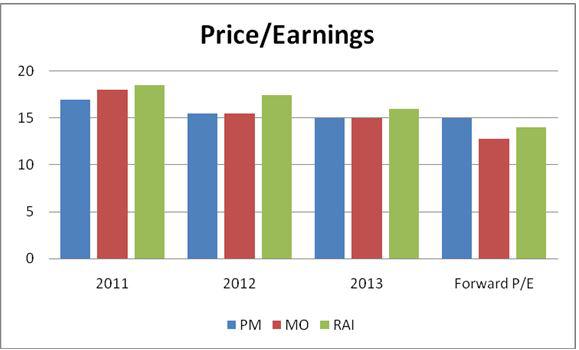 Source: YCharts, Morningstar and Yahoo Finance
Disclosure: I have no positions in any stocks mentioned, and no plans to initiate any positions within the next 72 hours. I wrote this article myself, and it expresses my own opinions. I am not receiving compensation for it (other than from Seeking Alpha). I have no business relationship with any company whose stock is mentioned in this article.