Executive summary:
The intrinsic value estimate is $32.88 per share.
Investors should benefit from demand growth for storage and service solutions.
While price confirmation is currently lacking, a bull market of primary degree could be close to starting.
_________________________________
EMC Corporation (EMC) develops & supports the IT industry's range of information infrastructure & virtual infrastructure technologies, solutions & services. The company operates in two categories: EMC Information Infrastructure & VMware Virtual Infrastructure; also, EMC entered into a joint venture with VMware (NYSE:VMW) to create Pivotal. EMC is one of the better-positioned enterprise IT infrastructure vendors.
EMC is guiding to 2014 revenue of $24.5B and non-GAAP diluted EPS of $1.95 with Q1 revenue of $5.39B and non-GAAP diluted EPS of $0.35. Revenue is forecasted to increase 5.6% relative to fiscal 2013, and non-GAAP diluted EPS is forecasted to increase 8.3%. In a March 2012 letter to shareholders, management stated a goal of generating $28B of revenue in 2014, which is significantly more than the $24.5B they are currently forecasting.
EMC is well positioned to benefit from the current growth segments of IT: big data, cloud, virtualization, storage, security, and software-defined storage and network. Over the next five years, EMC investors should benefit from growth in Services revenues. The intrinsic value estimate is $32.88 per share, which is 31% above the current share price.
Recent Developments
The board of directors declared a quarterly cash dividend of $0.10 per common share.
David Goulden was appointed Chief Executive Officer of EMC Information Infrastructure. David is an 11-year EMC veteran who has operated as EMC's CFO for seven years.
In a recent survey, 79% of businesses surveyed reported that better uses of Big Data would lead to better decision making. While 58% of respondents believe that Big Data will be a key factor in determining winners and losers in their industry. But 29% of companies surveyed have no current plans for implementing Big Data technology. Respondents are waiting to see how effective Big Data can be at generating ROI.
EMC announced the availability of XtremIO, which is an all-flash array.
Irish airline Aer Lingus opted to deploy 80TB of Tegile hybrid flash storage, rather than deploy solutions provided by IBM or EMC, and cited relative cost and ease deployment as the reasons for the selection. Aer Lingus continues to rely on EMC's and IBM's storage solutions for mission critical use cases. Western Digital and SanDisk are investors in Tegile.
EMC is expected to shed about 1,000 jobs this year as part of a minor restructuring, but the company plans to hire employees in other parts of the organization.
Business Summary
EMC Corporation and its subsidiaries develop, deliver and support the IT industry's broadest range of information infrastructure and virtual technologies, solutions and services. The company's Information Infrastructure business comprises three segments: Information Storage, RSA Information Security, and Information Intelligence Group. EMC's GoPivotal, Inc. business was formed in the second quarter of 2013. Pivotal is building a new platform comprising next-generation data fabrics, application fabrics, and cloud independent platform-as-a-service. EMC's VMware Virtual Infrastructure business is the leader in virtualization infrastructure solutions.
EMC's distribution network is anchored by its aggressive sales force, which is armed with extreme discounts to prevent customer defections. Also, the new IT trends, such as virtualization and SSDs, create opportunities for EMC to expand in the market for high-end enterprise storage systems.
On a bearish note, the largest cloud computing providers often build their own storage systems; if they begin to account for a greater percentage of enterprise storage, then EMC may lose market share. But with its substantial cash balance, EMC has the resources to pursue new technologies through acquisition and internal development.
Relative to calendar 2012, net cash provided by operating activities increased $661M to $6.9B while the difference between the increases in cash received from customers and cash paid to suppliers and employees increased by $1.05B. Share repurchases and dividend payments were higher in calendar 2013. Also, $5.46B of debt was issued during 2013. Cash provided by operating activities was the highest in the fourth quarter with cash received from customers increasing and cash paid to suppliers and employees decreasing relative to Q3. The organization received the most cash from customers in Q1 and paid the least cash to suppliers and employees in Q4.
Between 2010 and 2013, cash flow from operations increased at a 15% CAGR. During the same period, free cash flow-to-the firm increased at a 16.8% CAGR. And free cash flow-to-equity increased at a 44% CAGR because of the positive impact of 2013's net borrowing. While EMC is currently positioned in growth segments of the overall IT industry, the cash flow growth rates are unlikely to be sustainable longer term.
The liquidity and solvency positions are solid. At the end of 2013, the cash ratio was 0.90 and the debt-to-capital ratio was 0.23. But total asset turnover, a measure of efficiency, is trending lower; the ratio declined from 0.61 in 2011 to 0.55 in 2013. Overall, the company appears to be on solid footing, but the efficiency of operations is worth watching.
During fiscal 2013, revenues from Services grew (10% y/y) faster than revenue from Products (4.8% y/y). The Services segment had a gross margin that was almost 1,000 basis points higher than Products. At those growth rates, in 2018, Services would be 47% of total revenues of $32.8B, which would be a 41% increase relative to 2013. Expenses, which include cost of sales, increased 7.4% in fiscal 2013, and operating income increased 4.7%. The operating margin was 17.9% in 2013, and the net profit margin was flat at 13.3%. GAAP basic EPS increased 6%.
Risks
The share price is likely to remain volatile and investors could lose a portion or all of their investment.
Investors should judge the suitability of an investment in EMC in light of their own unique circumstances.
A decline in the global economic growth rate and/or a decline in the pace of economic growth in the United States could adversely impact the results of operations and the share price.
The technology industry is characterized by rapid technological change, which could materially adversely impact the results of operations.
Competition in product development and pricing could adversely impact performance.
Incorrect forecasts of customer demand could adversely impact the results of operations.
Higher interest rates may reduce demand for EMC's offerings and negatively impact the results of operations and the share price.
This section does not discuss all risks related to an investment in EMC.
Portfolio & Valuation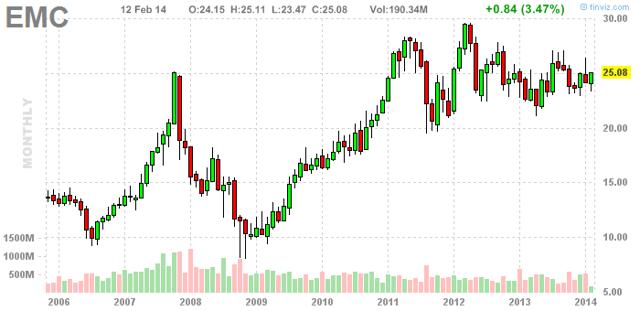 EMC appears to be in a triangle of primary degree. Triangles can be a bit of a tricky trade as they are subject to false breakouts. In this instance, if the analysis about this being a triangle is correct, there should be one more primary wave higher. That could mean EMC trades up to $33-$35 per share. Confirmation of the triangle is awaited.
There is a diversification benefit from investing in EMC, which has increased lately. Since 2009, the correlation is 0.77, but since 2013, the correlation is 0.25. Additionally, since 2009, the S&P 500 (NYSEARCA:SPY) explained 59% of the variation of the share price of EM.
EMC is trading below its linear trend. The 3-months, 6-months, and 12-months price targets are $28.81, $29.45, and $30.72. The 12-months price target is 22.5% above the current share price.
There is potential for EMC to outperform the broader market, but more evidence is needed before concluding that it is likely that EMC will outperform the market.
The valuation suggests that EMC is undervalued in the market. The current share price is roughly equal to the pessimistic value of $26.62/share. Under the baseline scenario, EMC is worth $32.88/share. Based on the company's fundamentals, EMC should be trading at a premium to the market, but it is trading at a discount; the market is trading at 2.5 times book, and EMC is trading at 2.3 times book. Consequently, both valuation metrics suggest that EMC is undervalued.
Disclosure: I have no positions in any stocks mentioned, and no plans to initiate any positions within the next 72 hours. I wrote this article myself, and it expresses my own opinions. I am not receiving compensation for it (other than from Seeking Alpha). I have no business relationship with any company whose stock is mentioned in this article.