Executive summary:
Agnico's output exceeds guidance, but revenues are lower due to the lower gold price.
Impairment charge of $537M caused the net loss of $2.61/share. However, the company was free cash flow positive.
Agnico expects to fund the 2014 capex with its operating cash flow and its working capital of close to $600M provides some flexibility.
Dividend is cut by 63% to $0.08/quarter for a current dividend yield of 0.97%.
_________________________________
Introduction
In this article I'll revisit Agnico Eagle Mines (NYSE:AEM) as the company has reported its Q4 production results and has issued a long term production guidance. I will provide my view on the financial results and the company's balance sheet. Thereafter I'll try to analyze the outlook for the next three years, which will result in my conclusion at the end of this article.
All images in this article were sourced from the press release.
My view on the financial results
In the fourth quarter of 2013, Agnico Eagle produced just over 322,000 ounces of gold, which is higher than expected and results in a full year production which is almost 4% higher than anticipated. Despite this, the total revenue for the quarter was lower than last year, which was obviously mainly caused by the much lower gold price in 2013.
Total revenues in Q4 2013 were $437M, but the net loss for the period was $453M, which was caused by an impairment charge of $537M after Agnico wrote down the value of its Meadowbank, Lapa and Meliadine assets. This resulted in a net loss per share of $2.61/share.
As the net income of Agnico Eagly is seriously impacted by the impairment charge, it's more important than ever to have a look at the cash flow statements. As an impairment is a non-cash charge, I think the cash flow statements of a company give a better view on the quality of the underlying assets.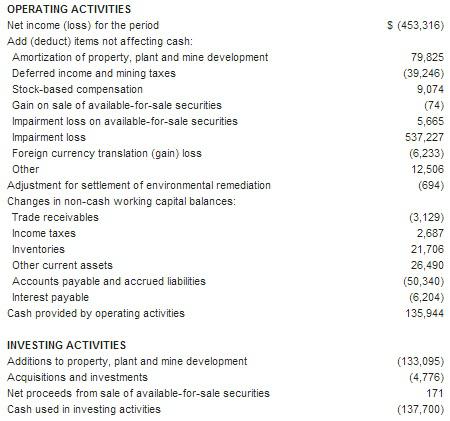 The cash flow statements make the situation look a bit better. The operational cash flow before changes in working capital was approximately $145M for the quarter. As 'only' $133M was used on capital expenditures, Agnico Eagle Mines was essentially free cash flow positive, despite showing a net loss of almost half a billion dollar. Unfortunately the free cash flow was insufficient to cover the dividend payment of the company, and that's very likely one of the reasons why Agnico decided to cut its dividend by 63%.
My view on the balance sheet
Let's now move over to the balance sheet of Agnico Eagle. At the end of 2013, Agnico had a working capital position of $594M, which is very robust, considering the current ratio was a very healthy 3.82. Keep in mind a current ratio higher than 1 means the company has sufficient current assets to cover its current liabilities. However, a ratio higher than 2.5 usually makes me wonder whether or not the company is allocating its capital efficiently. As no major capital expenditures are planned in the very near future, it looks like Agnico Eagle is gearing up for another acquisition as it also made the decision to slash its dividend to $0.08/quarter from $0.22/quarter.
Agnico's book value decreased, due to the impairment charges, to $2.977B, or approximately $17.09/share. This means that Agnico is trading at almost twice its book value, which isn't particularly cheap.
Outlook
Agnico Eagle aims to grow its annual output to 1.275M ounces by 2016, which will mainly be driven by production increases at La Ronde and reaching the planned capacity at the La India mine in Mexico. This means the impact of lower production rates at Lapa and Meadowbank will be compensated.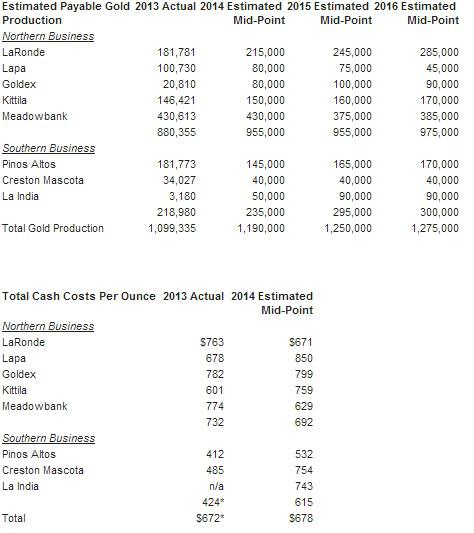 The expected capital expenditures for 2014 are just over $400M, and Agnico Eagle thinks it will be able to fund these expenses through internally generated cash flow. This is doable, as the company is aiming for an all-in sustaining cash cost of $990/oz in 2014 and even lower in the subsequent years.
Unfortunately for dividend-investors, Agnico slashed its quarterly dividend from $0.22 to $0.08. Whilst I fully understand this move because it's obvious AEM wants to be free cash flow positive this year, I can imagine several people will be disappointed as the new dividend yield will be approximately 0.97%, based on Wednesday's closing price.
Conclusion
Agnico Eagle's quarter wasn't as bad as the income statement would like you to believe. From a free cash flow perspective, Agnico was (barely) free cash flow positive and expects to fund all capital expenditures in 2014 with its operating cash flow. As the company expects to have an AISC of $990/oz for 2014, Agnico shouldn't run into any problems as the current gold price is trading close to $1300/oz.
In my previous article, I recommended to write P20 options for January 2014. These have expired worthless and investors have pocketed a 2% return in less than three months.
Disclosure: I have no positions in any stocks mentioned, and no plans to initiate any positions within the next 72 hours. I wrote this article myself, and it expresses my own opinions. I am not receiving compensation for it (other than from Seeking Alpha). I have no business relationship with any company whose stock is mentioned in this article.