Introduction
The volatile history of Advanced Micro Devices (NASDAQ:AMD) makes it easy to understand why many question their ability to succeed. However, given their successful progress made through their multi-year turnaround, I would like to propose why AMD is a great company to place your money by taking an overall outlook of the company. AMD has been consistently blamed for trading on hype and as a result, disappointed many anxious investors in the past year who were looking for quick money now. What many have failed to understand is that AMD is setting itself up for a stronger future over a stronger today and although though results of their success are starting to show, last year wasn't the time for AMD to impress. However, as more of AMD's wins start to come into play, I believe that AMD will show more stability in 2014 than any of the last several years, offering investors the best return yet through their turnaround.

(Chart From: ycharts.com)
AMD's History is Almost Irrelevant
Unfortunately, unlike many traditional investments, looking at historical data will only take you so far with AMD. Although this applies to many turnarounds, AMD is an exception as they are a technology company that must innovate a new road to success. This makes it difficult to gauge their potential for success because we must examine factors that have never existed. For example, AMD has introduced many new technologies within the last couple of years such as the APU and Mantle API, both which are technologies that strive to improve the efficiency of computing through from a non-traditional software perspective. We must also consider AMD's lower margin, high volume presence in all major gaming systems, specifically the Playstation 4 and Xbox One.
Just to be clear: console sales won't weaken for a while
As many know, AMD's semi-custom Jaguar APUs power Sony's (NYSE:SNE) and Microsoft's (NASDAQ:MSFT) very successful gaming consoles. However, in spite of this win there are many who argue that this is only a temporary source of strong revenue and that the lower margins will hurt AMD. It is important to realize that lower margins are not a major concern due to high volumes. Also, rather than seeing sales weaken we will see improvement in the coming years. Based on an article from Buzzfeed and their chart below, the previous generation of gaming consoles did not peak until four years after their launch. Our worst case scenario for the current generation would be a shorter lifespan and a sooner peak but since gaming consoles are designed to be a valued investment for consumers, this is unlikely. One thing to note is that it wasn't until last year where video games like "The Last of Us" highlighted that developers were starting harnessing the full potential of the previous consoles.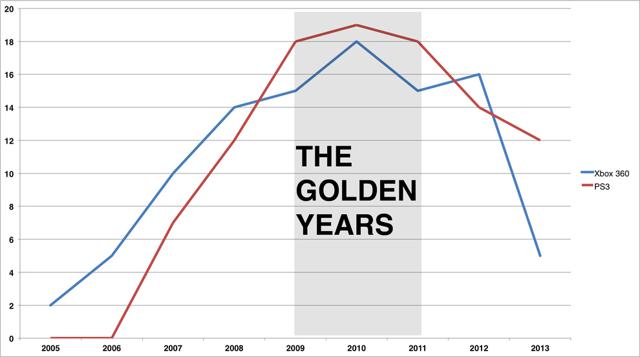 (Source: buzzfeed.com)
The latest generation's sales are still making their way around the world, and as they do they are easily outperforming the previous generation. The last official data reported that there were over 7 million console sales by the end of 2013 which was only 1.5 months into their service. China, who has lifted their ban on gaming consoles will be entering the market but with no date announced. This is a huge market potential but unfortunately unpredictable. Japan is also waiting for their PS4 later this month and Amazon Japan reported that every pre-order batch that's been available for them was sold out within hours, including their most recent batch noted to be their last before launch day. Although sales are a little more stable with the Xbox One, the PS4 is still in a situation where the consoles are sold out on Amazon, per their purchase page here in America. The gaming consoles are a perfect way for AMD to demonstrate their success in their APU technology and generate revenue to help stabilize them through the future.
AMD is succeeding and showing a promising future
In Q3 2012, AMD laid out their plan to completely transform their business through three phases. As I mentioned in a previous article, the keywords to this strategy are: Restructure, Accelerate, Transform. AMD has successfully reduced operating cost, completing their restructure phase, and have already accelerated their growth from new products like the gaming consoles and new graphics cards. To finish, AMD will further diversify their product lineup and focus on high growth products and by 2015 their plan is to generate 50% of their revenue from these high growth markets. AMD has been on time and completed every step with flying colors and I expect them to do the same through their completion.
Below, I will discuss some products and developments that recognize AMD's determination to commit to this goal.
The APU
Invented by AMD, the Accelerated Processor Unit (APU) is one of their strongest focuses while being an entirely new approach to computing. The APU is an entirely new product and in a previous article, I explain the basics of the APU and its promising potential to completely revolutionize all of computing. The APU has been a huge success in the new gaming consoles and their latest APU, Kaveri, is an amazing product that offers incredible performance at very good value. Later this year, AMD will be launching Beema and Mullins, their low-power and ultra-low power processors for tablets and notebooks. The APU will be one of AMD's successful ways to gain back market share against Intel (NASDAQ:INTC) and help stabilize the company in the future.
Professional Graphics
Apple (NASDAQ:AAPL), one of the strongest innovators in the tech world completely changed the workstation computer with their new Mac Pro and chose AMD to be a part of it. Every new Mac Pro sports two of AMD's FirePro Professional graphics cards in the extremely compact & attractive desktop. Demand is very strong for this machine as their purchase page suggests that availability has been pushed back again, now into March. In addition, Mac sales improved by nearly 20% in 2013, making the Mac Pro a power partner to help AMD improve their professional graphics market share.
Consumer Graphics
Last year, AMD refreshed their consumer graphics cards with the Hawaii-Series architecture with a strong success. In fact, these graphics cards were so successful that they appealed to more than just gamers, specifically digital currency miners, and drove prices to inflation. The new lineup also added a unique feature called Mantle, a new API developed by AMD and EA's (NASDAQ:EA) DICE division in an effort to improve gaming performance on AMD's new graphics cards without any modification. This feature is a great way to help improve the gaming experience for AMD consumers while boosting their market share in the progress. If you're interested in learning about the Mantle API in detail, I would recommend reading Contributor Tom Luongo's article, or my own.
Server Market
Lastly, the datacenter, or the cloud, is one of the largest growing markets in the tech world and is another high focus for AMD. It is the most important part of every mobile device and as our world becomes more mobile, demand for more datacenters will increase, especially ones with high efficiency. Realizing this, AMD has made it a priority to focus on this market by partnering with ARM to designing server processors that use ARM's compact and power efficient cores. With ARM, the need for inefficient and massive air conditioned rooms cooling may begin to vanish. This is why AMD's server division general manager, Andrew Feldman, believes that efficiency is what will give ARM a 25% server market share by 2019. AMD's partnership with ARM is a big win for the future and together they will be shipping the very first 64-bit server processor by the end of this year.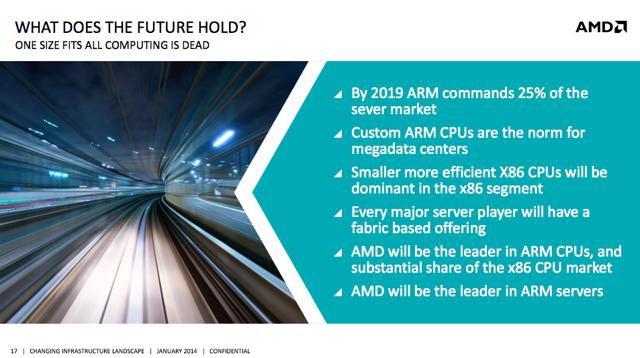 (AMD - January 2014 Open Compute Summit)
AMD also brought in a huge win last year with Verizon agreeing to adopt their SeaMicro microserver chassis and integrated fabric interconnect for their new cloud services that will launch next year. The beta for this service is expected to start later this year so development may be starting soon, if it hasn't already.
AMD's Last Discount
Following earnings, for the third sequential quarter, AMD has fallen and in combination with the recent weakness in the market, had fell to levels further than it may have otherwise. The last few trading sessions have been very positive for AMD, and through April, I expect AMD to hit a price of about $5 - hype or no hype. AMD's progress over the last year has been incredible and to summarize, by the end of this year AMD will be benefiting from the following new additions to their business:
Verizon server deal
Kaveri, Beema & Mullins APUs
Apple Mac Pro
New consumer graphics lineup
Strong gaming console sales from Microsoft and Sony
AMD designed 64-bit ARM-based servers
Again, those are all new products that AMD has introduced within the last year or will introduce by the end of 2014. AMD is doing a great job in diversifying their lineup and with time I expect them to continue to add even more products and wins that will help them meet their final goal in completely transforming the company.

(Chart From: ycharts.com)
To conclude, I believe that AMD is at a steep discount and should AMD continue to beat expectations, the potential for a 100% upside from the current levels are possible by the end of this year. Their last two quarters have been profitable and through 2014, the same trend is expected to continue. Many of us have been waiting for AMD's massive growth to begin and as it has been mentioned many times here on Seeking Alpha, the wait may be over as 2014 will be AMD's year.
Disclosure: I am long AMD. I wrote this article myself, and it expresses my own opinions. I am not receiving compensation for it (other than from Seeking Alpha). I have no business relationship with any company whose stock is mentioned in this article.