Transcontinental Realty Investors (NYSE:TCI) is a real estate investment trust that acquires, develops, and owns residential and commercial properties, whose stock price has increased about 100% since December 2013 and about 250% from its 52-week low.
This recent sudden run-up, even made the NYSE to contact the company and ask for more information that the company didn't provide:
The company stated that its policy is not to comment on unusual market activity.
However, just about ten days before, in a kind of unusual press release, the company was boasting about its stock price performance:
Transcontinental Realty Investors, Inc. today recognized a 249% increase in stock value over the period of eighteen months.
Without having to know the exact reason that caused the rally of the stock price, we can see whether it is justified or not. According to the last 10-year history of the company's stock price it is not justified at all.
Stock price is trading at 10-year P/B highs
The image below shows the P/B ratio of the company for the last 10 years.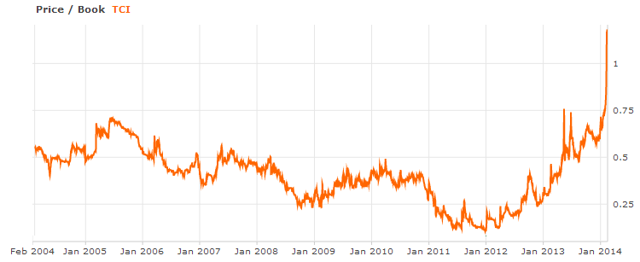 (Source: Stock Rover)
It is clearly visible that the stock is trading at 10-year P/B highs of 1.16
The highest not recent P/B ratio was 0.71 in 2005 when the stock price was at all time highs
The average P/B ratio for the last 10 years is about 0.5
The average 10-year P/B ratio is fair
An investor could argue that the company's stock wasn't priced properly all these years but data suggests otherwise. The 10-year average P/B ratio of 0.5 is fair for two reasons:
1. The company has cumulatively lost about $100M in the last 10 years and has been unprofitable for the last 4.
For the 9 months of 2013 the company has been profitable after selling some assets.
2. The company hasn't distributed a dividend since November 2000, which is usually one of the basic reasons to have a REIT structure.
Target price is $7 as an operating entity
Since the company hasn't announced any plans to liquidate its portfolio so one could argue about being priced near book value the proper pricing should be at the 10-year P/B average. With a book value per share near $14 and a 10-year average P/B ratio of 0.5 the target price for the shares is about $7.
Disclosure: I am short TCI. I wrote this article myself, and it expresses my own opinions. I am not receiving compensation for it. I have no business relationship with any company whose stock is mentioned in this article.