Executive summary:
Philip Morris has presented healthy fourth quarter results while its performance was clouded by non-recurring impairment charges and currency effects.
Philips Morris has lost 8% year to date.
Consolidation offers a great entry point for long-term oriented investors who seek income.
Share repurchases and dividend growth unlikely to stop due to strong free cash flow growth.
_____________________________________________________
Philip Morris' (NYSE:PM) shareholders have had little to be happy about while owning the stock of the tobacco giant lately. Philip Morris has been trading weakly for some time, but especially since the beginning of the year. I don't think that Philip Morris' underperformance is warranted given its healthy fourth quarter results and respectable dividend yield. With decent market share growth in key markets, a consistently increasing dividend stream and strong free cash flow growth, Philip Morris combines everything long-term investors seeking income could want.
Twelve month trailing stock performance
Philip Morris has marked its 52-week high in the second quarter of 2013. This is quite astonishing considering that the majority of equities in the market reached new 52-week highs at the end of the year. As the markets sold off in January, Philips Morris' share price also fell sharply: Shares of the tobacco company consolidated 8% year to date and 12% over the last twelve month.
(Source: Yahoo Finance)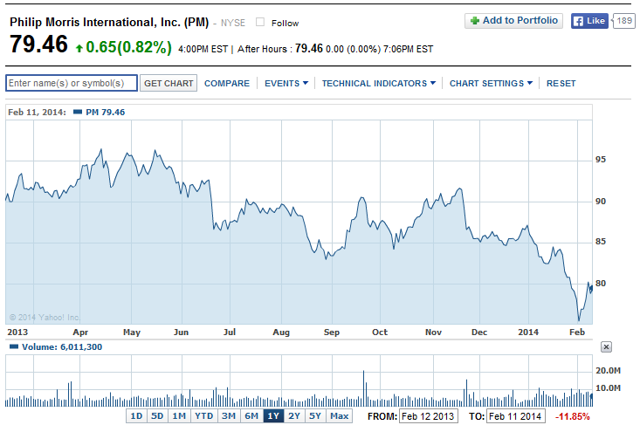 What is even more interesting than the observation that Philip Morris consolidated in a rising stock market, is that Philip Morris' share price performance has decoupled from the performance of its peers. Altria (NYSE:MO), Reynolds American (NYSE:RAI) and Lorillard (NYSE:LO) have done a lot better than Philip Morris. The return differential between Philip Morris and its peers in the tobacco sector has actually widened significantly since October 2013 (see chart below).
Fourth quarter results
Philip Morris' fourth quarter results were impacted by impairment charges and currency effects. PM reported a 4Q 2013 diluted EPS of $1.24 compared to $1.25 in the year ago quarter. However, asset impairments, exit costs and tax adjustments accounted for $0.13 per share in the fourth quarter of 2013 bringing PM's adjusted diluted EPS up to $1.37 vs. $1.24 in the year ago quarter (an increase of 10.5%). Excluding currency effects, Philip Morris' adjusted diluted EPS increased to $1.48: A y-o-y increase of 19.4% in underlying performance.
Philips Morris' full-year reported diluted EPS came in at $5.26 vs. $5.17 in 2012 (a plus of 1.7%) and its adjusted diluted EPS excluding currency effects was reported at $5.74 vs. $5.22 in 2012 (an increase of 10%). Philip Morris' business performance was mainly affected by one-off impairment charges and restructuring costs for its Egyptian operations and currency effects which should cancel out in the long-run.
PM's full-year 2013 free cash flow came in at $8.9 billion compared to $8.4 billion in 2012 (up 6.8%). Excluding currency effects free cash flow stood at $9.4 billion reflecting an even higher y-o-y increase of 11.8%. Philip Morris' free cash flow generation is still strong even though currency effects impacted its results slightly.
Shareholder value driven by PM's remuneration policy
Further below in the article I present a dividend comparison chart to illustrate how Philip Morris performs against other leading tobacco companies in terms of dividend yields. The following chart shows that Philip Morris compares very favorably against other large-cap, dividend-paying companies across a variety of sectors. Many of those companies are being held in investor portfolios for their dividend value (for instance GlaxoSmithKline (NYSE:GSK), Pfizer (NYSE:PFE) or Vodafone (NASDAQ:VOD)).
Philip Morris' annualized dividends have consistently grown over the last five years oftentimes with double-digit percentage increases in a single year indicating that management is extremely focused on delivering cash value for shareholders. In addition, Philip Morris is focused on repurchasing common shares: After repurchasing $6.0 billion worth of common shares in 2013, Philip Morris has announced it targets share repurchases of $4.0 billion in fiscal year 2014.
(Source: Philip Morris Fourth Quarter Earnings Presentation)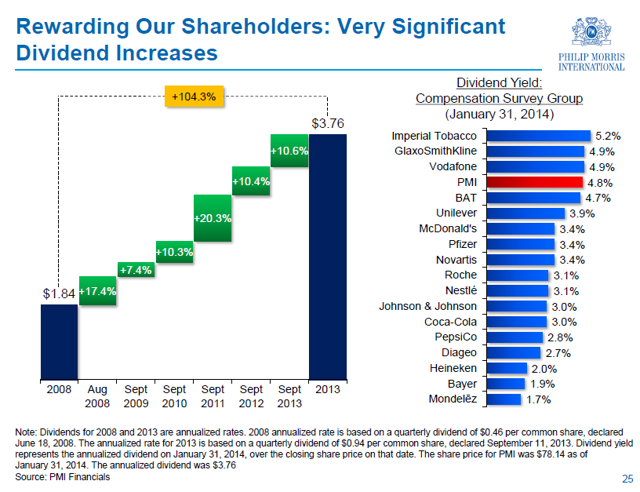 Market valuation
Philip Morris presently trades at 13.72 times forward earnings which is about in line with earnings multiples of its peers. The peer group average P/E ratio stands at 13.60 and the standard deviation of valuations is extremely low. Given the high dividend value of Philip Morris, I think the largest tobacco company by market capitalization can reasonably trade at 15 times forward earnings.
(Source: Achilles Research, Finviz)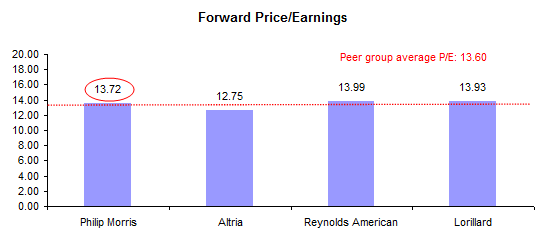 Since I last wrote about Philips Morris, the yield of the tobacco company has increased by 37 basis points. Philip Morris has paid a quarterly dividend of $0.85 per share in July 2013 and subsequently raised its quarterly cash payment to $0.94 per share in October: An increase in annualized dividends of 10.6%. Philips Morris' forward annualized dividend yield now stands at 4.73% which is the third highest yield in the peer group and still respectable.
(Source: Achilles Research, Finviz)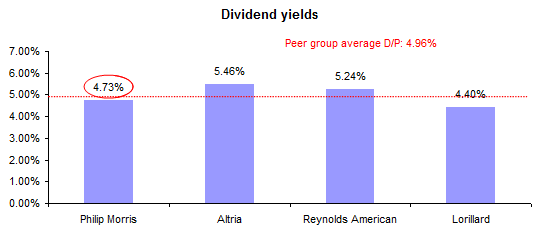 Key valuation metrics as well as discounts/premiums to peer group average valuation ratios are presented in the table below:
(Source: Achilles Research, Finviz)

Bottom line
Philip Morris has presented quarterly results that were predominantly affected by items that technically should be treated as non-recurring. Underlying business results, as shown in Philip Morris' strong y-o-y adjusted diluted EPS growth excluding currency effects, highlight that the tobacco company isn't faltering at all. Strong free cash flow growth and a commitment to substantial share buybacks show that investors have little to worry about.
Philip Morris currently exhibits a dividend yield of 4.73% and dividend increases in 2014 could quickly push the yield to 5% and above. Ongoing share repurchases also are a big positive for shareholders and should provide support for PM's share price. Long-term oriented investors who want to take advantage of short-term market disruptions and who intend to profit from an increasing dividend stream should consider Philip Morris. Long-term BUY.
Disclosure: I am long PM. I wrote this article myself, and it expresses my own opinions. I am not receiving compensation for it (other than from Seeking Alpha). I have no business relationship with any company whose stock is mentioned in this article.