Executive summary:
Cisco System Inc's (CSCO) FQ2 results after-hours on Wednesday sent the shares down 4%.
Earnings per share beat by a cent, revenue (though down YoY) beat by $170M.
CSCO also announced a dividend increase and that it bought back $4 B worth of shares during FQ2.
Dividends, Buybacks, and Cash on hand appear enticing but questions remain about the company's future.
______________________________
This article was written few days ago debating by how much Cisco Systems would increase its dividend. The announcement was expected in March based on the little history available but we've got the news in February this time. With the new dividend and the share price drop in mind, let us get into the details.
New Dividend: Cisco's new quarterly dividend of 19 cents per share gives it a current yield of almost 3.5%. This represents a dividend increase of about 12%. Cisco's yield now is right in between two other dividend paying tech giants, Intel (INTC) and Microsoft Corporation (MSFT), which yield 3.7% and 3.0% respectively.
Dividend Coverage: Let us look at the dividend coverage using three metrics.
Payout Ratio: Cisco's new dividend puts its trailing payout ratio at a comfortable 42%, which is in line with Microsoft's 41% and below Intel's 47%.
Cash on Hand: It is impossible to talk about Cisco as a potential investment without bringing its cash pile into picture. Cisco's cash and equivalents make up about 40% of the company's market cap. Granted, cash on hand by itself does not reward investors unless it is properly used and that bulk of the $48B could be subject to repatriation tax. But it is still hard to ignore the glaring cash pile and count is as one of the potential positives for investors.
(Cash on Hand:

(Source: YCharts.Com)
Free Cash Flow: According to YCharts.com, Cisco's lowest quarterly free cash flow in the last 5 years was $1.32 Billion. The current outstanding shares count is about 5.3 Billion. Multiplying the current quarterly dividend of 19 cents by the number of shares outstanding, we arrive at $1.007 Billion that the company has currently committed to shareholders. This is lower than the lowest quarterly free cash flow in 5 years.
To summarize, dividends appear very safe.
Dividend Growth: Cisco began paying dividends in 2011 and the dividend has gone up more than 200% from 6 cents per share/qtr to 19 cents per share/qtr. There is not a clear pattern yet that most dividend growth investors would like to see but these are still early days for Cisco as a dividend stock.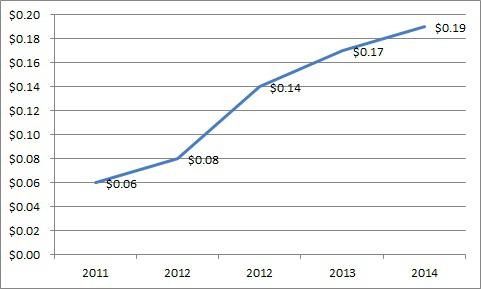 (Source: Yahoo Finance)
Extrapolation and Future Returns: The table below shows the expected 5 year yield on cost for an investor who buys Cisco at current level, assuming Cisco increases dividend by 7% per year.

(Source: Dividend and share price data from Yahoo Finance)
However, there are many questions about Cisco's future earnings.
Orders for Switches and Routers, the company's bread and butter comprising 35% of the company's value according to Trefis.com, fell 6% and 5% respectively in the recent quarter. But Cisco is still the clear leader in the switching market with 75% share. This is a situation where your share of the pie remains the same but the pie itself is shrinking.
2014 EPS estimates currently stand at $1.98 and Cisco guided in line during the conference call. But expect that number to go down as there are some downgrades on their way.
Even if Cisco reports at the low end of its 2014 estimates at $1.95 per share, that would represent a growth of about 6% from the current $1.84 per share. Add that to the yield of about 3.5%, we get a relatively safe 10% return. Cisco does have a history of beating earnings estimates, so this estimate appears conservative.
Comparison: As a result of the dividend increase and the share price hair cut, Cisco clearly ranks higher than Intel and Microsoft in 3 out of the 5 categories shown below. It's yield is catching up with Intel's and with growing dividends it will overtake Intel sooner than later, unless Intel gets its act together.

(Source: Data from Yahoo Finance)
Conclusion: With Intel's own troubles not going anywhere soon and a new CEO taking over at Microsoft, Cisco still has the chance to prove to investors that it is the best "old-school" technology stock. Continued double digit dividend increases are encouraging but the company has a lot of work to do as sales fell in almost every single product/service category (Switches, Routers, Network Security, Service Provider Video, and Collaboration). Whether it is a seasonal weakness or a trend remains to be seen.
All said and done, Cisco still looks like a reasonable stock to own if you want to diversify into more technology stocks that pay dividends. But temper your expectations. But, as this article says, this earnings report:
has given the chance for investors to pick up some cheaper Cisco shares at a higher yield.
might end up pushing Cisco's forward PE to 10 (it is 11.08 at the time of writing).
might garner even more detractors for the CEO.
Disclosure: I have no positions in any stocks mentioned, and no plans to initiate any positions within the next 72 hours. I wrote this article myself, and it expresses my own opinions. I am not receiving compensation for it (other than from Seeking Alpha). I have no business relationship with any company whose stock is mentioned in this article.