Executive summary:
Gazprom is trading at very cheap multiples and offers an interesting dividend yield of 4%, which is sustainable given its dividend payout ratio of only 25%.

However, Gazprom may be a trap, as this valuation seems justified by its structural woes, and a re-rating is not expected soon.

Better value may exist elsewhere within the oil & gas industry, like for instance, in Royal Dutch Shell, which offers a yield of 5%.
_________________________________
Gazprom OAO (OTCPK:OGZPY) is the largest producer of natural gas in the world, producing about 17% of the global output, and is Russia's largest company. Gazprom is focused on geological exploration, production, transportation, storage, processing and marketing of gas and other hydrocarbons, as well as electric power, heat energy production and distribution. It controls the world's largest network of high pressure gas pipelines. Its current market capitalization is about $100 billion, and is traded in the U.S. on the over-the-counter [OTC] market with one ADR representing two shares of Gazprom.
Gazprom's share price has had a weak performance over the past few years, due to weak gas demand in Europe, challenges to its contract terms, and the U.S. shale gas revolution. Moreover, weak corporate governance and the general perception of investing in Russia has also hurt its performance. Gazprom's share price is near its lowest levels over the past couple of years, and near where it traded in the first half of the past decade.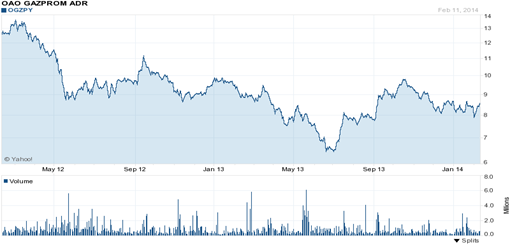 Gazprom is trading at very cheap multiples given its P/E ratio of only 2.5x and an EV/EBITDA of 2.2x. By comparison, ExxonMobil (NYSE:XOM) trades at a P/E of 12.3x and an EV/EBITDA of 5.5x. Gazprom is also cheap compared to its historical multiples, given that its shares have traded at an average P/E ratio of 7x over the past three years. One of the main reasons why Gazprom trades so cheaply is due to Russia's high political risk, but also political risk from important customers such as the Ukraine. Gazprom is heavily exposed to the Ukraine, which is facing currently severe political unrest which clouds Gazprom's outlook. Also, the recent emerging markets crisis is leading to huge outflows from equities on these markets, pushing down its stock price. Furthermore, the E.U. Energy Commission recently stated that it expects to wrap up an investigation into Gazprom's alleged anti-competitive practices during 2014, and will then say whether it intends to levy a fine. Therefore, even though Gazprom may seem a bargain at first glance, its many challenges and headwinds also mean it may be a trap and continue to trade at very low multiples.
Company Profile
Gazprom was created in 1989 when the Ministry of Gas Industry of the the Soviet Union transformed itself into a corporation, keeping all its assets intact. The company was later privatized in part, but currently the Russian government holds most of the control in its hands with an equity stake above 50%. The oil & gas sector is the single most important economic sector in Russia, representing about 50% of total state revenues. Gazprom as the largest oil & gas company in the country, makes up a substantial part of Russia's federal budget. Natural gas is by far the dominant fuel in Russia and is expected to maintain this position in the foreseeable future. Russia's gas sector is dominated by Gazprom, which, despite its shrinking production, still accounts for about 73% of the country's total gas production. The remaining share of gas production is split between independent producers, the largest of which is Novatek (OTC:NOVKY).
As of December 31, 2012, Gazprom proven and probable reserves were estimated at 153 billion boe. Its gas production has been relatively stable over the past decade at about 500 billion cubic meters of natural gas per year, amounting to 17% of worldwide gas production. In addition, Gazprom produces 32 million tons of crude oil and 12.1 million tons of gas condensate annually. The major part of Gazprom's production fields are located in Western Siberia, while the Yamal Peninsula is expected to become the company's main gas producing region in the future.
Gazprom possesses the largest gas transport system in the world, with almost 100,000 miles of gas trunk lines, a distinctive factor compared to other oil & gas majors. It has the monopoly on pipeline exports in Russia, a position that should be maintained going forward. Thereby, the company is to a large extent a midstream and a pipeline transportation company rather than a straightforward hydrocarbon producer. Although Gazprom has the pipeline export monopoly, Russia recently authorized two liquefied natural gas [LNG] projects from Novatek and Rosneft (OTC:RNFTF) to export gas, so Gazprom may face some competition on gas exports in the coming years on the LNG market.
Over half of its gas sold by volume is in Russia, but its local gas sales are responsible for only 25% of total revenues. Gas prices in Russia serve as one of the tools for inflation control and are therefore quite low, explaining Gazprom's difference between volume and value of its domestic operations. However, Russia should increase its weight on the group's sales over the coming years, as the government-regulated gas price in the country is heading towards parity with international prices. Europe accounts currently for near 60% of the company's sales, making Gazprom the supplier of one-quarter of European gas. In the two decades following the dissolution of the Soviet Union, Russia was suspected on a number of occasions of using Gazprom as a political tool following a number of instances where gas flow from Russia was restricted or cut off to Europe. Political interference is one of the main reasons why Gazprom trades so cheaply, given that governments rarely use this power to benefit minority shareholders, as can also be seen with Petrobras (NYSE:PBR) and its retail fuel prices subsidization which hurt shareholders' returns despite the company's valuable assets.
Financial Overview & Dividends
Regarding its financial performance, Gazprom's results have been relatively weak over the past few years. The company has faced competition in its domestic market with the growing presence of independent producers, and it has lost market share in Europe, leading to price discounts in the process. Moreover, oil prices have stayed sideways since the end of 2010, which is a key macro driver for Russia's economy. In 2012, Gazprom's revenues declined 2.7% to $153 billion, and its operating profit fell 26% to $41.5 billion. Its operating profit margin declined from 36% to 27%. Its net income dropped by 37% to $17.9 billion.
Regarding its dividend, the company's last dividend paid was 5.99 RUB ($0.17) per share, representing a 33% decline from the previous year. Gazprom's dividend payout is very low compared to many of its peers. The company has recently increased the dividend payout ratio to 25% of its net income, a level similar to Petrobras but much lower than, for instance, Royal Dutch Shell (NYSE:RDS.A),(NYSE:RDS.B) which has a payout ratio of 60%. At its current stock price, Gazprom offers a dividend yield of 4%, which is attractive for one of the emerging market's most liquid stocks. However, this yield is reduced by Russia's dividend withholding tax of 15%.
Gazprom's cash flow generation is good, but its also has huge capital expenditures [capex] outflows. Its annual capex is above $40 billion, which is nevertheless covered by its operating cash flow of about $55 billion per year. Nearly half of its capital expenditures [capex] is spent on gas pipelines instead of oil & gas exploration and production, as happens for most of its major peers. The company plans to allocate more than half of its combined capex on infrastructure development and another 25% on effectively maintaining output and bringing new gasfields onstream.
Gazprom's free cash flow [FCF] was about $15 billion during the past year, before dividend payments. Its FCF yield at the current share price is close to 10%, which is higher than the average FCF yield for the European and U.S. integrated oil companies. However, Gazprom's FCF generation potential over the long-term is unclear due to lack of visibility on its future capital investment plans. Therefore, investors should focus more on the most secure source of shareholder returns that is dividends than FCF, which is also a reason why Gazprom trades cheap compared to its closest peers as its cash flow visibility over the long-term is low.
Conclusion
Gazprom trades at a very much undemanding valuation, which could at first glance be considered a great bargain. However, Gazprom seems to be a value trap as its profitability profile is unlikely to change over the next few years and the company faces several headwinds that clearly justify its low valuation. Even though its yield is relatively attractive, better value seems to exist elsewhere within the oil & gas industry, like in Royal Dutch Shell, which I've covered recently. Shell offers a slightly higher dividend yield than Gazprom, and its issues are mainly cyclical rather than structural, being therefore a better income investment than Gazprom.
Disclosure: I have no positions in any stocks mentioned, and no plans to initiate any positions within the next 72 hours. I wrote this article myself, and it expresses my own opinions. I am not receiving compensation for it (other than from Seeking Alpha). I have no business relationship with any company whose stock is mentioned in this article.