(Editors' Note: This article covers micro-cap stocks. Please be aware of the risks associated with these stocks.)
Many investors reaped substantial rewards recently concerning the Vringo (VRNG) vs. Google (NASDAQ:GOOG) victory. Now that the case has moved on to the Appeals court, many investors will take their respective capital gains and seek other opportunities. The "Vringo" experience is proof positive that Patent Assertion Entities (PAEs) can be fantastic vehicles for appreciation. However finding these PAEs, with Vringo like potential, can be a difficult task. Investors want the billion-dollar verdicts balanced against maximum "bang for the buck" yields. These companies have taken that billion-dollar verdict quest, and some may actually get there. Here's my reasons why.
VRINGO
Vringo's opportunities abound, most notably in the Appeal that was filed in March of 2013. Vringo is appealing the Laches ruling issued by Judge Raymond Jackson. Today's stock price neither fully accounts for the successful Order for enhanced royalties, nor the possibility of setting aside the Laches ruling. The latter being set aside would allow for past infringement damages, should Vringo prevail against Google. Few are willing to assess this valuation possibility in the stock price. The reasons are obvious; Vringo has to prevail in the Appeal. Then it's back to the District Court where Vringo has already won the Royalty base of 20.9% on Google's Adwords US Sales (accounts for approximately 50% ), and assuming a win, more than likely back to the Appellate to fend off the inevitable Google appeal. This could be another 18-24 months; however some $500 million or more in damages are at stake and this PAE has shown a strong propensity at winning.
Google Revenue at risk concerning the Laches Appeal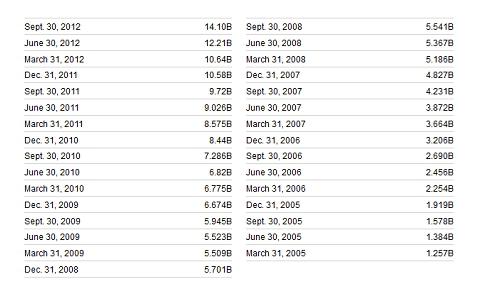 (Source: ycharts.com)
The chart above reveals the gross revenue at risk to Google. Revenues thru 2005 to 2011 amount to $135 billion. Suggestions of $500 million or more are derived from the US Sales of Google's Adwords unit (calculated at approximately 50%, multiplied by the 20.9 % revenue base, then the applicable 3.5% royalty). There are many moving parts to this possible victory, however other near term settlements have developed or appear on the horizon. Vringo recently disclosed a private settlement with ADT over the latest patent infringement filed lawsuits. ADT (NYSE:ADT) wasted no time in coming up with a number as Vringo piled into another Defendant of similar business. With the Google victory and Microsoft (NASDAQ:MSFT) settlement in tow, Vringo has scoped the Security World and found its soft spot, prompting speed dial settlements. Many are wondering if the next announcement will center on the patents won in the Microsoft settlement. ZTE (OTCPK:ZTCOY)is another wild card with its recent string of losses in India and Germany. Time will tell but by all accounts it looks like the next billion may be a lot easier for Vringo.
Document Security Systems (NYSEMKT:DSS)
While not a PAE in the strictest sense, Document Security Systems holds valuable patents and has launched patent infringement actions against Apple (NASDAQ:AAPL), Face Book (NASDAQ:FB) and LinkedIn (LNKD). Recently Federal Judge Susan Illston stayed a decision to hear DSS's Markman Hearing, pending the Alice vs. CLS Supreme Court outcome. As a result of this delay action, DSS took an unjustified major dive in share price losing some 40% of its market value. Considering that the Facebook and LinkedIn lawsuits are minor compared to the billions at stake in the Apple litigation, Investors exhibited a clear lack of insight. However, this created a fantastic buying opportunity for Investors willing to add 3-6 months to their hold time. Short term bargain hunters feel the little known DSS vs. Coupons.com action could be the sleeper catalyst to energize the stock. In 2012 DSS filed a lawsuit against Coupons.com for misuse of its proprietary technology. DSS is looking for $200 million in damages and may be positioned to actually get it. For those unaware Coupons.com did $150 million in sales last year on $1.3 billion in transactions, and just filed an S-1 shelf for a $100 million. Goldman Sachs is operating as the lead underwriter but appears to have yanked the offering pending the lawsuit resolution. The situation reminds me of the Yahoo (Overture.com) vs. Google case, where Google ended up paying a large percentage of Google stock, and warrants, making their infringement cloud go away prior to the offering. At last check the case is coming out of discovery, but due to the offering delay may end up on the fast tracked settlement path. The latest reports states Goldman Sachs has Coupons.com priced out at $10 per share with 157 million shares outstanding. DSS with its $78 million dollar market cap would skyrocket on any share based settlement. This is just a taste of what could develop; larger still is the Apple lawsuit possibly transforming DSS into a billion-dollar player.
Worlds, Inc. (WDDD)
Worlds Inc. a small upstart MMORPG software developer is truly engaged in a David vs. Goliath struggle against Fortune 500 Activision Blizzard (NASDAQ:ATVI). At issue are patents governing 3-D online game play. I've written about this in prior articles and now believe Worlds is on the cusp of turning a major corner. The latest court hearing had ATVI's lead attorney stating "billions were at stake" as Activision Blizzard (ATVI) filed a Motion for Summary Judgment to have the case against Worlds thrown out. ATVI contest's the USPTO made an error on the priority date of the core patent, regardless of what was entered in the patent prosecution, specifically the ATS (application transmittal sheet). Based on the hearing and the filings that followed, it is my belief that Judge Caspar will stand with the USPTO in its recent decision to fix their mistake and correct the patent. Added to this was a 9th continuation patent, in favor of the core patent, that was awarded by the USPTO just weeks ago. The lead attorney for Worlds is none other than Max Tribble of Susman Godfrey. Max Tribble also happens to be lead attorney for another lawsuit, Rockstar vs. Google Inc. For those unaware Rockstar holds $4 billion in Nortel Patents and is owned by a consortium including Microsoft, Apple and others. Worlds recently announced a $5 million dollar shelf offering and intention to up list to the American Stock Exchange. With well over 50 different possible defendants ranging from Disney Interactive Studios to Sony, Worlds boast's the strongest bench of defendants among any of the IP lawsuits of late. Unlike many IP lawsuits seeking prior infringement, Worlds has a real chance at reaching these goals as the CEO Thom Kidrin offered testimony that Activision's executives had direct knowledge of Worlds patents and decided not to pursue a licensing deal. If this is proven in court Activision could be looking at more than a billion dollars in past, present and future payments to Worlds. All the potential in the World doesn't buy you a cup of coffee in the IP monetization game. Great patents, excellent legal representation, and written proof of past infringement is how Worlds will overcome Activision Blizzard. Considering that Max Tribble and Susman Godfrey is working on complete contingency, Worlds may be the one to watch in 2014.
Conclusion; Vringo, Document Security Systems and Worlds are my picks for PAEs with the strongest potential for growth.
I'm an advocate of allowing only a small amount of risk in my portfolio and PAE's fit right along with my high risk biotech's. Vringo, Document Security Systems and Worlds are all at different stages in their quest to monetizing their IP portfolios. Savvy investors owning these stocks have recognized the catalysts and cashed in big on price spikes, and long term holds. By all accounts 2014 aims to be a banner year for PAE's and I have no doubt these stocks will continue to be on the radar of the investing community. The US Supreme Court's decision over Alice vs. CLS could be a firebrand, igniting the IP litigation world and pushing PAE's to new heights. While most of us lack the billions of Microsoft and its Rockstar consortium, publicly traded PAE's level the field and offer us a chance to reap the rewards of successful litigation. As always do your own research and consult with competent financial advisors before making any investment decisions.
Disclosure: I am long VRNG, DSS, WDDD. I wrote this article myself, and it expresses my own opinions. I am not receiving compensation for it (other than from Seeking Alpha). I have no business relationship with any company whose stock is mentioned in this article.