Investors are cheering the announcement of a deal between Comcast (NASDAQ:CMCSA) and Time Warner Cable (TWC) this morning while fleeing shares of Charter Communications (NASDAQ:CHTR) since it appears that the company will be left out of this round of consolidation within the industry. There are numerous questions that still need to be addressed with this deal, but it appears that both Comcast and Time Warner Cable are prepared to patiently wait this one out in order to gain approval. Even though Charter is the big loser here, they may be able to pick up about 3 million subscribers should the merger go through, which is a decent consolation prize.
Markets are lower today after subpar economic data, but that has been the norm lately. It seems that the only trend in the economic data at this point is that there is no trend right now, although one could argue that the most recent data suggests a negative trend forming.
Chart of the Day:
The US Dollar Index has been relatively stable in the past few months, with support around the 80 level. We are approaching that area on the chart again, so watch for support to kick in soon.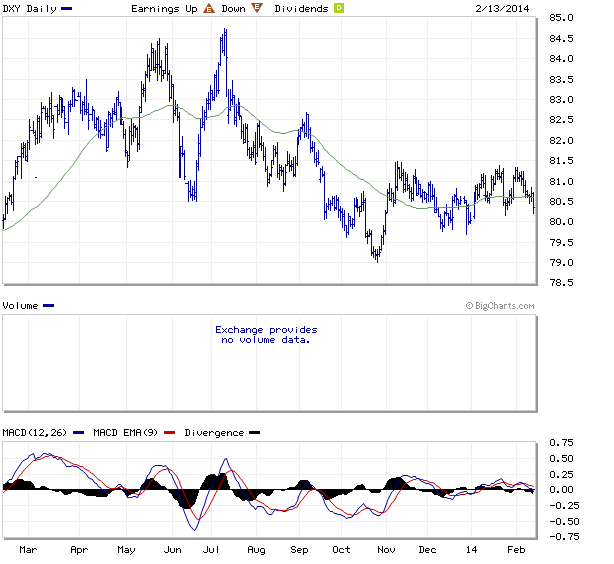 Source: MarketWatch/Big Charts
We have economic news today and it is as follows:
Initial Claims (8:30 a.m. EST): Est: 335k Act: 339k
Continuing Claims (8:30 a.m. EST): Est: 2975k Act: 2953k
Retail Sales (8:30 a.m. EST): Est: 0.0% Act: -0.4%
Retail Sales - Ex Auto (8:30 a.m. EST): Est: 0.1% Act: 0.0%
Business Inventories (10:00 a.m. EST): Est: 0.4% Act: 0.5%
Natural Gas Inventories (10:30 a.m. EST): Est: N/A
Asian markets finished higher today:
All Ordinaries -- up 1.60%
Shanghai Composite -- up 0.30%
Nikkei 225 -- up 0.56%
NZSE 50 -- up 0.43%
Seoul Composite -- up 0.20%
In Europe, markets are trading higher this morning:
CAC 40 -- up 0.43%
DAX -- up 0.75%
FTSE 100 -- up 0.13%
OSE -- down 0.05%
Cable Merger
CNBC's David Faber broke the news last night that Comcast had reached an agreement to purchase Time Warner Cable in an all stock deal valued at $45.2 billion. The move shut Charter Communications out and also probably prevents any of the nominees they submitted for Time Warner Cable's board from getting elected due to the $159/share price Comcast agreed to pay.
Now there are a few issues that investors are having with the bid, the main one being that there is no break-up fee if Comcast is unable to get approval from regulators. This is most likely due to the fact that Time Warner Cable management was selling Comcast on the viability of a deal being able gain approval from the FCC. The other issue is that the companies have stated that they will divest around 3 million subscribers which will bring them down to a total of 30 million subscribers but will leave the company with a subscriber count that dwarfs the next largest competitors.
There are already people talking about the merits of a possible deal between the satellite players to create another national alternative to the cable behemoth that will be Comcast once a deal is completed but regulators have been quick to shoot those deals down in the past.
The all stock transaction will be beneficial to both shareholder bases as the deal will be accretive to earnings in the first year even though Comcast is paying a pretty rich price. Since the combined company will be below the industry average in regards to leverage, Comcast will add $10 billion to its current buyback program once the deal is completed. That will add another tailwind for investors moving forward, and when combined with the cost savings from the merger could lead to outperformance versus its peer group over the next few years.
Content Providers Affected?
Looking at this deal we think that it could lead to a slowdown in the growth of the rates paid to media companies to carry the content they produce. These fees have been rising very quickly over the years, with sports being a major driver in the cost increases. Comcast has done a very good job in creating its own regional sports networks and now building out the NBC Sports platform and because of this content creation, paired with other new networks from major players, we think that Disney (NYSE:DIS) might see push back on higher fees in future negotiations.
The company used to be the only game in town with their ESPN Networks, but Comcast and others have invested heavily in sports packages in the past decade (especially the past three years) and with this growth in other options it does leave the door open to using hardball tactics when negotiating with Disney over their fees for ESPN and to a lesser extent ABC.
Another company which might be affected even more is CBS (NYSE:CBS), which reported very solid results last night while also adding $1.5 billion to the company's buyback program. The company continues to aggressively reduce its share count and should be able to continue that practice as it sees larger revenues from its CBS broadcast fees start to come in.
In results that the company released last night for the latest quarter, the company beat analysts' estimates for EPS of $0.76 by $0.02 on revenues of $3.91 billion which beat the consensus estimate of $3.82 billion. The upcoming quarter will see the company repurchase $2 billion worth of its shares.
We highlight CBS here as a potential victim of the Comcast deal because the company is seeing flat ad revenue with growth coming from retransmission fees. The company is targeting $2 billion in retransmission fees by 2020, so any bargaining power lost due to consolidation among distributors (the cable or satellite companies) could hamper that goal.
Disclosure: I have no positions in any stocks mentioned, and no plans to initiate any positions within the next 72 hours. I wrote this article myself, and it expresses my own opinions. I am not receiving compensation for it (other than from Seeking Alpha). I have no business relationship with any company whose stock is mentioned in this article.