I have written a number of articles suggesting that Apple (NASDAQ:AAPL) is making strategic mistakes and ignoring the inevitable shift to content and software from devices as the smart connected device market matures. They have not been popular views with most readers.
The fact is that Apple is not growing and now relies on share buybacks to improve earnings per share. Despite rapid growth in both smartphone and tablet markets, Apple's operating income in its fiscal 2013 declined in every region where it operates except Japan.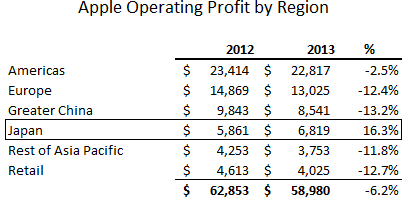 Source: Apple 10-K fiscal 2013
This article estimates what Apple would look like if it had a strategy to establish itself with 40% of the world market for smartphones and tablets by pricing competitively and building the user base for its rich ecosystem. It is the failure to capitalize on that rich ecosystem that my articles decry.
Let's review the facts.
In 2013, Apple turned in revenues of $16.7 billion from iTunes, software and services (collectively "Content") and another $5.7 billion from accessories. I will state that these revenues are correlated with the number of iOS devices in use and I expect most will agree with that.
An estimated 600 to 700 million iOS devices were in use as at the end of Apple's fiscal 2013. Using the higher figure for conservatism, Apple revenues from Content were about $24 per device in use and another $8 for Accessories.
Gartner estimates Apple had a 12.1% share of the smartphone market in September 2013, the end of Apple's fiscal 2013. I am using 15% market share as a base for this analysis given the strong response to the iPhone 5s in the December quarter and to head off any criticism of not reflecting its popularity.
IDC forecasts smartphone markets worldwide will grow at about 18.4% annually to reach 1.7 billion units by 2017.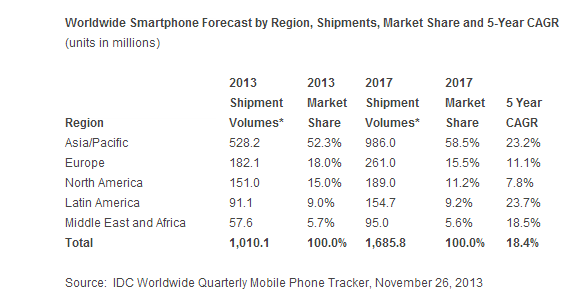 IDC also estimates that 217 million tablets were shipped in 2013. Of those, Apple shipped 72 million iPads in calendar 2013 for a 33 percent share. I arrived at the 72 million figure by adding up the unit sales in the four calendar quarters from Apple's various earnings releases.
IDC forecasts the tablet market to grow more slowly owing to inroads from "phablets" and puts the 2017 market at about 380 million tablets.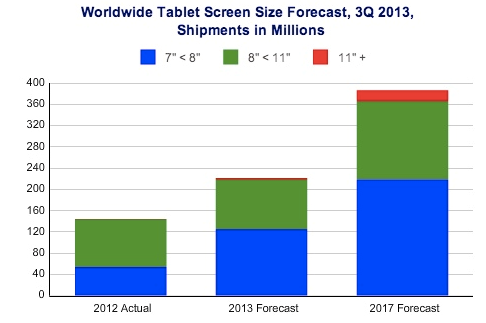 Source: IDC
Taking the IDC forecast data and interpolating the in-between years I created a table that estimates Apple's units sales of iPhone and iPads based on market share assumptions. The numbers are not intended to be particularly accurate, merely representative so readers should simply use their own if they disagree with them. I have modeled a slow decline in Apple market share, which is consistent with the longer-term trends.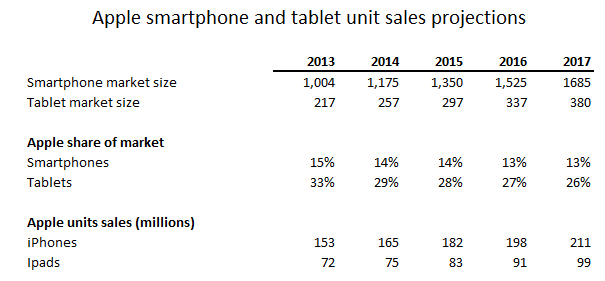 Source: IDC market end points, Michael Blair analysis
Based on the above projections for volumes, I have projected Apple's revenues from Content and Accessories using 15% escalation in demand for Content and 4% inflation in Accessories pricing. I have assumed that iPhones and iPads on average are retired, lost, or damaged such that they have a 5-year life.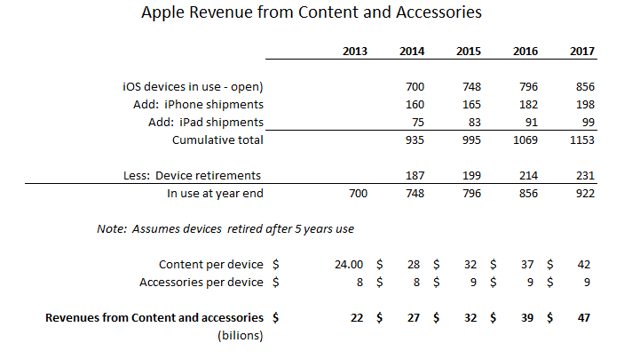 Source: Michael Blair analysis
I think the foregoing reasonably represents the current case.
But what if Apple had priced iPhones and iPads more competitively, for example, at $200 less for each iPhone (about $399 per device) and $100 less per iPad (about $299 per device)?
I have used $399 as the base price for iPads despite the fact that iPads averaged $439 ASP in fiscal 2013 to reflect the fact that the mix is shifting to smaller screen sizes according to IDC as set out earlier so its mix is likely to shift in the direction of lower priced iPad minis. I have used $599 as the base price for iPhones (which averaged about $637 in the December quarter) to reflect Apple's decision to sell iPhone 4s in India at a lower price point going forward.
In my view if Apple had chosen to price competitively throughout the piece it would have held a 40% share in the smartphone market and maintained about a 50% market share in tablets. The prices I have suggested are not "cheap" or "low end" but are simply competitive.
Maintaining a 40% share of smartphones and a 50% share of tablets would have produced the following volume forecast.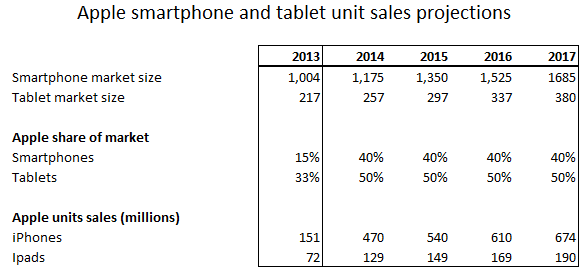 Source: Michael Blair analysis
The larger user base would have resulted in substantially higher revenues from Content and Accessories.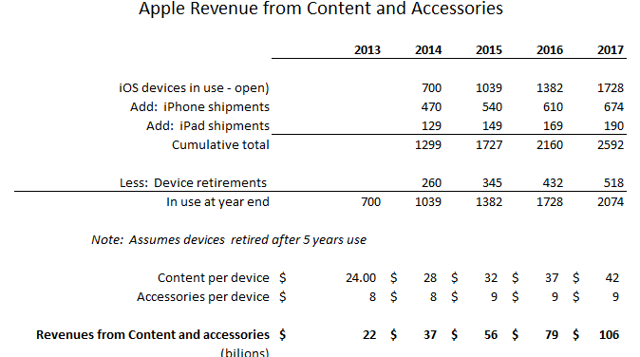 Offsetting the higher revenues from Content and Accessories, Apple would have received less for each device but sold more devices. I calculated the incremental unit sales from the more competitive pricing strategy assuming the market share targets set out above were realized.
Source: Michael Blair analysis
I then estimated the added revenues and added costs from the higher volumes, using the lower price points for the devices and a direct cost for iPhones of $225 on average and $250 for iPads on average. I held these costs flat over the forecast period although electronic component costs tend to decline over time, again for conservatism.
In the result, the lower priced strategy would have returned substantially higher revenues and materially higher profits. For example, revenues in 2014 would be $98 billion higher from devices adding $15 billion to pre-tax profit. By 2017, revenues from devices would be $160 billion higher and the uptick in pre-tax profits from devices would be $33 billion.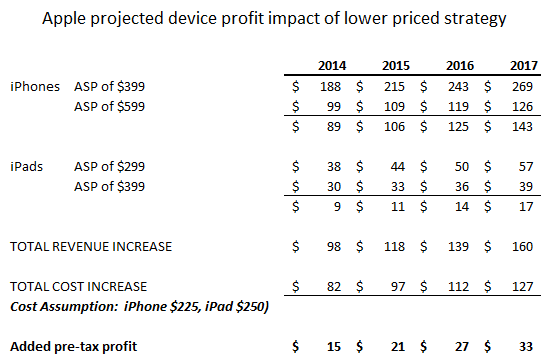 In addition, the $46 billion added revenues from Content and Accessories calculated earlier (which are very high margin items) would very likely exceed $30 billion additional pre-tax profit in 2017.
In total, the cost of the premium price strategy Apple is currently following is about $96 billion of pre-tax profit from devices over four years and (adding up the differences in the Content and Accessories category and applying a 75% margin rate) another $100 billion from Content and Accessories in the same period.
You can make whatever alternative assumptions you wish about how effective a more competitive pricing strategy would be in achieving and holding 40% share of the smartphone market or the 50% share of the tablet market, and you can debate the margin rate on Content and Accessories or the rates of growth in demand or price for those items. Do the same analysis with your own assumptions.
You will find, as I did, it is hard to both argue that Apple has the best ecosystem and the best devices and conclude it could neither have held those higher market shares at those prices or that it would not sell as much Content and Accessories as I have assumed.
What is pretty obvious if not indisputable is that short-term profits come at the expense of longer-term profits and that leaving almost $200 billion of pre-tax profit opportunity (or whatever lower number you arrive at with your own estimates) cannot be said to be a "brilliant strategy" or "maximizing profit share" or any of the other euphemisms I see SA readers apply in defending Apple's strategic direction.
In conclusion, as I have argued more than once, a more competitive approach commenced a few years ago and maintained through the projected period could well have resulted in a company that by 2017 had revenues exceeding $425 billion with net income about $45 to $50 billion higher than the current trajectory with a lot more money earned along the way, and shareholders would not be wasting their time talking about "returning capital to shareholders" or "increasing the dividend" as the way to improve the share price. The share price would have long since passed all their expectations.
As it stands, I see the outlook for Apple very negatively as continued share losses erode their volumes and limit growth in their user base; as ASPs come under pressure as Apple grudgingly yields to higher competition who price based on lower component costs over time; and, as the improvements in Google (NASDAQ:GOOG) Play and the Microsoft (NASDAQ:MSFT) Store tip the scales away from the Apple App and iTunes Stores and users simply move to ultimately richer but lower cost alternatives.
I have a net short position in the stock both directly and through options.
Disclosure: I am short AAPL. I wrote this article myself, and it expresses my own opinions. I am not receiving compensation for it (other than from Seeking Alpha). I have no business relationship with any company whose stock is mentioned in this article.