I recently considered investing in BP PLC (NYSE:BP) pursuant to a tip from a colleague of mine. I understand that he was one of the few brave souls willing to take a position in it in 2010 when it was reeling from the Deepwater Horizon oil spill that took place during the "Recovery Summer of 2010". I understand that he prefers BP over its two largest peers ExxonMobil (NYSE:XOM) or Chevron (NYSE:CVX), because he has low basis stock that he doesn't want to pay taxes on. Although the oil and gas sector isn't my favorite sector because of the volatility of commodity prices as well as the lack of differentiated products that each company sells, I am aware that the integrated oil companies are strong cash cows that pay out gargantuan sums to the shareholders in the form of dividends and share repurchases. In the integrated petroleum sector, I strongly prefer ExxonMobil or Chevron instead of BP, as BP's performance since oil prices spiked in 2001 has trailed XOM and CVX.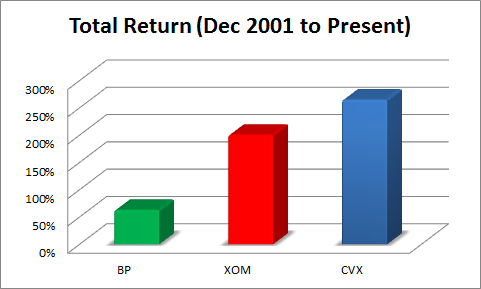 Source: Morningstar Direct
Dividends
I understand that BP's dividend yield of 4.9% is higher than Chevron (3.65%) and ExxonMobil (2.81%). However, it is worth noting that BP had to cut its dividend by 50% in the wake of the Deepwater Horizon oil spill that took place from April to July 2010. I was surprised that BP's dividend growth from 2001 to 2010 was higher than XOM or CVX. Looking back at Exxon's performance in 1989, I was also surprised that company was able to maintain its dividend in the wake of the Exxon Valdez disaster. Although BP's dividend yield is higher than its two larger peers, its projected FY 2014 dividend payout ratio of 44% is higher than that of ExxonMobil (32%) and Chevron (35%) respectively, and as such, I expect stronger dividend growth from CVX and XOM than BP.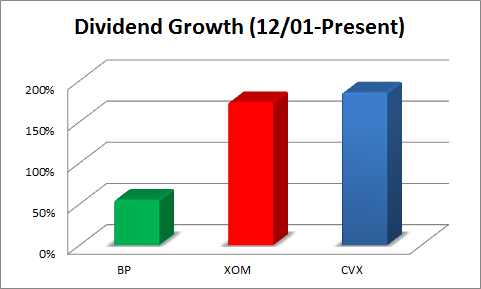 Source: Morningstar Direct
Top 20 Equity Holders
One advantage that BP has against XOM and CVX is that its relatively smaller market capitalization enables it to count more deep-value investment managers as part of its Top 20 Equity holders. BP's three largest active managers include Wellington Management, Franklin Advisers (Franklin Templeton) and Barrow, Hanley, Mewhinney & Strauss LLC. Wellington owns 47.1M shares (1.5% of BP's shares as of Q3 2013), Franklin holds 37.42M shares (1.19% of BP's shares) as of Q3 2013 primarily through its well-regarded Franklin Income mutual fund (30M in Franklin Income specifically) and Barrow Hanley owns 31.4M (1%) primarily through Vanguard mutual funds that it sub-advises. Baupost had 18.6M shares (60bp) of BP as of Q2 2013 but sold 13M of its shares in Q3 2013. Other notable investors include Acadian Asset Management (6.7M shares, 22bp of BP's outstanding stock, 1.9M in new shares added in Q3 2013), Arrowstreet Capital (6.7M shares, 22bp of BP's outstanding stock, 1.9M in new shares added in Q3 2013) and Brandywine (4.45M shares representing 14bp of BP's outstanding shares).
ExxonMobil's most notable shareholder is Warren Buffett's Berkshire Hathaway (NYSE:BRK.A), (NYSE:BRK.B), which owns 40.1M shares ($3.6B) and other notable shareholders include Yacktman (7.3M shares worth $653M), Adage (5.1M shares worth $456M), Fisher Asset Management (4.5M shares worth $401M) and AQR Capital (3.5M shares worth $317M).
Chevron's largest notable shareholder is Franklin (13.65M shares worth $1.5B including 7M shares by Franklin Income). Other notable shareholders of Chevron include Fisher Asset Management (3.5M shares worth $392M), Adage (2.5M shares worth $278M) and AQR Capital (1.95M shares worth $217M).
Valuation
BP has the lowest forward PE (9.17X) in comparison to XOM (11.4X) and CVX (9.88X). BP even has a higher projected long-term growth rate (4%) than XOM (3.7%). Of course CVX has a higher projected long-term growth rate (4.8%) than BP. Although BP has a lower Forward PE than Chevron and although BP has 72% more revenue than Chevron, Chevron's adjusted profit was 59.5% higher than BP's. I think this explains why Chevron trades at a Price to Book Value of 1.5X while BP trades at a P/BV of 1.1X. CVX's Price to Sales (0.9X) is higher than BP's (0.4X) yet BP's Price to Cash Flows of 6.7X is higher than Chevron's 5.6X.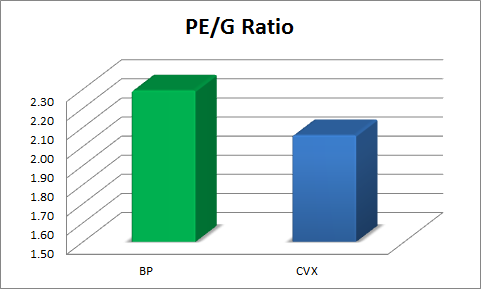 Source: Morningstar Direct
Capital and Business Efficiency Ratios
Profit Margin: CVX (9.73%), XOM (7.43%) and BP (3.54%)
ROIC: CVX (14.4%), XOM (17.8%) and BP (8.53%)
Debt/Assets: CVX (8.05%), XOM (6.5%) and BP (15.8%)
Inventory Turnover: CVX (18.26X), XOM (19.04X) and BP (11.44X)
CapEx/Sales: CVX (15.8%), XOM (7.96%) and BP (6.14%)
Outlook
I'm particularly bullish on the sector as I believe that hydraulic fracturing has served as a game-changer with regards to the production of oil and gas. As a consumer of oil and natural gas, I love fracking because it has helped to contain the price of oil and gas relative to the levels achieved in 2008. As an investor, I believe that this has resulted in Forward PEs of 11 or less as well as single digit projected growth rates of less than 5% for BP, Chevron and ExxonMobil. Here are four more factors why I believe that oil/natural gas prices will be contained or potentially declining over the near term time period:
The formerly hot emerging markets like China are starting to cool off
The Eurozone is suffering under a continually stagnant economy
The US market showing signs of weakness due to the botched implementation of ObamaCare
The Federal Reserve began slowing down its money printing program
Oil/gas bulls can note that geopolitical risks are helping to keep oil/gas prices from falling to levels more closely reflecting a fair price for oil and gas
Most Recent Quarter
BP's pre-tax replacement cost profit in Q4 2013 declined by more than 50% despite the absence of $4B in charges associated with responding to its oil spills in the Gulf of Mexico. The primary driver of its profit declines was its 67% decline in profits from its Upstream operations ($7.7B in Q4 2012 to $2.54B in Q4 2013). After adjusting for non-operating items and fair value accounting effects, BP Upstream's adjusted pre-tax replacement cost profit in Q4 2013 declined by 12% ($4.375B in Q4 2012 to $3.85B in Q4 2013). BP's adjusted underlying pre-tax replacement profit declined by $962M (19%) due to the aforementioned decline in BP Upstream's results, a 95% decline in BP Downstream's adjusted results and increased earnings from its Russian investments (TNK-BP in 2012, Rosneft in 2013). BP was not the only major oil company that endured declines in its Q4 2013 results versus Q4 2012. Chevron's Q4 2013 profits declined by 32% versus Q4 2012 and ExxonMobil's profits declined by 16% during the same period.
Conclusion
In conclusion, I believe that if investors insist on including a gargantuan integrated multinational oil behemoth in their portfolios, I believe that Chevron offers investors the best risk-reward value proposition. I originally set out to analyze BP at the behest of a colleague of ours, but I concluded that Chevron and ExxonMobil are stronger companies that have more competitive advantages than BP. I can understand why Morningstar gave ExxonMobil a Wide Economic Moat Rating versus a Narrow Economic Moat Rating for BP. I was surprised that Chevron's Economic Moat Rating was only Narrow because it has better financial performance and management than BP. I understand that BP has had a remarkable comeback over the last three years, however, it still has a way to go before it catches up to Chevron or ExxonMobil.
Disclosure: I have no positions in any stocks mentioned, and no plans to initiate any positions within the next 72 hours. I wrote this article myself, and it expresses my own opinions. I am not receiving compensation for it (other than from Seeking Alpha). I have no business relationship with any company whose stock is mentioned in this article.