Executive summary:
Chesapeake Energy transaction rumors persist and regularly surface as indicated by an article in the Dallas Business Insider.
Icahn's strong activist track record suggests that he seeks strategic alternatives for his investment in Chesapeake Energy.
His recent investment success might prompt Icahn to pursue options with regard to Chesapeake Energy more aggressively.
Exxon Mobil and ConocoPhillips could be potential buyers while European majors disqualify themselves.
_________________________________
Carl Icahn, renowned corporate raider who struck it big in the 1980s with activist investing, had a remarkable comeback lately due to his successful investments in Herbalife (NYSE:HLF), Netflix (NASDAQ:NFLX) and Apple (NASDAQ:AAPL). Icahn sold more than half of his stake in Netflix in the fourth quarter of 2013 booking a cool profit of $800 million on his polarizing Netflix stake. Savvy profit-taking after the gigantic surge of Netflix's share price has only added to Icahn's reputation as a successful investor. He also initiated a substantial long position in Herbalife, the nutritional supplements maker, which was heavily shorted at the time by Bill Ackman, founder and Chief Executive Officer of hedge fund Pershing Square Capital. More hedge fund investors finally joined in on Icahn's side including George Soros, Daniel Loeb from Third Point and William Stiritz, Chief Executive Officer of Post Holdings (NYSE:POST). Herbalife shares ultimately soared: The stock is up 80% over the last twelve months. In addition to his investments in Herbalife and Netflix, Icahn flexed his activist muscle once again when pushing Apple (AAPL) CEO Tim Cook for a better utilization of Apple's gigantic cash stack and higher share repurchases. Not all activist initiatives pay off and it just has been reported that Icahn dropped his plan for higher share repurchases as proxy advisory firm Institutional Shareholder Services voted against his proposal.
Nonetheless, Icahn's involvement often moves stock prices and he has earned a reputation for aggressively pushing management and orchestrating change at his target companies. Icahn recently endorsed his activist investment style arguing that there has never been a better time for activist investing than today: Acquisitions are highly attractive due to persistently low interest rates and, correspondingly, funding costs. Many companies also hold vast amounts of cash on their balance sheets which ultimately needs to be deployed, for instance for acquisitions. On the other hand, high cash balances might make companies acquisition targets as high cash stashes lower the transaction risk for an acquirer and increase the attractiveness of the target for companies, which intend to raid the treasury trove. Thirdly, activist involvement is necessary to ensure efficient resource allocation and ensure the competitiveness of corporate America.
With the current mergers and acquisitions environment conducive to activist investing, it would come as no surprise if Icahn pushed for a takeover for one of his other portfolio investments: Chesapeake Energy (NYSE:CHK). Icahn holds a 9.98% stake in the $16 billion energy company, which made headlines in the last years because of corporate governance issues, high capital expenditures, asset sales and substantial job cuts. Chesapeake Energy is a high-growth energy player operating in nearly all high-impact shale oil- and gas drilling theaters in the United States: Marcellus, Eagle Ford, Haynesville, Utica etc. The company just released its adjusted production growth target (excluding asset sales) of 8-10% in 2014 and sold-off sharply as investors were disappointed by the production outlook. The company is also sporadically selling off non-core assets and lowering capital expenditures, which suppressed its free cash flow profitability. In other words, Chesapeake Energy has become a restructuring play.
The Dallas Business Journal recently published an article about a possible Icahn push that seeks a Chesapeake transaction with a large-cap energy company such as Exxon Mobil (NYSE:XOM), British Petroleum (NYSE:BP) or Royal Dutch Shell (NYSE:RDS.A) (NYSE:RDS.B) for up to $40 per share. Technically, those buyout rumors resurface regularly (the industry report that the Dallas Business Journal refers to in the article relates to the fourth quarter of 2013) but the persistence of such rumors is quite striking.
BP, due to its announced $10 billion divestment program and ongoing litigation and settlement issues, is unlikely to be a purchaser of Chesapeake Energy. Royal Dutch Shell is also going through troubles of its own given the recent "Shell Shock" profit-warning in January. Its North American shale investments also didn't really work out for the company as planned and Shell ultimately ordered a strategic review after it had to take significant impairment charges of $2.1 billion on those assets. Both Royal Dutch Shell's disappointing 2013 results and the admission that its US shale investments were a disappointment make this European major very unlikely to take on Chesapeake Energy. I think European majors are way too busy with their own troubles, which would make Chesapeake Energy only attractive to a large-cap US energy company like Exxon Mobil or ConocoPhillips (NYSE:COP) seeking complementary shale exposure. Exxon Mobil and ConocoPhillips both have the financial resources to stem an acquisition (especially after Chesapeake's share price is down) and a purchase of Chesapeake Energy could offset North American natural gas field declines for these oil majors. Chesapeake Energy's share price also has consolidated substantially since 2011 when the stock was quoting at over $35.
(Source: Yahoo Finance,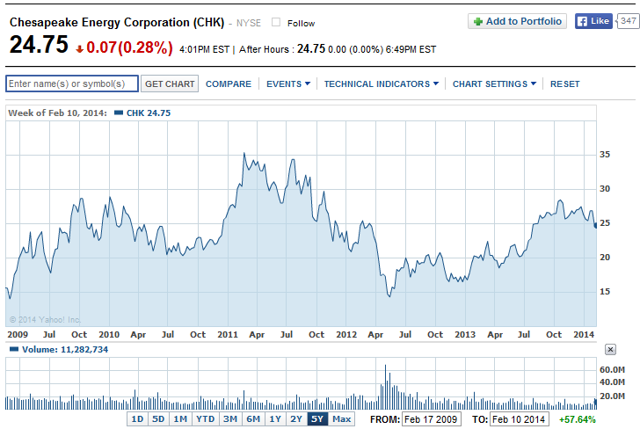 Bottom line
Chesapeake Energy is more of a restructuring play than a year ago. Lower planned capital expenditures for 2014 will alleviate Chesapeake's chronic free cash flow problems while select asset sales will turn Chesapeake Energy into a leaner company focused on US shale oil- and gas exploration. Nonetheless, Chesapeake faces attractive growth prospects coming from its shale operations in Eagle Ford, Marcellus, Utica and others. Higher economic oil- and gas prices might also add to the appeal of Chesapeake Energy's development portfolio in the coming years.
Icahn's activist investment style and recent successes with his equity investments could lead to another activist maneuver with regard to Chesapeake Energy. As Chesapeake is attempting to significantly improve its free cash flow profile and streamline the company, a buyout might be an interesting option for Icahn to pursue. Even the attempt of pushing for a takeover (successful or not) will likely be a powerful catalyst for Chesapeake Energy's shares.
The group of potential buyers appears to be restricted to large-cap US oil- and gas majors like ConocoPhillips and Exxon Mobil, but Icahn's reputation for aggressively pushing his agenda might indeed lead to a buyout push in 2014. At least, buyout rumors are persistent and Icahn's investment record suggests that he likely has strategic options for Chesapeake in mind. Long-term BUY.
Disclosure: I am long BP, RDS.A, CHK. I wrote this article myself, and it expresses my own opinions. I am not receiving compensation for it (other than from Seeking Alpha). I have no business relationship with any company whose stock is mentioned in this article.