CommonWealth REIT (NYSE:CWH) is front and center again in the REITscape. Today, news that legendary "grave dancer" Sam Zell has joined Corvex Management and Related Companies fight against the underperforming REIT and its external managers, Reit Management & Research LLC ("RMR").
From the release:
Corvex Management LP and Related Fund Management, LLC today announced that Sam Zell and David Helfand, veteran REIT executives, are joining the slate of highly qualified, independent nominees for election to the Board of Trustees of CommonWealth REIT if the pending consent solicitation to remove all the current Trustees of CommonWealth REIT is successful.

Sam Zell commented, "We are fully supportive of Corvex and Related's efforts to maximize value at CommonWealth for all shareholders. We see an attractive opportunity at CommonWealth uniquely suited to our expertise in leading public real estate companies and in turning around underperforming assets. We created three of the most successful REITs in the U.S., including Equity Office, which at the time of its $39 billion sale in 2007, owned nearly 100 million square feet of space in over 500 office buildings across the country.

"One of our core operating principals is the alignment of interests between company leadership and shareholders," he continued. "We are concerned about any attempts to preclude shareholder rights, and our companies are free of such impediments. We believe the shareholders of our REITs have clearly benefited from having an accountable, properly aligned board overseeing an effective, internalized management team with the sole goal of increasing shareholder value."
And finally:
Zell and Helfand have agreed that if the Corvex/Related slate is elected to constitute a majority of the Board, they are willing to serve as Chairman of the Board and Chief Executive Officer of CommonWealth, respectively, if so appointed by the new Board of Trustees, subject to their fiduciary duties. In addition, Zell and Helfand plan to bring to the company their highly qualified and experienced management team to execute on a value-driven strategy.
The heat just got turned up further on RMR and CommonWealth. Followers of this saga (and my followers as well) have seen this sparring and legal back-and-forth for some time. Most recently, one must recall that in mid-January, Keith Meister from Corvex Management LP turned down a seat on CommonWealth's board.
The introduction of Zell and team to the fight (despite some criticism from SA author and friend Brad Thomas here), just brought more credibility to the Corvex/Related team.
Nearly two years ago, I wrote of my opinion on this REIT:
Bottom Line: CommonWealth REIT is one of the bigger players (by assets) within its peer group, its balance sheet and portfolio metric are sound, if uninspiring, but the REIT can't seem to make it translate into funds from operations. Funds from operations is the life blood of REITs. If it is declining when it should be turning around and increasing, there is an issue. I see no catalyst which will turn this trend around in the near-term and therefore, no reason to invest as the yield indeed seems like the cheese in the mousetrap.
Five months later they cut the dividend. While I would love to say I am a rocket scientist (well, not really. I wrote an article once on AAPL and got a sound beat-down by what I believe to be a roving gang of rocket scientists - seriously, read the comments), alas, I am not. I am just one who recognizes FFO trends and the inability of a management team to make things work.
So let's take a look at CommonWealth's REITscape:
CommonWealth REIT is a REIT, which primarily owns office buildings located throughout the United States. The majority of their portfolio consists of office buildings located in central business districts, or CBDs, of major metropolitan markets.
First, a fundamental view of CommonWealth versus peers Liberty Property Trust (LRY), Vornado Realty Trust (NYSE:VNO), Boston Properties (NYSE:BXP), SL Green Realty (NYSE:SLG) and Brandywine Realty Trust (NYSE:BDN):

What jumps off the table is the mixed read an investor gets: the balance sheet is in decent shape, FFO has begun to grow and yet on a price/book and price/FFO metric basis, the REIT is not trading well at all. This is a reflection of the market's lack of confidence in the REIT and its management.
One telling sign is the reaction the stock had to the Corvex "intervention" - measured by P/FFO: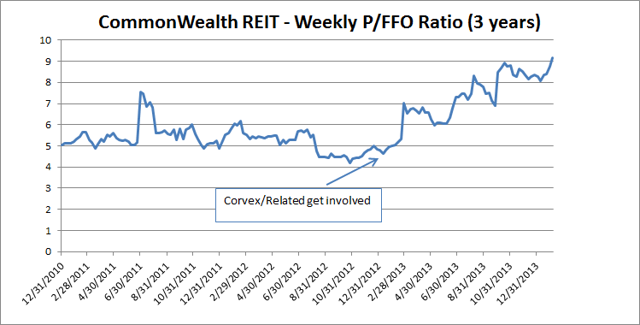 The REIT has otherwise been stagnant on an FFO basis: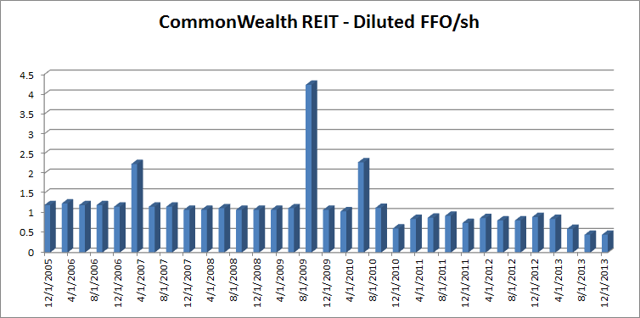 Ultimately, the effect of the stagnant FFO and investor distrust has led to: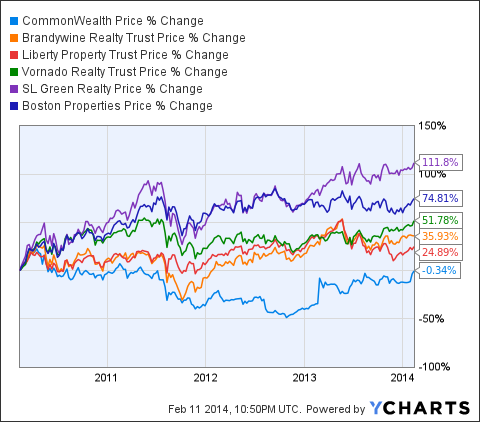 I am not trying to say that all of CommonWealth's issues were caused by RMR, they weren't. The office space has been slow to recover from the downturn and RMR was slow to take the necessary steps. That said, they have been transitioning the portfolio to a CBD focused office portfolio and the transition has been making progress. On a NOI basis, the portfolio is 64% CBD and 36% suburban.
The problem, as I see it, is that management has shown that they are reactive - reactive to macro-events, reactive to investors and, ultimately, reactive to their financial condition. I cannot see that anything has been anticipated and proactively addressed by the Board of Trustees or management.
Despite some criticism of Zell, the "Grave Dancer" has a decent track record in real estate and either smells money, value or both. At less than 10x FFO, CommonWealth could be attractive, but management may still find a way to block the Corvex/Related actions.
Bottom Line: CommonWealth has begun to turn the corner, but there is not only too much event risk baked in this cake, but I cannot see that the dividend will be increased in any significant manner for some time given both the payout ratio and the portfolio performance. I would remain on the sidelines with the common, and if you feel the need to invest in the company, look at the senior debt.
Disclosure: I have no positions in any stocks mentioned, and no plans to initiate any positions within the next 72 hours. I wrote this article myself, and it expresses my own opinions. I am not receiving compensation for it (other than from Seeking Alpha). I have no business relationship with any company whose stock is mentioned in this article.