A trailing 60 trading day (based on Q4 2013) multiple regression model is specified as follows, based on the intuition that developed tech-oriented advanced economy equity performance as well as the value of the yen are the two primary drivers of Nikkei value.
Nikkei Return = Intercept + Japanese Yen Beta * Yen Return + Nasdaq Beta * Nasdaq Return
The multiple regression model has an adjusted R-squared of 0.68, while the Japanese Yen beta coefficient is -1.78, whereas the Nasdaq beta is 0.43. Both are highly significant (with -8.74 and 3.14 t-stats). As of this point, the Nikkei has returned -7.6% since the beginning of the year, whereas the Nasdaq is at record highs, up 1.6% for the year. The yen has likewise strengthened by approximately 3.0%.
Such a model reveals an expected Nikkei return for the 2014 period of -4.6% given the movement in Nasdaq and the Yen. We currently sit at -7.6%. Not only is the Nikkei down almost 2000 points from 2013 highs while the Nasdaq is currently touching recent decade highs (an equity premium inconsistency), but the Yen really hasn't fallen apart. It sits only 3 points off recent lows relative to the dollar. From the ending price of 16,291, a 3% difference suggests an approximate 500-point underpricing of the Nikkei relative to its driving factors. If one is to assume we are in a continuation period of trends experienced in 2013, this suggests an excellent entry to the Nikkei, even if expressed in its hedged form.
On a 60 trading day rolling basis, these correlations, especially the equity driver component, are quite high: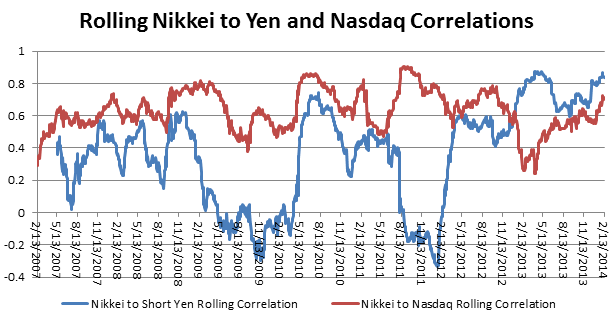 Single parameter regression models, i.e. Nikkei = Yen Beta * Yen, show such rolling historic relationships have particularly high individual beta coefficients. The current level of the beta coefficient of Yen to Nikkei indicates an unusually high leverage in the Nikkei value to movements in the Japanese Yen, in fact the highest over the last 7-year period. Current daily movement betas of Japanese Yen to Nikkei movement are exaggerated by at least 15% versus 2013 year averages on a 60 day rolling close basis, and on a faster rolling basis, are much higher. A reversion of normal yen to Nikkei betas could suggest a safer environment for Nikkei buyers in the event the yen continues to stabilize around current levels.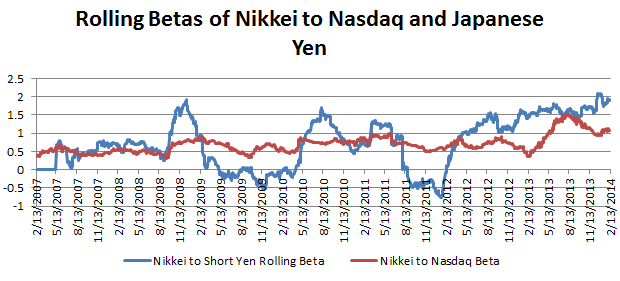 Disclosure: I am long DXJ. I wrote this article myself, and it expresses my own opinions. I am not receiving compensation for it (other than from Seeking Alpha). I have no business relationship with any company whose stock is mentioned in this article.