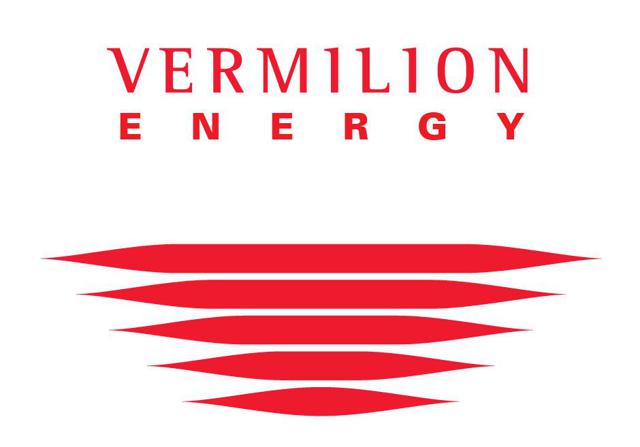 Vermilion Energy Inc. (VET) is a relatively unknown Canadian mid-cap engaged in oil and natural gas exploitation, development, acquisition and production. The company operates in areas with stable, well developed fiscal and regulatory regimes (Canada, Europe and Australia). Vermillion Energy's total return in 2013 was 24.6%. According to a company profile, VET has consistently outperformed relevant indices with a 15-year compound annual growth rate of 25.5% (see chart below). Vermillion Energy represents a compelling investment for those seeking current income and long-term total returns averaging 20%-plus year-in and year-out. Vermilion's stake in the Corrib natural gas field in Ireland is a positive catalyst that will power future cash flow, dividends growth and capital appreciation for many years to come.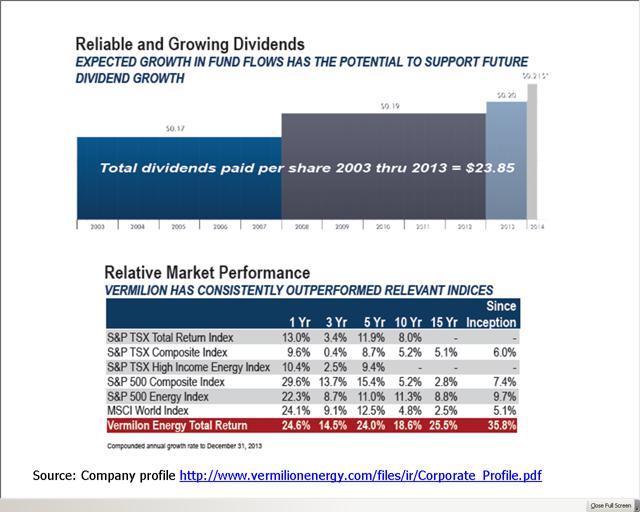 A recent dividend boost set the monthly dividend distribution at CDN $0.215/share. If history is any indication, that will be the minimum monthly payout during 2014 for an annual total of $2.58. At the current stock price of $56.40, that equates to a forward yield of nearly 4.5%.
Production Profile
In its Q3 earnings release, VET reported average daily production was 41,510 boe/day. Year over year production growth was 14%. A February investor presentation gives more details about the composition of the company's production:
Vermilion Energy has an oil weighted production, reserves and funds from operations mix. Brent based oil accounts for 40% of production while high European gas prices and WTI oil each chip in 19% of production. Only 18% of production is Canadian gas. Likewise, 2P reserves are 79% oil and European gas.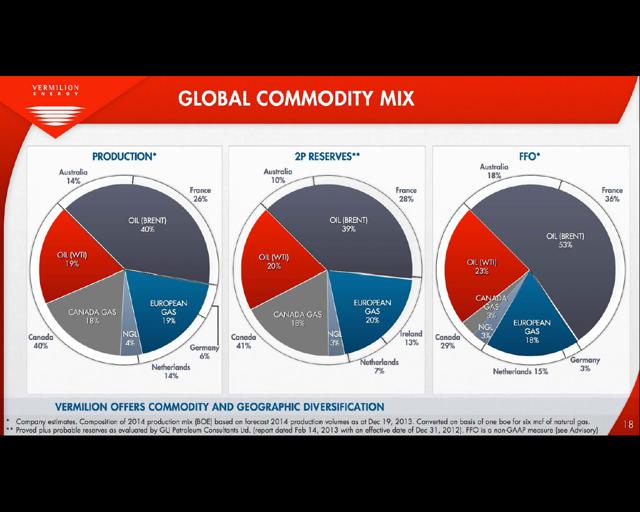 Vermilion is targeting production growth primarily through the exploitation of its conventional resource plays. In Western Canada, the company has significant assets in the West Pembina where it produces high quality Cardium light oil as well as in the Mannville where it produces NGLs. VET also has an extensive position in the emerging Duvernay oil and liquids rich gas play. These assets are the source of near and medium-term production and cash flow growth. The company says Canadian cash flows are fully tax sheltered for the foreseeable future.
The company also operates drilling and workover programs in France. Vermilion Energy is the No. 1 oil producer at ~11,500 boe/day (93% oil). The company's French assets are conventional oil fields characterized by large original oil in place ("OOIP"). It has high working interests in 4 large fields with a combined OOIP of >1.4 billion barrels. These Brent based oil resources are strong cash flow generators and are the sources of production and free cash flow growth in the medium and long term.
In The Netherlands, VET explores and develops in a world class conventional natural gas basin. The natural gas is royalty free and the company expects the full year 2013 gas price to average ~$11/Mcf. VET has been increasing production in the basin while reinvesting less than 40% of funds from operations. In October of 2013, Vermilion acquired 100% of Northern Petroleum PLC's interests in The Netherlands for $27.5 million.
In Australia, Vermilion operates an offshore shallow water (55m) oil field at depths 600m below the sea floor. The company drills horizontal wells and has 21 producing well bores that deliver strong free cash flow at a contracted price realizing a US$7 premium to the dated Brent Index.
As a result of its focus on high margin oil and international gas assets, Vermilion has excellent netbacks across its portfolio. The company's average cash netback is excellent: $83.10/boe.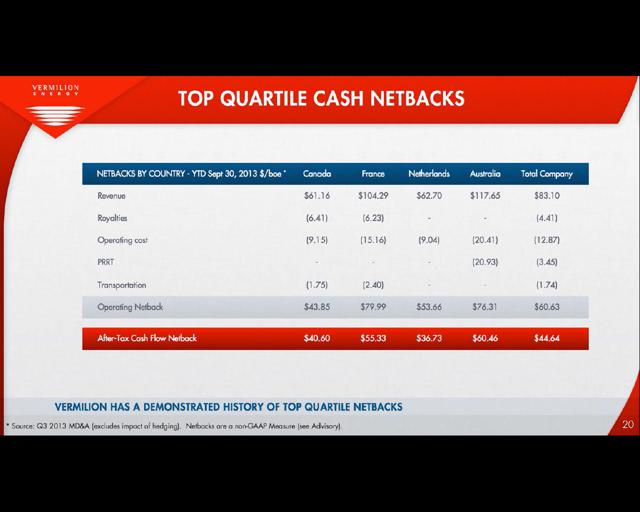 Luck Of The Irish
Vermilion holds an 18.5% working interest in the Corrib gas field off the coast of county Mayo in Ireland. Royal Dutch Shell (NYSE:RDS.A) (NYSE:RDS.B) is the operator and holds a 45% stake. The other partner is Statoil (NYSE:STO) with a 36% interest.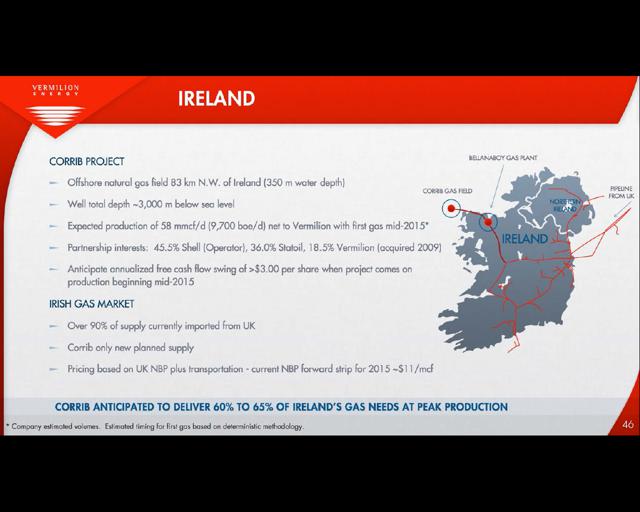 At peak production Corrib is estimated to deliver 60-65% of Ireland's total gas needs. The field is 83 km NW of Ireland in 350m of water. The well depth is ~3,000 m below sea level. The Corrib development is made up of four components:
The offshore well and sub-sea infrastructure;
The offshore pipeline and umbilical;
The onshore pipeline and umbilical connecting the offshore pipeline and umbilical to the terminal; and
The gas terminal at Bellanaboy Bridge.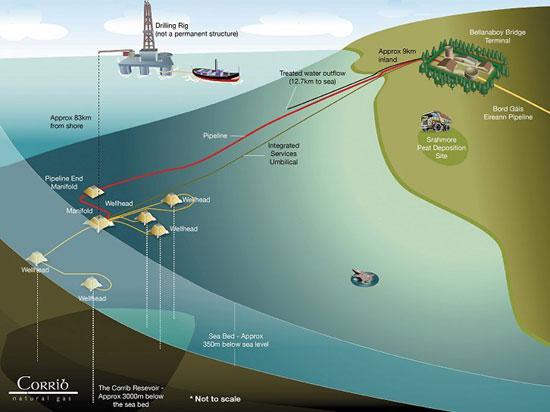 Following successful subsea well operations conducted on one of the production wells during Q3 of 2013, Vermilion increased its peak production estimate at Corrib from 54 mmcf/d (9,000 boe/d) to ~58 MMcf/d (~9,700 boe/d) net to VET. First gas is now expected in mid-2015. (See Q3 earnings release).
To put Corrib in perspective, Vermilion management believes this single project will contribute a $3.00/share cash flow swing when the project comes online in mid-2015. At a peak production rate of 9,700 boe/day (net to VET), Corrib alone will increase the company's current production by 23%. Corrib is estimated to have a field life of between 15-20 years.
Although the project has not been without controversy and cost overruns, the Corrib gas project has moved into its final phase with construction work continuing at the Bellanaboy bridge gas terminal.
This is a very positive catalyst for VET in the medium to long term.
German Acquisition
Another long-term positive catalyst is Vermilion's November 2013 announcement that it has reached an agreement to acquire a 25% participation interest in a four partner consortium in Germany from GDF Suez S.A. for ~$170 million in cash. The other partners are Exxon Mobil (NYSE:XOM), Wintershall Holding GmbH, BEB Erdgas und Erdöl GmbH (a joint venture between Exxon and Deutsche Shell AG.), and GDF SUEZ (the "E&P Consortium Interest"). XOM is the operator.
The assets subject to the E&P Consortium Interest include four gas producing fields, which span 11 production licenses. The assets are expected to produce an average rate of ~18 MMcf/d (net) in 2013 and have estimated 2P reserves of 10.1 million boe (net) as of year-end 2013. The acquired assets have a relatively low effective decline rate estimated at ~16% annually and a reserve life index of approximately 9.2 years. In addition to the production licenses, the surrounding exploration license is also included in the E&P Consortium Interest. The E&P licenses comprise 204,000 gross acres, of which 85% is in the exploration license.
The company expects an after-tax cash flow of approximately $27 million, net to Vermilion, for 2014. At $170 million, the cost of the acquisition is a very reasonable ~6.3 times estimated 2014 after-tax cash flow. As such, the acquisition is well aligned with VET's European strategy and will increase its exposure to the strong fundamentals and pricing of the European natural gas market.
Reserves
In 2012, Vermilion grew total reserves by 13% year-over-year giving the company 12.5 years of reserve life based on Q4 2012 production. Proved+Probable reserves ("2P") totaled ~165 million boe at year-end 2012. It is important to note that 80% of the company's reserves are weighted toward crude oil and high netback European gas prices.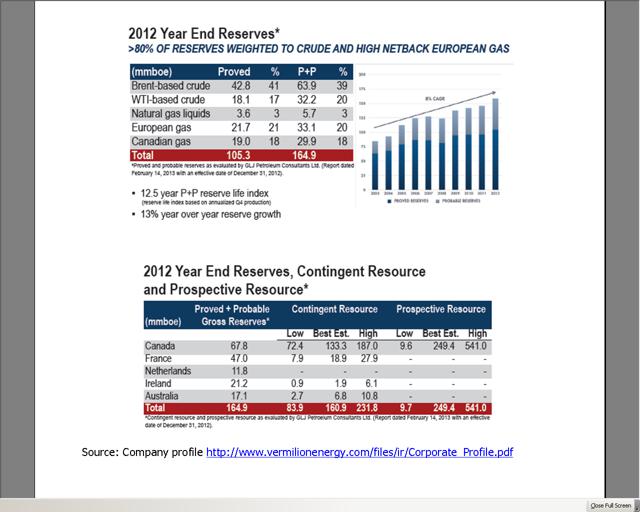 2014 Guidance
In the dividend increase announcement referenced earlier, VET also issued the company's guidance for 2014. Highlights are:
Organic production growth of 4% to 6% in 2014.
Combined with the recent acquisitions in The Netherlands and the proposed acquisition in Germany (assuming a January 31, 2014 close), VET currently anticipates 2014 average daily production of between 45,000 and 46,000 boe/d - an annual production growth of approximately 10-12% as compared to 2013.
2014 cap-ex program of $725 million (including acquisitions).
The average 2014 earnings estimate for Vermilion is for $3.13/share. That would represent a 13.4% increase of over 2013's full year estimate. Q4 and full-year 2013 results will be announced on March 3. You can access the company's conference call here.
Management: Aligned With Ordinary Shareholders
This is something I love to see in a company: management and directors of Vermilion hold approximately 8% of the outstanding shares. This means they are dedicated to consistently delivering superior rewards for all stakeholders, including themselves.
The high level of management ownership is likely one reason the company is conservatively managed and yet continues to deliver excellent total returns year-in and year-out. According to a recent company profile (released by VET), despite the debt issued to fund development and acquisitions, the ratio of net debt (currently $700 million) to funds from operations ("FFO") is a very reasonable 1.0x. This is even more impressive when you consider that the company's investments in development and acquisitions have resulted in a guidance for 50% growth in both production and FFO between 2013 and 2016: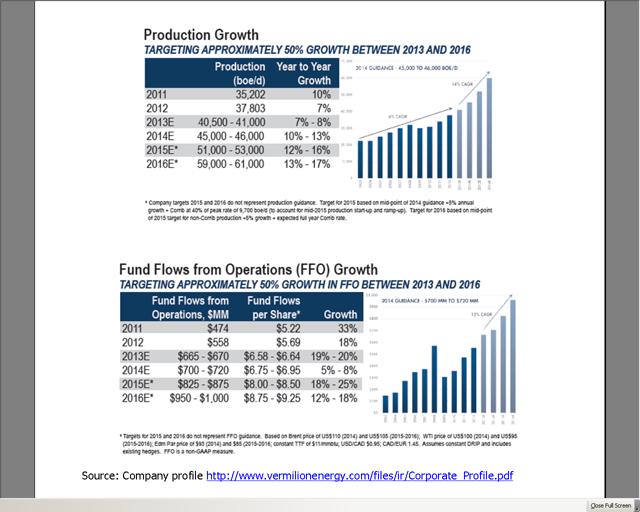 Summary And Conclusion
Vermilion Energy is a conservatively managed oil and gas company that has racked up very impressive long-term total returns by investing in low-risk countries with stable and favorable fiscal regimes. The company has a diversified high-margin asset base and leads its peer group in operating netbacks while coming in at No. 2 in after tax cash netbacks. The Corrib natural gas field off the cost of Ireland is scheduled to come online in mid-2015 and will add an extra $3.00/share of cash flow while increasing current production by ~23%. Another positive catalyst is the company's pending takeover of some assets in Germany, which will not only add to production and reserves, but 85% of the 204,000 gross acres are in an exploration license. So there is significant running room for the future from this acquisition.
Bottom line: Vermilion Energy Inc. represents a compelling investment opportunity for income oriented investors that also want exposure to stock price appreciation. Management, itself heavily invested in the company, has generated a very impressive 15-year total return CAGR of 25.5%. That's good enough for me, and it should be good enough for you. More key stats and historical data can be found here.
The stock is down from its recent high of $59.69. VET is a STRONG BUY.
Mkt Cap = $5.75 billion
PE ((ttm)) = 19.3
EPS ((ttm)) = $2.43
Div (Yield) = $2.31 (4.2%)
Note: Vermilion also trades under the VET symbol on the Toronto Stock Exchange ("TSE").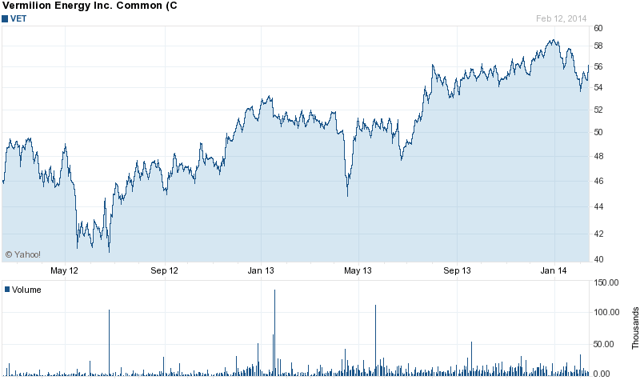 Disclosure: I am long STO, XOM. I wrote this article myself, and it expresses my own opinions. I am not receiving compensation for it (other than from Seeking Alpha). I have no business relationship with any company whose stock is mentioned in this article.
Additional disclosure: I am an engineer, not a CFA. The information and data presented in this article was obtained from company documents and/or sources believed to be reliable, but has not been independently verified. Therefore, the author cannot guarantee its accuracy. Please do your own research and contact a qualified investment advisor. I am not responsible for investment decisions you make. Thanks for reading and good luck! NOTE: I am considering buying shares in VET over the next 48 hours.