Value investors often have to play the role of contrarian as the best value stocks are often not the most popular. When a stock falls out of favor with the market for any reason, the price will often depreciate and provide a buying opportunity. Conversely, when the collective herd of investors loves a certain stock, the extra attention will often drive the price higher than it would otherwise be. My father, who first introduced me to investing, often used to address this situation by using one of his favorite sayings, "Conventional wisdom is an oxymoron." The idea is to get in before the inflection point in investor sentiment, not after.
A truly great value investor has to see what is hard for others to recognize, an intrinsic value that is higher than the market has awarded to date. Using the Ockham valuation methodology as our base, we have utilized the Ockham screener in order to find stocks that our fundamental valuation rates as Undervalued. Then we overlaid data from The Motley Fool CAPS, which is the most robust data set of investor sentiment on individual stocks, trying to find stocks that the crowd believes will Underperform the broad market index going forward. This list represents those stocks that despite strong fundamentals have been neglected or shunned by the market, but as Ben Graham would say, "In the short run, the market is a voting machine, but in the long run it's a weighing machine." (Click to enlarge)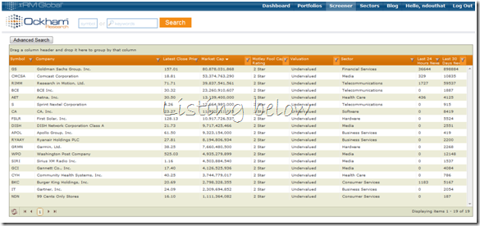 Out of the 8400 stocks we cover there were 25 that were both Undervalued at Ockham and received bearish (1 or 2 Star) ratings from Motley Fool CAPS. We also restricted the screen to stocks over $1B in market cap, and also having had at least 1 mention in the financial media recently. The listing below is done in order of market cap.
Undervalued and Out of Favor Stocks:
Goldman Sachs (NYSE:GS)
Comcast Corp. (NASDAQ:CMCSA)
Research in Motion (RIMM)
BCE Inc (NYSE:BCE)
Aetna (NYSE:AET)
Sprint Nextel (NYSE:S)
CA, Inc (NASDAQ:CA)
First Solar (NASDAQ:FSLR)
Dish Network (NASDAQ:DISH)
Apollo Group (NASDAQ:APOL)
Ryanair Holdings (NASDAQ:RYAAY)
Garmin Ltd. (NASDAQ:GRMN)
Human Genome Sciences (HGSI)
Washington Post Company (WPO)
Sirius XM Radio (NASDAQ:SIRI)
Gannett Co. (NYSE:GCI)
Community Health Systems (NYSE:CYH)
Burger King Holdings (BKC)
WebMD (NASDAQ:WBMD)
BRE Properties (NYSE:BRE)
Gartner (NYSE:IT)
MBIA (NYSE:MBI)
WestAmerica Bancorp. (NASDAQ:WABC)
Dollar Thrifty Automotive (NYSE:DTG)
99 Cents Only Stores (NYSE:NDN)
Of course, not all of these stocks are suitable investments, and a number of them come with serious risks. An investor must be careful not to blindly throw money at a stock just because it looks fundamentally undervalued, so as always proper due diligence is required. Here are a couple of notes on stocks within this group:
Goldman Sachs is obviously involved in a very public and messy civil fraud case related to conflicts of interest in dealings with CDOs. The stock has suffered quite a bit as a result in both stock price and reputation, and Friday's market action (down nearly 10%) suggests the decline may not be over yet. With a settlement in the case with the SEC expected soon, federal prosecutors are now trying to determine if criminal charges should be brought against anyone at the firm. None of this drama is reflected in Goldman's results, which have been extremely strong fundamentally. However, with these legal question marks this stock is still very volatile and risky. Interestingly, GS would not have met this screen last week as we just lifted our valuation rating to Undervalued (based only on the price versus fundamentals not the news). Furthermore, the CAPS crowd has only recently turned negative on Goldman, almost certainly because of the legal challenges ahead.
On a similar note, Apollo Group also has significant issues, as it has claimed accounting irregularities in previous quarters. In addition, Aetna is contending with the new healthcare reforms and how they will affect profitability. Investors must pay caution anytime a stock is facing such headwinds as these.
Stocks in the media sector are the most common to meet the criteria with Comcast, Dish Network, Washington Post, Sirius XM and Gannett all represented. These stocks fell out of favor some time ago as the recession hurt advertising rates as well as subscription/circulation of these services. However, it appears that the worst is behind this group and according to our methodology these stocks (having already improved quite a bit) still have room for appreciation.
Since our rating was updated, as of last Friday's close, Dollar Thrifty was scooped up by competitor Hertz Global (NYSE:HTZ) for about $1.2 in cash and stock. Coming into the week, we thought the stock was Undervalued and the CAPS crowd had its most bearish 1 Star rating on the stock. Now, it appears many investors are upset that the purchase price undervalued Dollar Thrifty and have filed suit against both companies. Clearly, the conventional wisdom of the crowd did not see this stock coming, and odds are they will miss the next one too.