A few days ago MD Research wrote an excellent article on Darden Restaurants Inc. (NYSE:DRI) outlining the case that investors should consider selling shares in the struggling restaurant chain, or, at a minimal, "draft a letter to the management and the activist hedge funds."
As MD Research pointed out, there is continued "friction between the management team and activist hedge funds," and as the author points out, "I believe that the glory days of successful growth and expansion of Darden (and especially Red Lobster) are long gone."
The author went on to say the he "believes that Red Lobster is one of the dead weights dragging down Darden," and based upon the $2.62 billion in Red Lobster stores sales in 2013, he may be right. Red Lobster's average unit sales were $3.7 million in 2013 and $3.8 million in 2012, and overall Red Lobster sales slid 1.7% in 2013 (sale were $2.67 billion in fiscal 2012).
Darden operates 2,138 stores in the US and Canada, and Red Lobster is one of the primary anchors for the casual dining chain. The other "work horses" include Olive Garden and LongHorn with a combined 1,258 units. In addition, Darden operates five other specialty restaurants including Bahama Breeze (33 units), Seasons 52 (31 units), Capital Grille (49 units), Eddie V's (12 units), and Yard House (44 units).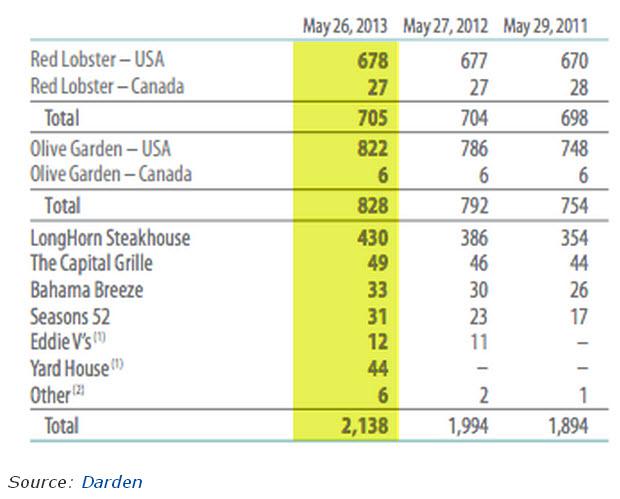 Overall Darden appears to be losing steam as the latest earnings indicate further decline in profits, primarily the result of Red Lobster's performance. In the second quarter (Q2-14) Darden announced that net earnings were 15 cents, a 42.3% decrease from the 26 cents per diluted share in the same period last year. Overall the second quarter sales were $2.05 billion - an increase of 4.6% over last year - however, the increase reflects the operation of 99 new restaurants. Darden did declare a quarterly dividend of 55 cents per share.
Bill Darden (the founder) was just 19 years old when he opened his first restaurant (called the Green Frog) in 1938. Then 30 years later (in 1968) Darden transformed the establishment into the Red Lobster chain. Throughout the years Red Lobster was the cement for the wave of Darden's restaurant conglomeration, and in 1995 the company spun-out of General Mills (NYSE:GIS) into a wholly-owned operation, Darden Restaurants (the subject of this article).
Throughout the last two decades Darden has been a leader in building powerful and repeatable sources of differentiation. Up until recently, the Orlando-based chain has been highly successful at creating sharp differentiation within its business lines and lasting profitability. As evidenced by the FAST Graph below, Darden has built a remarkable track record of consistency (note: I did not include the black price line here).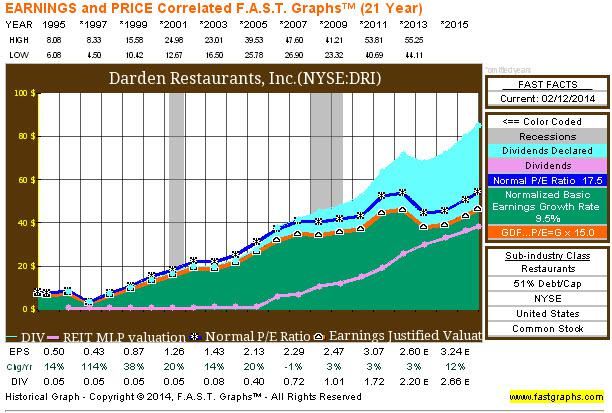 As MD Research pointed out, "Darden is heavily influenced by two activist hedge funds, namely Starboard Value Capital and Barrington Capital" and as evidenced in filings, Starboard is pushing Darden's management team to break up Olive Garden to create an "Olive Garden REIT." As Starboard wrote in a letter to Darden management this week:
We do not believe the currently proposed plan to spin off or sell Red Lobster, by itself, is in the best interest of the shareholders. We believe the company should more fully evaluate all available operational, financial, and strategic alternatives for Darden in order to create and execute on a comprehensive plan to address all aspects of the business and to ensure the best possible outcome for all shareholders.
At the time Starboard disclosed that it owns 7,250,000 shares or 5.5% of total voting shares.

Darden Offers an Appetizing Menu of Options
As mentioned above, Darden owns 2,138 locations, and many of the properties are owned. I could not determine the percentage of assets owned vs. leased in the Annual Report; however, I did find the following chart that illustrates that Darden owns more than $5.3 billion in assets (before depreciation):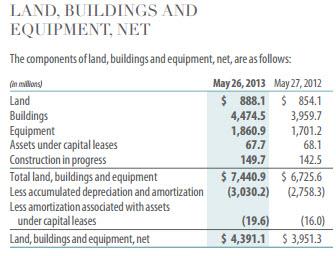 Also, as evidenced by the snapshot below, Darden has a lot of real estate on the balance sheet - around 63% of assets - and that seems to be a significant element for the fortress-like brand.

Let's examine the individual restaurants:

As Red Lobster grew into a national brand, the company introduced guests to fresh dishes such as popcorn shrimp, calamari, snow crab and lobster - often for the first time. Today Red Lobster has 705 locations (27 in Canada) with average unit sales of $3.7 million (as of 2013).

Olive Garden welcomed its first guests in 1982. Nearly 30 years later, "Olive Garden remains committed to its purpose of Hospitaliano! - Providing 100% guest delight through a genuine Italian dining experience" (source: Darden website). Olive Garden produces the most sales ($3.7 billion) of all of the segments, and the company's 2013 average unit sales were $4.6 million.

LongHorn Steakhouse opened its first restaurant in Atlanta, Ga., in 1981 and has grown steadily ever since. Today LongHorn's has 430 restaurants with total sales of around $1.2 billion. The average unit sales for each LongHorn store is $3.0 million.

Bahama Breeze was introduced in 1996 as a brand known for nationally popularizing many Caribbean-inspired foods in the US. The Bahama Breeze menu features familiar favorites, including seafood, chicken and steak, accented with the flavorful and colorful ingredients you'd find in the islands and reflecting the growing popularity of Caribbean and Latin flavors.
Darden's specialty restaurant group (or SRG) consists of five distinctive brands. The collective SRG brands consist of 169 units with annual sales of around $986 million. The average unit sales for the SRG brands is $6.7 million.

Seasons 52 is a fresh grill and wine bar that invites guests to discover the sensational flavors of a seasonally inspired menu and award winning international wine list in a casually sophisticated adult ambiance. Introduced in 2003, Seasons 52 has 31 units.

Founded in 1990 in Providence, RI, The Capital Grille is "a fine-dining restaurant known for its dry-aged steaks, fresh seafood, award-winning wine list and personalized, professional service in an atmosphere of relaxed elegance" (source: Darden website). Capital Grille has 49 locations.

Eddie V's opened in 2000 with an emphasis on prime seafood creations, USDA prime beef and chops, and fresh oyster bar selections. Eddie V's also operates Wildfish Seafood Grille, and the company has 12 locations.

Yard House USA is the latest Darden acquisition (acquired on August 29, 2012), and the company has 44 locations that feature more than 125 craft ales and lagers. "The scratch kitchen showcases an eclectic American menu of more than 100 chef driven items with a range of appetizers, snacks, natural burgers and steaks, street tacos, salads, sandwiches, fresh fish and a generous selection of vegetarian dishes" (source: website).
The Darden REIT Makes "Cents" To Me
In 2013 Darden generated total sales from continuing operations of $8.6 billion, a 6.9% increase from the $8.0 billion generated in fiscal 2012. Excluding sales from Yard House, total sales from continuing operations were $8.3 billion, a 3.7% increase from fiscal 2012. As referenced above, the majority of Darden's sales are generated from Olive Garden (43%), Red Lobster (31%), and LongHorn (14%).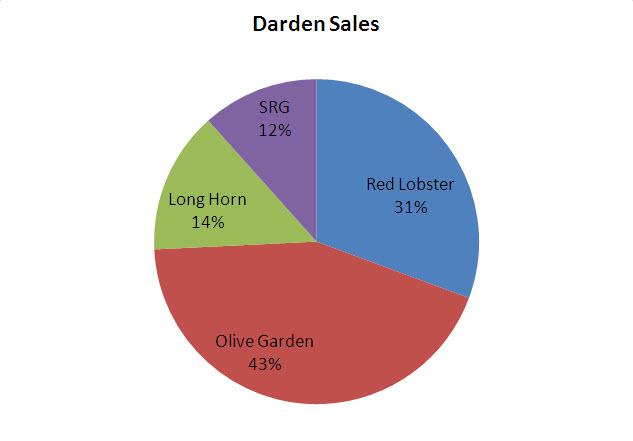 By "cherry picking" the best assets and leaving the remaining pieces, it's clear that a "spin-off" of Olive Garden into a standalone REIT would significantly impact the Darden business model. Olive Garden is the "cash cow" in the restaurant portfolio, and by plucking out the "crown jewel" the conglomeration of brands is likely to be muted with weaker sources of differentiation.
Olive Garden's total sales were $3.68 billion in 2013, up 2.9% from fiscal 2012. This reflected average annual sales per restaurant of $4.6 million, the addition of 36 new restaurants and a US same-restaurant sales decrease of 1.5%. Olive Garden's broad appeal and powerful unit economics are the key reasons why it has grown to more than 800 locations generating $3.7 billion in total sales and extraordinary sales volumes.
But what about a Darden REIT? As a C-Corporation, Darden does not trade as well as a REIT, and any seasoned company with a lot of real estate in a REIT structure should trade better (than a C-Corp.). Why?
From an on-balance sheet debt perspective REITs can leverage better than non-REITs. That's primarily driven by the fact that REITs are more judicious in their capital allocation practices - real estate is a hard asset class, and lenders are much more liberal with financing to a durable income source than a fluctuating income statement with assets (like receivables) lower down the capital stack. On average REITs are levered six to seven times which equates to loan to values of around 50%.
Also, REITs can lever better as their cost of equity is significantly less than non-REITs. As illustrated by the snapshot below, REITs trade better than C-Corps. This snapshot compares EBITDA for REITs and Non-REITs.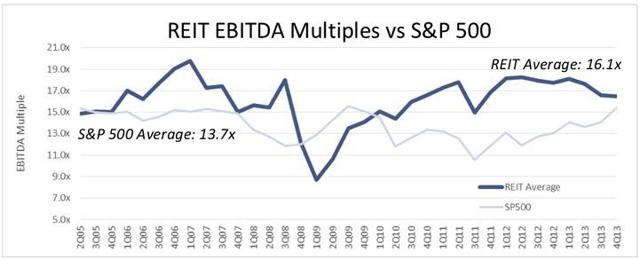 Now take a look at the following chart that illustrates the historic Price to Funds from Operations (P/FFO) multiple of the Triple Net REIT sector. If Darden were to convert its real estate holdings to a REIT structure, the new company's cost of equity would be significantly less. In addition, the hypothetical Darden REIT would be much less restrictive with its debt covenants (and could lever up to more based on REIT-based underwriting).

REITs are forced to payout more than 90% of taxable income in the form of dividends, and of course the hypothetical Darden REIT would not pay any corporate income taxes. Keep in mind, however, the benefit to becoming a REIT should NOT be mistaken for "financial engineering" or what some have called a "tax loophole."
Uncle Sam gets paid - even though REITs don't pay tax at the corporate level, the IRS collects his share at the individual level. Conversely, the REIT structure is much better than a C-Corp. because the real estate can trade at a higher multiple, and the operating entity is extremely more efficient. But how does that create value?
Understanding the Value in a Darden REIT
A typical Darden restaurant sits on around two acres and is usually located in a highly populated trade area near major retailers. As noted above, Darden operates a diverse restaurant portfolio of 2,138 properties in the US and Canada. Around 1,850 of the sites are either owned (fee-simple) or ground-leased and based upon my hypothetical model (below). Darden's owned (or ground-leased) real estate portfolio is worth around $4.6 billion.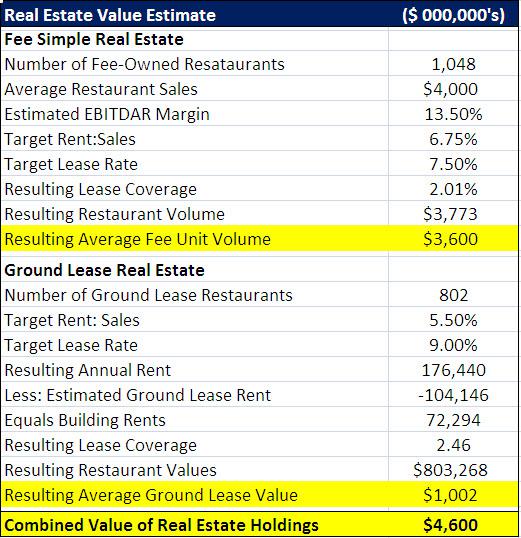 Assuming that Darden converted to a REIT the impact would be substantial. Today Darden has a highly inefficient business model and based upon its current implied value (assumed 7.7x price/cash flow), there is around $2.7 billion of "un-tapped" value. That inefficiency translates to around negative 58% corporate efficiency and uncaptured value per share of around 45%.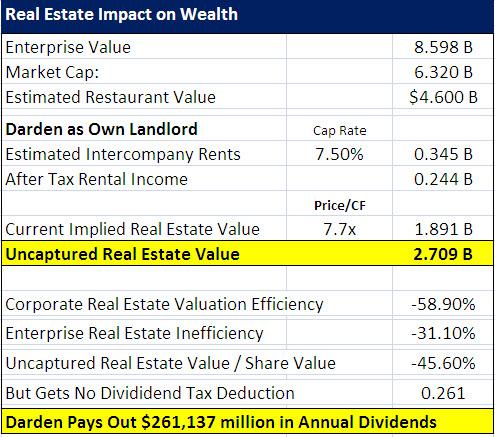 More importantly, Darden pays out around $261 million in annual dividends (current yield is 4.1%), and by converting to a REIT structure Darden could payout a substantially higher dividend to investors.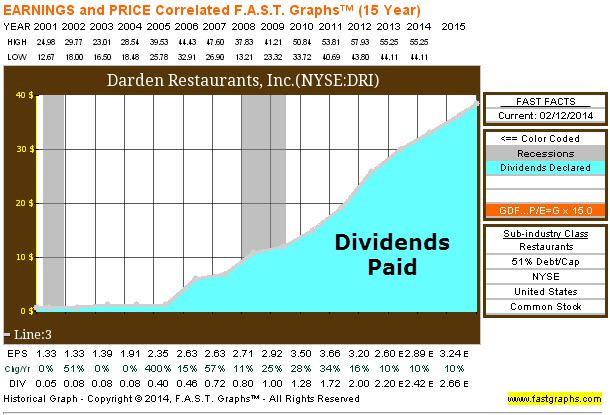 Darden thinks that by spinning-off Red Lobster (or Olive Garden in a REIT) it will enhance the company's balance sheet. Darden is currently investment grade, and like many investment grade companies (i.e., Home Depot (NYSE:HD), Lowe's (NYSE:LOW), etc.) C-Corps work hard to achieve an investment grade rating to finance debt to own real estate. It's somewhat ironic that these companies work tirelessly to become investment grade and then they pursue inefficient operating strategies of owning vast real estate holdings with returns that are lower than their cost of capital.
If you compare Darden with other Non-REITs that don't own real estate, it's very clear that these companies with the least real estate are the most profitable. I have often tried to understand why companies like AutoZone (NYSE:AZO), Home Depot, and Safeway (NYSE:SWY) own such vast real estate holdings while operating such inefficient capital structures.
In case you're wondering, Realty Income (NYSE:O) is a $12 billion REIT, and it cannot absorb Red Lobster without significant concentration risk (Red Lobster is around 1/10th the size of Realty Income). Red Lobster (as a stand-alone) is worth around $1.2 billion (my estimate) and even if the "Lobster" were to spin-off on its own, the company would still have downward revenue migration, downward customer migration, and downward EBITDA migration.
The only REIT that could possibly take down Red Lobster's real estate (by itself) is American Realty Capital Properties (ARCP). Now that the Cole Real Estate (NYSE:COLE) merger has closed, ARCP has the size to swallow up the big "Lobster;" however, ARCP would be going against its policy of acquiring investment grade leased properties and further exposing itself to more restaurant concentration risk.
In 1984 Golden Coral Realty Corp. was established as a landlord entity leasing to Golden Coral. In 1998 the company was organized as a REIT and the name changed to National Retail Properties (NYSE:NNN). That has been more than 30 years, and maybe now it's time for a brand new Triple Net REIT? The REIT Answer For Darden Is Its Coveted Real Estate Portfolio.
So in closing, as MD Research recommended, let my article serve as a letter to Darden management and its less than friendly hedge fund owners. The shareholder value for Red Lobster and the more desirable portfolio holdings is to capitalize on all of the benefits in REIT-dom - that includes liquidity, transparency, diversification, and most importantly, the unlocked value of the brick and mortar.
Red Lobster's old slogan was "For the seafood lover in you" and although the slogan was replaced by "Come see what's fresh today", I have a better slogan to offer dividend hungry investors:
Red Lobster: For the REIT Lover in You

Source: FastGraphs, Darden 10-K, and Yahoo Finance.
Disclaimer: This article is intended to provide information to interested parties. As I have no knowledge of individual investor circumstances, goals, and/or portfolio concentration or diversification, readers are expected to complete their own due diligence before purchasing any stocks mentioned or recommended.
This article includes hypothetical analysis and the author does not warrant any of the data or research to be relied upon for the purpose of investing in Darden or any other company listed.
Disclosure: I am long O, DLR, VTR, HTA, STAG, UMH, CSG, GPT, ARCP, ROIC, MPW, HCN, OHI, LXP, KIM. I wrote this article myself, and it expresses my own opinions. I am not receiving compensation for it (other than from Seeking Alpha). I have no business relationship with any company whose stock is mentioned in this article.