In today's Oxen Group recap, we will be looking at Facebook (NASDAQ:FB) as well as Whole Foods (WFM) in our company news section. In our Deeper Look, we will examine FB since our last update in November to cover the company's latest developments and update our model. In our Company News, we will look at the recent earnings report on WFM and give our take on that as well as predict where we think it's going next. We cover FB year-round, and we follow WFM on a limited basis. As always, we will also do our market overview and market recap.
Market Overview
The market was able to rally back on Thursday after early economic data results were weak. The market was not cheering to open after results from Retail Sales and Jobless Claims were weak, and earnings from a group of companies did not impress. Retail sales came in at -0.4% for January versus an adjusted -0.1% drop in December. The results were quite weak, but the market got a free pass due to extreme weather. The adjusted rate of -0.1% was from the prior 0.2% reading for December, which also was not a good sign. Jobless claims came in slightly above expectations but still were not overly strong, showing an interesting dichotomy in claims versus new jobs, suggesting what everyone fears - a lot of workers have given up or taken on "grey market" jobs or are just out of the workforce.
Outside of data, earnings from Cisco were not strong as we covered here and here. The company is plagued by weakness in emerging markets, and it will need a comeback there to get the ball rolling again. Outside of that, we saw weakness from PepsiCo (NYSE:PEP) as the stock showed sluggish results. CBS (NYSE:CBS) put together a strong report as TV remains strong, but the big loser may have been Whole Foods Market. We will cover WFM more in the Company News section below.
Overseas, we had a light day of news. Australia's unemployment rate rose from 5.8% to 6.0%, showing some weakness there. German price index showed low growth in prices at 1%+. It was not a strong day for news from the markets.
Overall, we were shocked to see the strength in the market that was really not based in much, other than a strong bullish reversal push. It was interesting to see such a strong market reaction, so we are definitely feeling more bullish after this action.
The Dow Jones (NYSEARCA:DIA) rose 64 points. The Nasdaq (NASDAQ:QQQ) added 40 points, and the S&P 500 (NYSEARCA:SPY) was up eleven points.
Deeper Look
Facebook
In today's Deeper Look, we will be attaching a price target for Facebook for the first time. We were high on the stock in November after a pullback to the mid-40s. Since then, FB has done nothing but rev its way higher. At that time, we thought a solid near-term landing spot was in the mid-60s. Upon doing a more thorough analysis of the company, we see a price target of shares at $81, slightly above current levels. We priced a pretty aggressive model for the company, and it appears that shares are finally starting to get to an area where it's more of a Hold than Buy. There is still some upside, though.
Main Catalyst
In our latest update to Facebook, we noted that we were positive on the company due to their adoption of mobile advertising revenue, its growth, and the success of the company to monetize their growing mobile trend. In the main catalyst section, we want to focus in on what mobile means for the company as well as the other portion of its mobile recipe in Instagram.
In the company's latest earnings report, the company noted the following about mobile revenue had grown to $1.25VB from $881M in the prior quarter, and it had grown from $306M in 2012 Q4. The company has quickly accelerated mobile ad revenue, and it is a big part of the potential for the company moving forward. Further, the promising part of mobile ad is that the company can still tap into a lot of accelerations with more users to grow by a large amount as well as a potential increase in the ads-per-newsfeed. Right now, the company has 20 posts per ads, and that number could drastically increase. The best part of that is that the ad revenue increases without much change in fixed costs, leading to dramatically higher margins. Here is a table of how mobile revenue is growing:
| | | | |
| --- | --- | --- | --- |
| Date | Ad Revenue - Mobile | Growth Rate | % Of Total Ad Revenue |
| Q4, 2013 | 1,250 | 0.418842225 | 53% |
| Q3, 2013 | 881 | 0.342987805 | 49% |
| Q2, 2013 | 656 | 0.754010695 | 41% |
| Q1, 2013 | 374 | 0.222222222 | 30% |
| Q4, 2012 | 306 |   | 23% |
What we can see is that mobile is now the most important part of the business at 53%, and it is now more important than desktop FB. What more, FB mobile-only and mobile users continues to grow. Mobile-only users grew to 296M from 157M in 2012, and the daily active users for mobile went from 266M in March of 2012 to 556M in December 2013. That number will only continue to increase as well.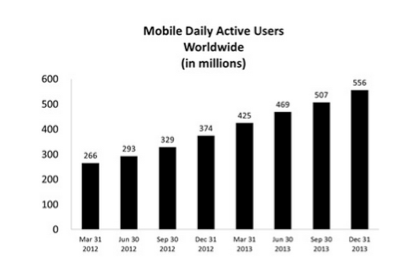 We see mobile continuing to grow at a strong clip at 40-50% in 2014. For one, mobile users will likely grow at a strong rate, and the company has the potential to increase ads on the mobile space. The company in Q3 noted that they were not interested in this, and in Q4 the company noted about the structure of mobile ads:
In Q4, total ad impressions declined 8%, and the average effective price per ad was up 92% compared to last year. The decline in ad impressions was primarily due to the shift in usage towards mobile devices, where people are shown fewer ads compared to desktop, since there's no right hand column ads on mobile… The significant increase in average price per ad was driven by the mix shift to more newsfeed ads that have much higher engagement and click through rates, increasing the average effective price per ad impression. The price volume trends were pretty similar across our four geographies.
And so why volumes are declining, the price is much higher. The company also noted that the newsfeed ads offer great follow through. But the company is not going to just increase ads yet for the sake of just offering more ads. Here is Zuckerberg on this:
I really think that it's easy to look at the model and say, okay, if we ran more ads then the business would grow faster in the short term, but investing in quality is really actually the most important thing, because it's what improves the experience for the people who use the product. It drives greater returns for advertisers, and over time it increases the potential size of our business. And I think you can say that that's a harder path for us to take, but I actually think that the results over the last couple of quarters have really shown that by focusing on improving quality instead of just increasing quantity, we can actually drive pretty incredible business results. So we think that there's more to do here, and that's what we're going to keep on doing.
For now, the company can see solid growth rates to support valuations based on just a shift to mobile users, and the mix will be solid enough at that point that at any point the ad-per-feed rate can grow more, which will also be a way to improve revenue. The strength of this situation for FB is what gives us a lot of confidence about Facebook Mobile. There is still about 200M users that use FB but do not use mobile at all, so we expect more user growth in the year with them coming to mobile as well as new users getting phones.
If Facebook Mobile weren't good enough reason to like this company, we also love the Instagram potential.
Instagram and Facebook lead the way for total time spent on their apps on mobile versus their competitors, according to ComScore. Instagram maintains user attention for a long period of time, which means that ads work very well with this. Ads on Instagram are expected to pull in around $350M in 2014, and that seem about where Facebook was at the launch of mobile ads. At that time, the company had 330M daily active users on Facebook Mobile. Instagram has about 75M active daily users. With ads starting to roll in for Instagram, this rate shows Instagram making slightly more than FB could with 375M users in Q4 2012 when the made $305M. If we take 75M users x 4 quarters, we get 300M active daily users. Yet, we expect another 50% increase in users in 2014, so the $350M rate is definitely doable and potentially conservative.
The ads on Instagram look like this: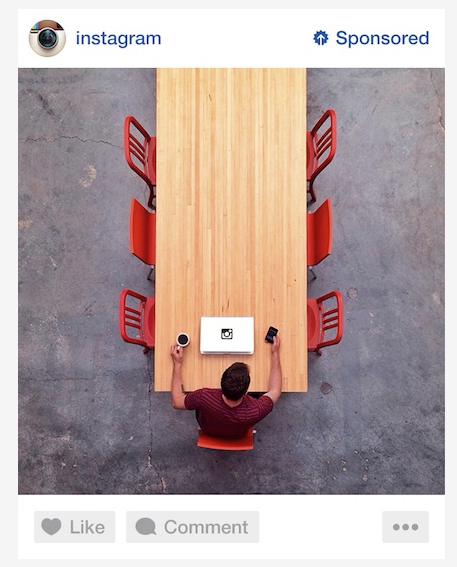 We like the look of this. It is much like the rest of the site, and it will be done with high quality photos and connect directly with users interests. What's better is that Instagram is seeing monthly active users growing at a fast clip. In June 2012 it was 80M. In the latest quarter, it was at 150M - 100% growth nearly.
The final question is whether or not the global advertising space can continue to grow, and there have been questions as of late whether ad dollars will be pushed too thin. According to Gartner, the marketplace will grow to $18B in 2014 up from $13B in 2013. Gartner expects, though, that this market will be a $40B industry by 2017, so the rate of ads, the dollars spent, and the cost are all likely to rise. What does that mean for FB?
They are in a good spot right now! The stock is definitely reflecting that position, though, with a 100+ PE, 40+ future PE, and 21x sales price tag. All three ratios show a lot of future growth priced into shares, and the question for us is it too much or not enough?
Price Target Analysis
Revenue - The revenue is expected to grow strongly, and in our model we are anticipating growth to around $11.5B in 2014. We are expecting flat levels in other revenue around $1B; Insta to offer $350M, FB desktop to grow to around $3B, and then the wild card is FB Mobile. We are expecting it to grow to between $6.5B - $7.5B, but we need to see some more about exactly the growth rates as the comps become larger and the growth of ad volume flattens. If prices rise and they do increase volumes some, we could see $7.5B, and get towards $12B. From there, we are anticipating a CAGR rate of 25-30% per year to match ad revenue increases, but the rest of user growth will drop significantly as we get past 2015.
Margins - The company has noted that margins will likely drop in the short-term, but the long-term potential is strong as fixed costs will be spread across more users and price points will rise for ads. The company noted, "Our expenses may grow faster than our revenue and may be greater than we anticipate in a particular period or over time, and our investments may not be successful." We expect a decline to 30-32% operating rate in 2014 before coming back to 35% and moving higher from there.
Taxes - The company has a strong tax rate at 45%, but this is mostly due to the company not having much offshore cash as well as the way they pay through stock options. That structure will likely start to change, and we already saw it drop in the back half of 2013. We expect a five-year average around 38% in our model.
CapEx - This will stay high around $2B - $2.5B in 2014 as the company noted, and we expect it to stay high with the costs of servers and investments into foreign markets and current markets will keep investments up a lot.
Pricing -
When we use this information in our Oxen Group EquityAnalytics cash flow analysis system, we determine that the company has a price target of $81 for 2014. We believe that this is an aggressive model that properly prices for the growth levels using a discount cap rate at 3%, which is a limited discount level since future cash flow levels will be much greater than current levels. Yet, given that price target, we would like to see a slight dip to below $65 to buy new shares. Adding in $65-$70 is still okay but does not offer the type of risk:reward profile we like.
Conclusion
Facebook is becoming an iconic America brand with a lot of potential in the coming year. In fact, it was one of our potential 100% risers for 2014. The stock is already up 25% to start off the year, and the analysis we have done suggests about 20%+ more upside before the stock starts to really overprice. Given momentum, though, this one has the potential to explode to $100 without much of a problem especially if growth and lack of issues stay strong.
Company News
Last night, Whole Foods released their latest earnings for their FY Q1. The report was overall pretty solid as the company showed strong growth at 10% for sales. Yet, the company dropped their full-year guidance that was disappointing. WFM has been under scrutiny as the company has started to have to move into less than ideal locales, meaning areas with lower average incomes and less ideal real estate. Speculation is that this would drop margins and hurt the company's overall strength as a high-income consumer play.
Here are a few key takeaways from the call:
- Comps growth was at 5.4%. This is below their yearly goal of 5.5%-7.0% and has forced Whole foods to reduce its forecasts to a more conservative figure at 5.5%-6.2% for the remainder of 2014.
- Sales growth was at 10% for Q1, which is below its yearly target range of 11%-13%. This has made whole foods adjust its yearly sales growth goal to the range of 11%-12%.
- Gross margin looks to drop this year and at best it will stay flat. The company states that it will maintain a margin between 34%-35% over the long run.
While some of these figures are troublesome, the company has stated that their expansion plans are on pace with their goal of 33-38 new store openings has not changed. Further, the company did show strong growth at new stores that is in line with what one might expect for a new store:
| | |
| --- | --- |
| Age of Store (years) | Comps Growth Rate |
| >15 | 3.2% |
| 11-15 | 3.2% |
| 8-11 | 3.0% |
| 5-8 | 7.3% |
| 2-5 | 6.6% |
| <2 | 19.5% |
Here was the company's shift in guidance: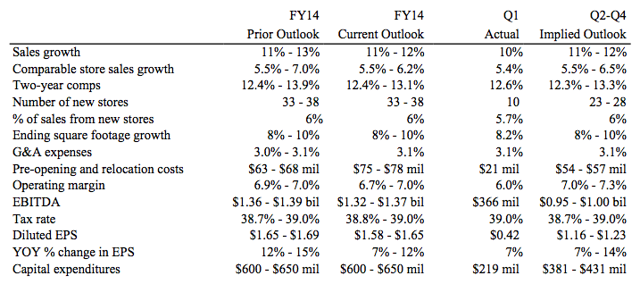 The interesting part is that they limited the upside in sales growth, lowered comp sales, increased costs, and lowered income levels. The company is spending more and making less at least for this year, and that spooked investors. Yet, we believe that the company is investing heavily in new stores and that some of these cost increases are due to temporary issues with seven former Dominick's the company bought that will open in 2015 but had some upfront costs for pre-opening rent.
The company is still the top play in grocery, and it is an attractive play. Yet, it is a high valuation play that will see hits when it does not perform well. The stock is down 11% YTD and only up 7% year/year, so it has not moved in awhile during its slowdown in growth as should be expected. Surprisingly, the company's 1.5 price/sales is an attractive valuation. The company's future PE is now down to 26, and we believe that the company's drop in guidance sets up for them to beat the rest of the year. We are interested in a bull put spread in the stock with today's drop as we expect a bounce back.
We like the looks of the May2014 45/42.50 bull put spread worth 11% return. The company has strong support below it at $50 and then $45, and we expect some near-term weakness before rebounding as we near 2H of 2014 as the company is back loading a lot of their store openings.
Friday's Outlook
Thursday's follow through from the bullish period to start the week despite weak economic data was a very bullish sign for the market. Therefore, we are starting to feel a bit better about the market. A lot of the indices have retaken key support lines, and they are getting closer to retesting previous resistance lines. The markets are about flat now for the year, and we end the week with some important developments.
Domestically, we have economic data for Import/Export Prices for January that is important to watch. A lack of inflationary signs gives weight to more Fed action, but that seems unlikely. We actually prefer seeing some inflation to show that there is some growth in the economy. We also get Industrial Production for January. Based on other January data, we are not confident about this number that is expected to show 0.3% growth year/year. Finally, we have Michigan Consumer Sentiment at 80.2 coming in tomorrow for the first time in February. That should be interesting to watch as it is expected to decline from January.
Outside of data, we get key earnings from AIG (NYSE:AIG), Kraft (KRFT), and Cliffs (NYSE:CLF) in after hours with key reports from Campbell (NYSE:CPB) and VF Corp (NYSE:VFC) tomorrow morning. In foreign news, we get some key data from China with new loans for January, CPI, and FDIs. Further, we get Q4 GDPs from the Euro-Zone countries, which will be key to Europe and American markets.
It should make for an interesting end to the week, and we should really see just how strong this market is based on the wealth of data/earnings we have before Friday's open.
Disclosure: I have no positions in any stocks mentioned, and no plans to initiate any positions within the next 72 hours.
Business relationship disclosure: I have no business relationship with any company whose stock is mentioned in this article. The Oxen Group is a team of analysts. This article was written by David Ristau, one of our writers. We did not receive compensation for this article (other than from Seeking Alpha), and we have no business relationship with any company whose stock is mentioned in this article.