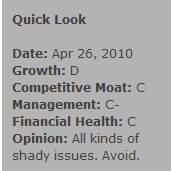 Pre-Paid Legal (NYSE:PPD) offers what amounts to "legal insurance", where customers purchase a membership subscription and in return receive legal coverage for such incidents as traffic violations, trial defense, will preparation, identify theft, and so forth. Memberships are mainly sold to middle income individuals or families, and monthly fees range from about $15-25, with some products, such as the identity theft shield, extra. The company contracts with small legal firms around the U.S. and Canada, usually driving the bulk of business for these firms through customer referrals. This makes the relationships pretty solid, with most of the firms with PPD for over 8 years. Pre-Paid Legal pays these firms a monthly fixed fee that does not change based on the benefits realized by subscribers. This fact eliminates nearly all claims risk that most insurance companies face, making Pre-Paid less of an insurance provider and more of a referral company.
Let's address the positives first. Financially, Pre-Paid Legal's business model is an attractive one. Capital requirements are low for this kind of product, which allows the company to put up a nice MFI return on capital (108%) and free cash flow (14% free cash margin) numbers. Management has been generous with this free cash flow, returning it to shareholders by aggressively repurchasing shares over the past 5 years. Shares outstanding have declined at a 6.7% per year clip in that period. Competitively, there are virtually no prepaid legal plan providers that target individual families. Nearly all competitors focus on larger employer groups, creating a nice niche for Pre-Paid to operate in. The company's marketing structure is very low cost and scales up and down naturally with the number of subscriptions sold.
Speaking of the marketing plan though, it's a multi-level marketing (MLM) strategy - also known as a "pyramid scheme". Pre-Paid recruits independent salespeople who sell the product and recruits associates to do the same, earning commissions on both their own and their associate's sales. If you've ever been roped into Amway or Avon (NYSE:AVP), you know how this works... it usually doesn't! About 98% of its "associates" earn less than $250 per year selling product. As a result, Pre-Paid has to consistently renew its salesperson base, as generally over half of it turns over every year. While this leads to new one-time enrollment fee payments for new salespeople, it also leads to a lot of inexperienced and unqualified people hawking the product. This turns prospective customers off to the company and creates a bad reputation.
Scour Google and you will find no shortage of complaints against the company (here for starters). It's not just the obnoxious MLM marketing, either. At least Amway and Avon have respected products. Pre-Paid's legal coverages are fairly narrow. Hours covered in pre-trial expenses are anemic, usually less than 3 hours, with the rest fully payable by the member. Alcohol-related vehicle incidents, a rather common occurrence, are not covered at all. IRS audit protection and will preparation coverage are both of little value; audit protection is usually provided by tax prep firms, and will creation can be easily done using computer software. I just don't see much value in these memberships. Few individuals or families will face a need for these protections in any given year.
Recently, the company has run into even more problems. The FTC and SEC are currently investigating the company. The FTC is concerned with the issues outlined above regarding the product and treatment of associates. The SEC is investigating the company's stock repurchase plan, which as mentioned above is very aggressive. One concern here is that Pre-Paid issues generous amounts of stock to management, who then sell it through the repurchase program at higher prices. Another concern is over the abrupt resignation of founder and long-time CEO Harland Stonecipher at the beginning of March. The timing is suspect, to say the least, as the government began to turn up the heat on what is clearly a questionable business strategy.
Add to these concerns the fact that operational metrics have been weak, and you have a MFI stock that is probably best avoided. Pre-Paid Legal has been seeing increasing weakness in their subscriber base numbers. New memberships have failed to cover the number of memberships cancelled, leading to slight declines in net subscribers. Legal services are increasingly becoming more available to individuals through online based providers. Revenue fell 1.3% in 2009, and sales growth will probably be right around 0% in 2010. MagicDiligence does not see any compelling growth or moat argument for this company.
Last but not least, Pre-Paid Legal is not particularly strong financially. Cash is about $36 million, debt about $42 million, with the debt-to-equity ratio high at 110% (I like to see 75% or lower). While it is far from the biggest concern, it is yet another strike against the stock.
All said, Pre-Paid Legal is just not an attractive investment from any angle, and the recent run-up in the share price doesn't help. Magic Formula investors should look elsewhere to invest.
Disclosure: Steve owns no position in any stocks discussed in this article.