Twitter (NYSE:TWTR) dropped 24% after reporting much anticipated earnings on February 5th. This drop completed a quick journey from a "crescendo top" that I described (fortuitously) in late December. Shortly afterward a reader commenting on the article projected that TWTR should fall below $50 soon. I responded as follows:
I am not so sure. $50 is nice technical support. I wrote about it here: bit.ly/1lEYPTS
Will write an SA article about my changed outlook soon.
I decided to read through the Seeking Alpha transcript for the earnings call before writing the follow-up. What I learned and now understand firms up my belief that $50 should hold as support at least as long as the overall stock market remains in a bullish mood. I am much less comfortable with Twitter's premium, sky high valuation (at the time of writing 31x sales and tops in the internet universe that I track), so I have designated TWTR as a trading stock, not an investment stock. To-date, TWTR has behaved reasonably well (aka consistently) to serve that purpose. The following chart shows the crescendo top in December and some other key technical levels and events that have defined trading in TWTR, including the $50 breakout point that served as solid post-earnings support.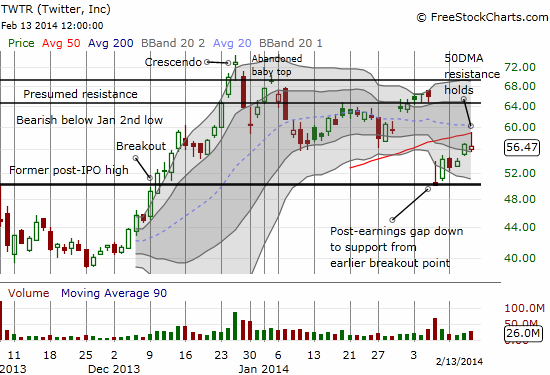 Twitter may have finally found support at $50 after a crescendo top just under $75
Let's review a quick set of earnings highlights that define the opportunity going forward. I am not going to rehash the financial results and the long list of product initiatives since plenty of other authors have already covered those points.
I will say that I am overall impressed with Twitter's ability to turn out a (non-GAAP) profit that beat expectations despite severely disappointing on user growth expectations (30% year-over-year and 4% quarter-over-quarter; U.S. monthly active users grew 21% and 3% respectively). If even half of TWTR's various initiatives and product experiments succeed, the company could develop the kind of revenue and then earnings growth that analysts need to issue upgrades and positive views. Currently, analyst consensus is extremely bearish on TWTR. According to Schaeffer's Investment Research, only 3 of 23 analysts hold a positive view, all at strong buy. Ten analysts are stuck on hold, one dings TWTR at sell, and a surprising swell of nine analysts are frowning with strong sell (when was the last time you have seen such a resoundingly negative analyst consensus, especially on a recent IPO?). A turn in analyst sentiment could create a major pivot in TWTR's stock one day.
The big knock on TWTR's report was the disappointingly low user growth in the fourth quarter. TWTR left the prospects for future user growth in great doubt during the Q&A session. Near the beginning, the company acknowledged it will have to work a lot harder to gain user growth:
I would say up until last year, our growth has been viral and organic. Growth was something that happened to us.
If that was not enough, near the end of Q&A, TWTR essentially guided to continued low single digit user growth:
…we are not assuming any significant inflection point in the user growth curve.
Oddly enough, TWTR also claimed that it is confident it can "accelerate its user base" in 2014, and "…it will be a combination of changes introduced over the course of the year that we believe will start to change the slope of the growth curve." So, TWTR is assuming user growth will not change much this year, but it is hoping its assumptions prove far too conservative.
No wonder then the stock dropped as much as it did the day after earnings. Anyone who eagerly plowed into the stock ahead of earnings, especially during the spectacular run-up to the crescendo, likely sold immediately. That wash-out of sellers set up the opportunity for the bounce off $50 support - almost like the wash-out of overly enthusiastic buyers at the crescendo top. Trading volume of 64M shares was the third highest on record for TWTR, coming close to the 70M shares TWTR sold at its IPO at $26/share. The two largest volume days were the day of the IPO and the day TWTR printed its crescendo top.
Almost everything else TWTR had to say during earnings described a company hard at work experimenting, innovating, and developing. For example…
We made a considerable effort in 2013 to develop a more robust mobile experimentation framework, which is helping us significantly increase our product launch cadence. We developed this infrastructure to help us iterate and test new ideas much more quickly, and we're seeing the benefit both in terms of the quality and quantity of product launches.

…we are very focused on improving advertiser ROI and making our platform more accessible to a broader range of advertisers. To that end, we are constantly making improvements to our ad products and our prediction and targeting capabilities.

…We know from our user research the kinds of things that cause users to become more engaged and stick with the product and core and make it indispensable to them. So it's those things that we're looking to drive into the product.
In a bull market, that potential and promise can be sufficient to keep even a stock like TWTR trading at a nosebleed valuation. The large downside risk is the minute the market decides these efforts are failing, the stock will likely sell-off sharply, deeply, and persistently (granted, with so many analysts already so negative, the absence of reinforcing downgrades could cushion such a fall). I think a break of $50 support would mark such a moment.
After valuation, my biggest concern with TWTR is the amount of money it is spending on stock-based compensation. I had this same concern with Groupon.com (NASDAQ:GRPN) in its early post-IPO days. TWTR is well-financed with $2.2B in cash and marketable securities, so it can certainly afford generosity. Still, the numbers seem staggering. For example, in Q1, TWTR expects to spend around 64% of its revenue on stock-based compensation: $230-240M in revenue, $145-155M in stock-based compensation. For the full year, TWTR expects to spend about 53% of its revenue on stock-based compensation: $1.15-1.2B in revenue, $600-650M in stock-based compensation. This is on top of all the capex spending. It will be difficult for TWTR to show meaningful profit growth this year under these conditions.
On a related noted, dilution is also on the way. While the release of large quantities of stock have tended to HELP other internet-related IPOs in the past year or more, there is no reason to believe this magic will continue to work. Reading a related reference in Briefing.com reminded me that shares are coming as early as next week. From the prospectus: (emphasis mine)
…beginning as early as February 15, 2014, up to an aggregate of 9,867,228 shares of our common stock that are held by our employees who are not executive officers may be eligible for sale in the public market in order to satisfy the income tax obligations of such employees resulting from the vesting and settlement of the outstanding Pre-2013 RSUs for which we expect the service condition will have been satisfied on such date and through the end of the lock-up period (or up to an aggregate of 3,282,859 shares of our common stock held by our employees who are not executive officers if we choose to undertake a net settlement of all of these awards to satisfy a portion of such income tax obligations); and beginning 181 days after the date of this prospectus, the remainder of the shares of our common stock will be eligible for sale in the public market from time to time thereafter, subject in some cases to the volume and other restrictions of Rule 144, as described below.
So more shares to buy may be on their way as early as next week. The date of the prospectus is November 6, 2013 so the bulk of the share-unlocking will happen starting around early May. The way the market absorbs these shares should tell us a lot about the TWTR's bullish/bearish undertones.
Ahead of observing the reception for the gift of more shares, there are other metrics for assessing sentiment. The crescendo top occurred at a time with negative analyst sentiment and rising short interest. Both metrics of sentiment have gotten worse: analysts are even more negative (as noted above) and short interest continues to soar. Short interest has increased from 5% of the float as of November 29, 2013 to 10% of the float as of January 31, 2014, essentially a doubling in shares shorted. Interestingly, the open interest put/call ratio has plunged: starting from around 2.6 soon after options started trading on TWTR to about 0.7 now. It is possible that bears have switched from holding puts to shorting shares and/or they are using call options to hedge their bets. Whatever the interpretation, there is still room for sentiment to get even more negative - it is not at an extreme yet.
While negativity is not at an extreme yet, the earnings disappointment effectively triggered a short-term relative extreme. As I noted above, I think the post-earnings recovery occurred because the most urgent sellers exited their positions in the immediate aftermath of earnings. However, it is also possible that traders moved in to play the Goldman Sachs tech conference where Twitter was scheduled to present at 2:50pm Eastern time. From what I gathered in media coverage of the event, TWTR management basically repeated points from last week's earnings conference call. The intra-day chart below suggests that the bulk of traders betting on this event sold just ahead of the conference. That price level happened to coincide with the overhead resistance for the stock at the 50-day moving average (DMA) as shown in the chart above. That swoosh downward was my signal to get back into puts as a play on a failure to break important resistance. By that time, the price of the puts I purchased had already doubled from the day's low. Sellers got active again after TWTR's presentation started, but volume was much lighter and buyers (short-covering?) were enough to reverse most of those final losses.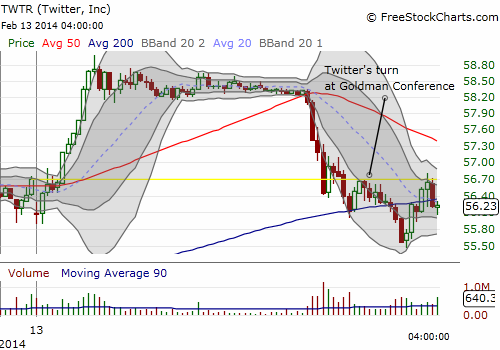 Traders sell ahead of presentation at Goldman Tech conference
Source for charts: FreeStockCharts.com
While I am positioned short again in TWTR, my bearishness gets weaker the closer TWTR approaches $50. If TWTR manages to close higher than Thursday's pre-Goldman high and above the 50DMA, I expect the stock to run up to $64 or $65 before stumbling again. For now, I think the crescendo top is well-intact. I am assuming that only a fresh catalyst, like good news on Twitter's product development and monetization, can uncork enough positive sentiment to break that boundary…and the growing negative sentiment is building up a lot of potential energy for that moment if it comes.
Be careful out there!
Disclosure: I am short TWTR. I wrote this article myself, and it expresses my own opinions. I am not receiving compensation for it (other than from Seeking Alpha). I have no business relationship with any company whose stock is mentioned in this article.
Additional disclosure: Short TWTR through put options.