Yelp (NYSE:YELP) had its first lock-up period end sometime towards the middle of 2012 - I can't remember when, exactly. What I do remember was that I was short Yelp at the time for the short-term, and that on the day the lockup expired, Yelp's shares took a 20%+ run to the upside on what appeared to be short covering.
Those employees that held have witnessed 400% upside since then, too. Good for them.
- source)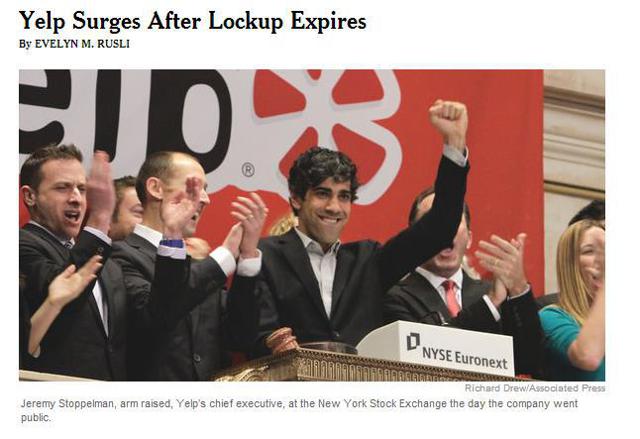 It was exactly the opposite of what I thought was going to happen.
What I was expecting from Yelp employees was a share dump for a couple of reasons:
1. It's free money to insiders/employees.
2. I don't think Yelp has long-term sustainability - and I figured some insiders could possibly feel the same way.
Instead, I was carried out on my short, had to cover, and put the incident behind me. If you recall, other social media companies like Facebook (NASDAQ:FB) saw their stocks lag in the face of lock-up expiration.
For Twitter (NYSE:TWTR), I'm predicting that it will not pull a Yelp, and will likely lag in the coming days as it approaches its lock-up expiration.
Seeking Alpha reported:
Twitter's first post-IPO lock-up period is due to expire tomorrow, allowing non-executive staff holding 9.87M shares to sell their stock.
That would increase the number of tradable shares by 12% to 90M. Another 474.7M shares will become eligible for sale in May.
Twitter's shares have more than doubled since it listed in November, although they've sunk 14% since the company released its latest quarterly earnings last week.
Although adding shares to the float doesn't dilute the same way as adding to the outstanding share count, if there's no one there to buy the shares that get dumped on the open market - you can create serious weakness.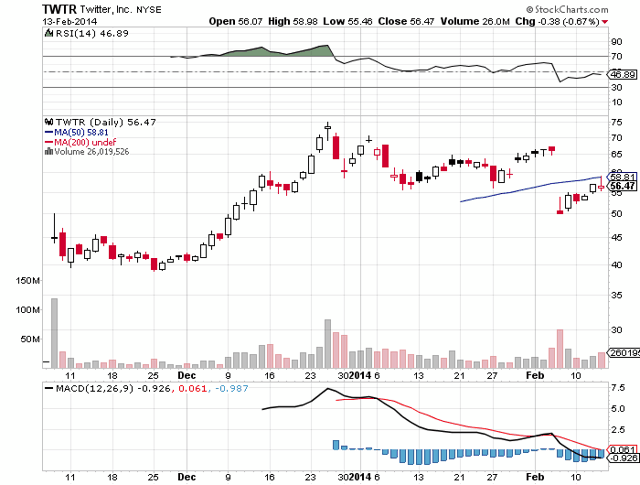 There isn't much of a technical picture for the company, although chartists will likely look to see if the newly formed 50DMA will act as a ceiling for the company's stock price in the face of lock-up expiration.
After the company's earnings impressed but new user data failed to woo the street, the stock took a bit of a hit. Recently, however, bulletproof Twitter seems to be not only dodging the "valuation" bullet, but the "earnings" bullet as well. The stock has recovered a bit from falling to under $50 post-earnings.
Twitter will be put to the test here - will employees hit the exits? I expect that they likely will and am predicting that Twitter, which still needs to correct more from earnings, will likely fall in the short-term.
And, another thing is for sure, I expect Twitter to remain volatile well into this year and continue to consider it for options straddles and other plays that take advantage of stocks that move.
Disclosure: I have no positions in any stocks mentioned, and no plans to initiate any positions within the next 72 hours. I wrote this article myself, and it expresses my own opinions. I am not receiving compensation for it (other than from Seeking Alpha). I have no business relationship with any company whose stock is mentioned in this article.