Editors' Note: This article covers a stock trading at less than $1 per share and/or with less than a $100 million market cap. Please be aware of the risks associated with these stocks.
Last week, I wrote an article that discussed three overvalued shorts, including Poly Shield Technologies (SHPR). The article, however, was inexplicably delinked from the company's Yahoo Finance page. For the benefit of all readers, below is a more detailed Poly Shield Technologies report, including additional analysis of a press release that just came out this week.
Poly Shield Technologies has a lot of moving parts, but the bottom line is that the company is literally going into the tank. The company unsuccessfully dabbled in a number of businesses over the last year or two, ranging from wireless tracking equipment to water purification to fluoropolymer coatings to various emission-reduction schemes for the marine industry. These endeavors generated ongoing revenues of only $5k in 2012 and $76k through September 2013 (which excludes a one-time royalty payment of $272k in 2013 Q3 from a discontinued business). Quarterly losses remained around -$0.3M in 2013 Q3 despite the one-time incoming payment, as SG&A expenses tripled.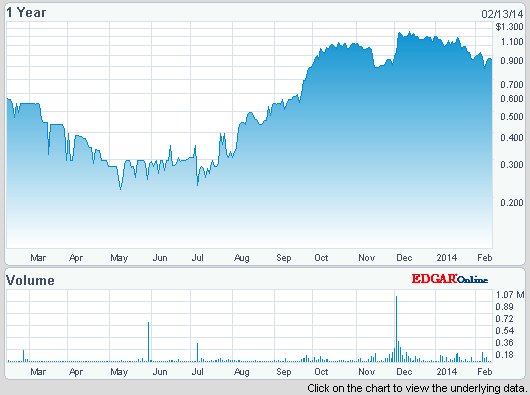 The company's primary focus today is its planned DSOX-15 purification product that decreases the amount of sulfur in fuel used by ships. The DSOX-15 effort is supported by the three new management members that joined Poly Shield in September 2013. Rasmus Norling, the previous head of the company with 154M restricted shares (82% of total shares), is currently floundering to sell his Bio Scrubber that removes alkali metals from fuel.
Management has been quite outspoken about new sulfur emissions regulations that they claim will take effect in 2015, stating this as a fact in the company description section of each news release. Management, however, forgot to mention that there is support to delay these regulations (see here, as one example). Secondly, the stricter upcoming 0.1% sulfur emission restriction that would require a DSOX-15 is only for Sulfur Emission Control Areas (SECAs), which excludes many parts of the world. Third, several alternatives exist to deal with reducing sulfur, the most convenient and efficient method is to simply buy low-sulfur fuel or liquid natural gas fuel (which, after an initial production adjustment, should be in sufficient supply).
This latest press release not only over-promotes yet-to-be-implemented sulfur emissions regulations tentatively set for 2015, but spins the signing of a mere consulting agreement to only test and evaluate (not purchase) its DSOX-15 fuel purification technology into a major event. This latest in a series of vaporware news releases is a desperate attempt by management to justify a 4x price jump over the last nine months to $0.88 currently, equating to an outlandish $165M market cap.
Even in the improbable scenario of ramping DSOX-15 demand, the company does not have the capital, production know-how, or even a team in place to mass-produce a DSOX-15 sulfur fuel reduction product. In fact, all $60k DSOX-15 revenue reported in 2013 was for consulting; product revenue was zero. The DSOX-15 myth is epitomized on the product section of the company's web site, which today only shows a picture of a ship; no DSOX-15 system, not even a spec.
Poly Shield has high-interest/dilutive loans that it cannot afford to pay of $0.3M at 51% per annum, $0.6M in various other loans, and a loan last month for $0.5M up-front with $1.5M to follow at 10% per annum with 6.2M shares in cashless warrants. The $1.5M is subject to the company cancelling Rasmus Norling's shares and acquiring his patents. Thus, a power struggle is now in play between Mr. Norling and new management backed by the recent lender (KF Business Ventures LP).
Using history as an indication, Poly Shield will likely face bankruptcy and/or extreme share dilution from debt conversions and discounted capital increases. The company has failed to break the $200k revenue mark for the last 13 years, and has lost money every year. Thus, the chances of management paying back its mounting debt and now covering its out-of-whack SG&A costs are quite remote.
The false hope of Poly Shield being resurrected by this tentative loan, cancelling all or part of Mr. Norling's shares and somehow acquiring his IP, along with probable stock promotion activity funded by the small Q3 windfall, are the only reasons that I can find to explain this recent 4x rise in Poly Shield's stock.
In addition to the above red flags, there are at least two other reasons why SHPR shares are bound to collapse. First, the company would need $150M in DSOX-15 product revenues to justify the current market cap of $165M (excluding KF Business Ventures warrants). As mentioned, DSOX-15 only provided a nominal $60k in consulting fees with no visible product in sight. Even in the rosy scenario that the share count is reduced to a 40M base plus new management shares and future dilution to avoid bankruptcy and maintain operations, the company would still need at least $50M in sales to justify that valuation, a far cry from $60k.
Second, new management has credibility issues. Brad Eckenweiler (current CEO) spent the last ten years as CEO of Midas Trade, an OTCBB stock trading firm. Not only does Mr. Eckenweiler have no operational experience, but in the past he was fined and banned for two years by the British Columbia Securities Commission for dubious payments and promotional activity. Simultaneous to Mr. Eckenweiler's CEO announcement in September 2013, he received $195k from the company for previous travel, marketing, and other business expenses. Neither Mr. Eckenweiler nor his two manager colleagues have released their stock compensation arrangements yet. It will be interesting to see what the total net share count/ownership stakes will be, especially in the rosy scenario that most of Mr. Norling's shares are cancelled.
This creates today's shorting opportunity of Poly Shield, with an EV of $167M despite dire financials of ongoing LTM revenues of only $76k, last-twelve months' losses of -$1.3M with more red-ink to come, while facing debt obligations that currently cannot be repaid. Poly Shield is a worthless folly in my view, where aside from insiders, very few shareholders will make any money.
Disclosure: I am short SHPR. I wrote this article myself, and it expresses my own opinions. I am not receiving compensation for it. I have no business relationship with any company whose stock is mentioned in this article.