TGC Industries (NASDAQ:TGE) is set to report Q1 2010 earning tomorrow, May 3, 2010. So let's revisit what happened last quarter.
Before we get started, the below table highlights the key financial metrics for the business: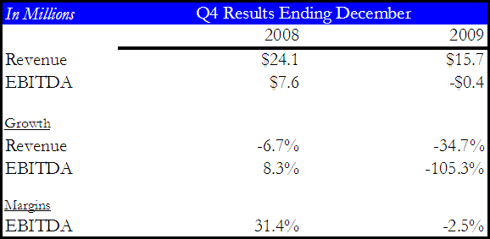 Margins were hit hard which resulted in negative earnings and EBITDA. Much of this was attributable to the significant decrease in gross margins. Gross margins went from 37.3% in Q4 2008 to 15.6% in Q4 2009. The margin decompression can be attributed to the global economic recession which has prolonged the slowdown in seismic work. Therefore, there has been an all out bidding war for all new work which has impacted the margins at TGE and their competitors.
To make matters worse, there has been an unusually high amount of shot-hole work. Shot-hole contracts typically have higher third party costs and therefore lower margins when compared to the more traditional seismic work.
We view both the high amount of shot-hole work and the bidding war as temporary. Thanks to market forces, the supply side of the equation is adjusting downward to match the demand side. Once this happens we will see a sharp increase in gross margins which will flow down to raising EBITDA margins.
Operating expenses in Q4 2009 increased 71.4% from $1.4 million to $2.4 million during the same period a year ago. This is mainly attributed to the Eagle Canada Inc. acquisition that took place in October 2009. We continue to view this acquisition as a plus because it gives TGE exposure to markets outside the United States. Furthermore, we feel TGE did not overpay for the acquisition.
Crew utilization was 44.4% for the quarter with 5 crews being idle. Once again, this is troubling but we will be watching the utilization rate closely. Oil prices have started to inch up which should lead to increased activity for TGE and utilization in the coming quarters.
Since the acquisition of Eagle Canada Inc. in October 2009, the total backlog of TGE increased from $35 million as of September 30, 2009 to approximately $49 million at the end of Q4 2009 which is positive. We also like that TGE has gained entry into the Canadian market and with oil prices ticking up, we feel that the coming quarters will be telling for the future outlook for TGE.
Another positive is that 78% of revenue is from repeat customers which demonstrate TGE value add to clients.
We feel that TGE has suffered a lot of short-term pain in the last six months but we feel strongly about the future outlook for TGE, and its possible investment returns for us. TGE in the past has been a free cash flow machine and we expect this to resume over the coming quarters and years. When this occurs we can expect TGE stock price to increase significantly. Furthermore, we view the seismic industry as a vital player in oil exploration and feel that TGE is best of breed and deeply undervalued.
We are excited about the upcoming quarter and will be paying close attention to utilization rates and overall margins.
Disclosure: CR Investor does currently hold a position in TGE. We will be releasing another quarterly update shortly after the company releases earnings on May 3, 2010.