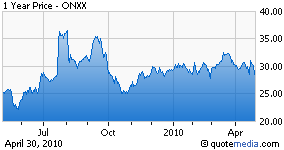 Another weak quarter for kidney and liver cancer treatment Nexavar prompted a 5% drop in Onyx Pharmaceuticals' (NASDAQ:ONXX) shares Thursday and questions about what exactly is driving the disappointing figures.
The sales were reported by Onyx's marketing partner Bayer and when the US biotech reports first quarter figures next week, no doubt the subject will take center stage; some financial analysts have already moved to significantly trim sales forecasts. Just how concerned followers of the US biotech should be remains to be seen, but with competition from newer agents biting in its biggest market, kidney cancer, Onyx needs to demonstrate that demand for Nexavar will pick up.
Finger of blame

Nexavar posted 16% sales growth in the first quarter generating €155m ($207m) for the German group. Onyx co-promotes with Bayer in the US and receives half the profits and a lower, undisclosed share on profits generated elsewhere.
Analysts in the US were anticipating around $245m for the quarter, so this represents a fairly big miss. With the last quarter of 2009 also missing expectations, this is another disappointing result.
A number of explanations have been made for weakening demand, and the finger is mostly pointed at heightened competition in renal cell carcinoma. Nexavar was the first targeted therapy to be approved in this cancer, in 2005, but Sutent, Avastin, Torisel, Afinitor and now Votrient have since been approved and made inroads, particularly Sutent.
At the same time analysts are also blaming the impact of the medicare Part D doughnut hole in the US and reimbursement pressures in Europe.
On the way down

Despite none of these being particularly new trends, Nexavar forecasts have actually held up fairly well over the last year, and if anything have crept up recently. For 2014 consensus has risen from $1.34bn to $1.55bn since December, according to EvaluatePharma.
However, signs are that numbers could now start to come down.
JP Morgan analysts covering Bayer have sliced a quarter from their 2013 forecast, lowering to €1.04bn ($1.38bn). Even some US biotech analysts, known for their more bullish stances, took a red pen to the figures; Baird, for example, trimmed their expectations for this year by $50m to a round $1bn.
Currently, analysts are expecting Nexavar to generate 18% growth this year, to $995m. Bayers' own guidance is for growth of "more than 10%", notably more conservative but at the same time notably vague.
Sources of growth
Bayer and Onyx are hoping for growth to come from two sources – geographical and clinical.
In geographical terms this should come from broader utility in liver cancer in Asian countries, which is important because this disease is much more prevalent in this region. Reimbursement is awaited in China, approval in Taiwan and a pricing decision in South Korea, all of which could combine to give sales a boost.
However, the treatment of the disease is very different in these regions than in Europe and particularly the US, with standard of care on offer varying greatly. There are still big question marks over how widely Nexavar will penetrate these markets; Bayer's struggle to gain a foothold in Japan could be a sign of a harder journey than expected.

In clinical terms, Nexavar has important data due in both breast and lung cancer, two massive opportunities but the first a very competitive market and the second notoriously difficult to establish a clinical benefit. Data from a trial in non-small cell lung cancer is due in a couple of months' time and will be closely watched.
Drug to beat
At the same time, the pipeline of targeted agents in development for cancer grows longer. As the first targeted agent to market in both renal and liver cancer, Nexavar has set itself up as the drug to beat, and several head-to-head trials are ongoing: against Bristol-Myers Squibb's (NYSE:BMY) brivanib, Abbott's (NYSE:ABT) ABT-869 and Pfizer's (NYSE:PFE) axitinib for starters.
A big threat, Pfizer's Sutent in liver cancer appears to have waned (Therapeutic focus - Sutent liver cancer failure leaves thin late-stage pipeline, April 26, 2010 ).
But should another agent prove itself more effective or equally as effective and safer, Nexavar will find itself under heavy fire.
Onyx has invested incredibly heavily in trials in new cancers in an attempt to broaden Nexavar's label, at the expense of profitability. Should this investment start to look fruitless, disappointing quarters could become more common.