Editors' Note: This article covers a stock trading at less than $1 per share and/or with less than a $100 million market cap. Please be aware of the risks associated with these stocks.
The oil and gas business has really become a tale of two completely distinct business models.
Each model has its good elements and bad.
Model 1 "the Hare" - is the conventional exploration model. This business involves an energy company finding some appealing exploration prospects, taking some capital and drilling some exploration wells.
This is a high risk and high reward business model. For taking on the risk of drilling dry holes the company gets the chance to create step changes in shareholder value.
Model 2 "the Tortoise" - is the unconventional model. This involves drilling lots and lots of horizontal development wells into a known resource play. This model involves virtually no exploration risk because the company knows the oil to be in place.
The tradeoff for reduced exploration risk is that the rewards for drilling wells are much lower. Production from these wells declines very quickly and it takes a huge amount of capital to develop a resource play.
Taipan Resources (OTC:TAIPF) is my example of a conventional exploration oil and gas company.
Taipan is drilling high impact targets in the very near term that could hold a prize worth many times its market capitalization.
In fact the company just announced that its independent reserve appraiser (Sproule) has increased the size of the prospective resource on one of Taipan's blocks from 400 million barrels to 1.5 billion barrels.
This is big game hunting.
Chesapeake Energy (NYSE:CHK) is my example of a resource play focused company. Chesapeake drills nothing but horizontal resource play wells and targets oil, gas and natural gas liquids.
Chesapeake is a steady and predictable long-term growth story through which solid returns can be generated over time if commodity prices cooperate.
Location - North America For Resource Plays, Elsewhere For Conventional Targets
The oil and gas industry didn't start drilling wells deep under the ocean because it wanted to. Venturing into the deepwater was done out of necessity.
The inventory of easy to access high impact conventional drilling targets onshore in the United States and Canada were exhausted before deepwater drilling became common.
Similarly, the move to unconventional oil and gas wells was also the result of the industry exhausting conventional drilling opportunities in North America.
These unconventional wells target very poor rock, and production from these wells declines very quickly.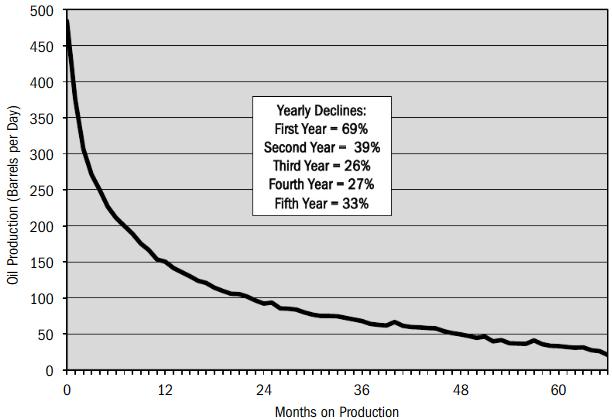 These wells generate a solid return at sufficiently high oil and gas prices, but with oil and gas prices that existed at the turn of the century these unconventional plays don't work.
Chesapeake Energy drills nothing but unconventional wells. The company controls a massive 13 million acres with exposure to the Eagle Ford, Marcellus, Haynesville, Utica and other resource plays.
Unconventional is now the name of the oil and gas game in North America.
If a company isn't interested in pursuing a resource play and instead wants to take a shot at finding a conventional large oil or gas pool it is going to have to look to a more exotic location.
Taipan Resources is doing just that by taking its exploration chances in Kenya.
The continent of Africa is one of the last underexplored onshore opportunities for oil and gas companies. Kenya in particular is a new frontier for exploration. To date there have been 58 wells drilled in Kenya.
That isn't 58 wells this year that is 58 wells as an all time total.
Compare that to the state of Texas, which is similar in size to Kenya. Texas to date has had almost 500,000 wells drilled.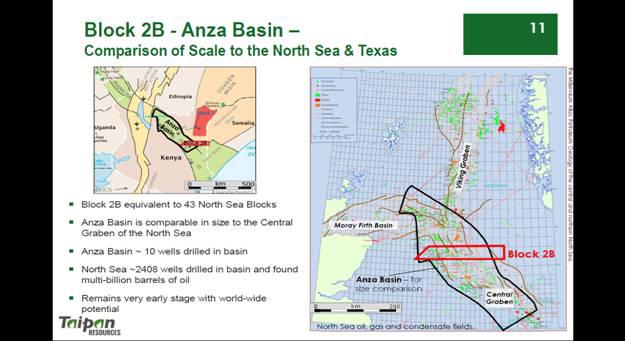 Kenya is a much more difficult place to do business than Texas, but it isn't in Texas where you have the opportunity to find a few hundred million barrels of easy to extract conventional light oil with only one well.
Land Position - The More Far Flung The Location, The More Bang For Your Buck
Chesapeake is a very large company that will be drilling thousands of horizontal wells into resource plays in the coming years. Chesapeake's market capitalization today is over $17 billion.
It took a big company like Chesapeake and a lot of money to lock up those 13 million acres of land in resource plays.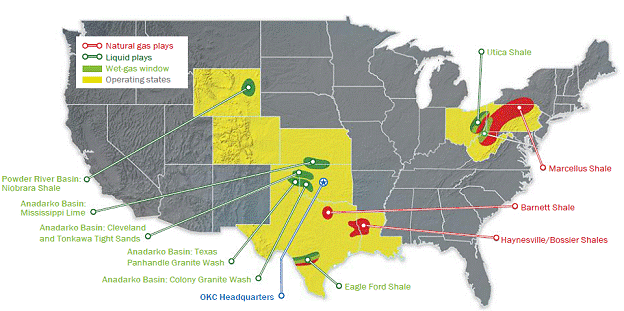 Taipan on the other hand is a very small company that is looking to drill a small number of exploration wells targeting some very large conventional targets.
Despite being a very small company with a limited amount of financial resources, by being willing to take on the challenges of Kenya, Taipan was able to gain control of 3 million net acres of land.
This is land in a highly prospective and virtually unexplored basin.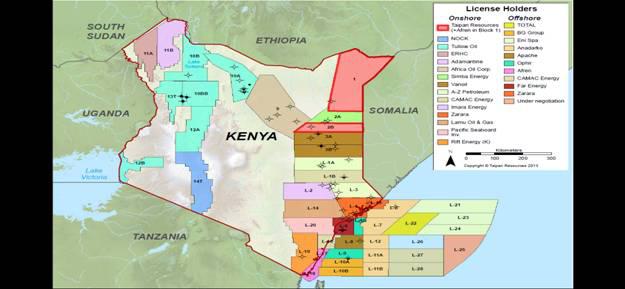 Chesapeake has a market capitalization of $17 billion and a land portfolio that consists of 13 million acres.
Taipan meanwhile has a market capitalization of barely over $20 million and a land portfolio of 3 million gross acres.
At the current share price each dollar invested in Chesapeake provides exposure to 0.0007 acres of land. At the current share price each dollar invested in Taipan provides exposure to 0.15 acres of land.
That means that each dollar invested in shares of Taipan provides exposure to 214 times as much land as a dollar invested in a share of Chesapeake.
Operational Plans - Bunting For Singles vs. Swinging For Homeruns
Chesapeake is a manufacturing operation that is content to bunt for single after single after single. Each individual bunt doesn't accomplish much, but a steady diet of bunts does.
In 2013, Chesapeake operated over 60 drilling rigs on a continuous basis. The company drills hundreds of wells in a year, each of which can be expected to eventually produce a few hundred thousand barrels of oil or natural gas equivalent.
Chesapeake's history in the Eagle Ford is a perfect example. The company hadn't touched the play prior to 2011 and is now producing almost 100,000 boe/day.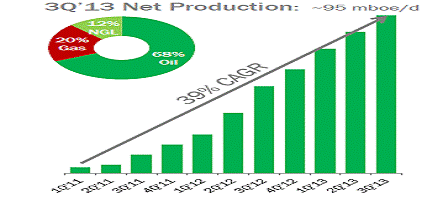 The oil and gas is in the ground, it is just a matter of spending the money to drill the horizontal wells that are required to develop it. The better Chesapeake can control the cost of those wells, the more profitable they are.
While Chesapeake is drilling hundreds of wells on its 13 million acres over the next 12 months Taipan Resources will be involved in drilling a grand total of two wells.
The difference of course is that each of Chesapeake's wells on a stand-alone basis are immaterial to the company as a whole. That is very different from each of Taipan's two wells, which have the potential to make shareholders wealthy.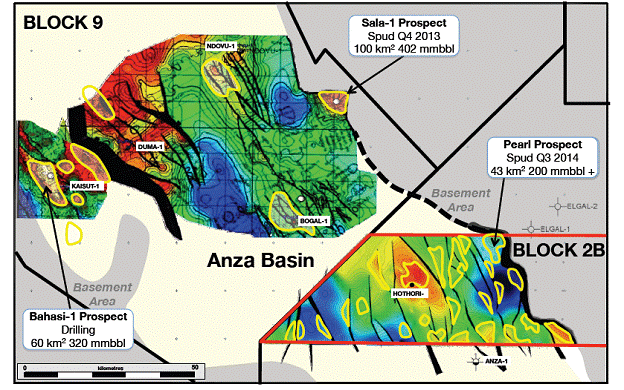 Taipan plans to drill two exploration wells that are targeting almost 100 million barrels each net to Taipan. That is a far cry from Chesapeake's wells, each of which will eventually produce something like 500,000 boe (depending on the play).
The net present value of the two prospects that Taipan will drill is in excess of a billion dollars, which is many multiples of the current share price.
The summary of the drilling leads that Taipan has on its Kenyan Block 2B alone are below.
There are 19 prospect leads in total, which target 717 million barrels of oil net to Taipan.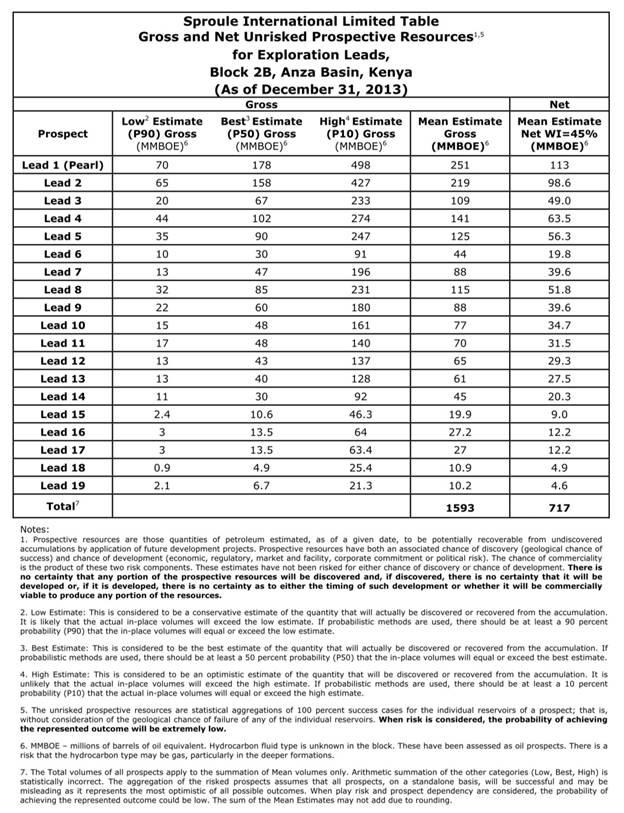 Of course Taipan's wells, which have such huge potential, also carry much more risk.
Chesapeake's wells encounter hydrocarbons virtually 100% of the time. The likelihood of each of Taipan's exploration wells being successful is probably somewhere between 20-30%.
Investing - Both Companies Are Interesting In Their Own Way
Investing is all about shelling out your hard-earned money now in return for getting all of that money and more back in the future.
That is where the oil and gas exploration business model gets tricky for me.
A 30% chance of making multiples of your original investment might be an attractive proposition, but it seems to me that it is more speculation than investing.
Taipan has a market capitalization of just over $20 million. In 2014, Taipan's wells will target 166 million net barrels of oil. The unrisked net present value of those barrels is $1.245 billion.
Taipan today is where another small African explorer was a couple of years ago.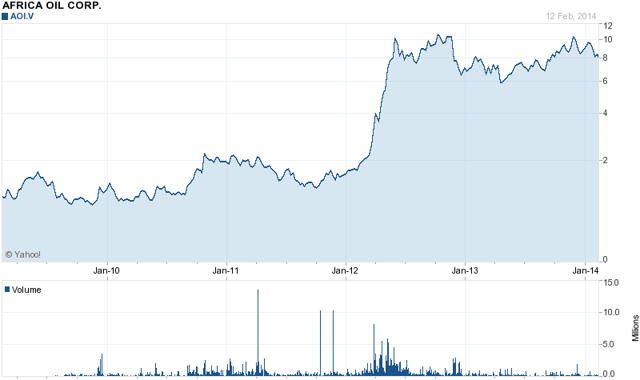 High impact exploration success took Africa Oil's stock price from $1 to $10 in the blink of an eye.
Figuring out what Taipan might be worth if the company has exploration success isn't the hard part.
We have a history of transactions involving African oil discoveries to know what discovered oil in the ground is worth in the region.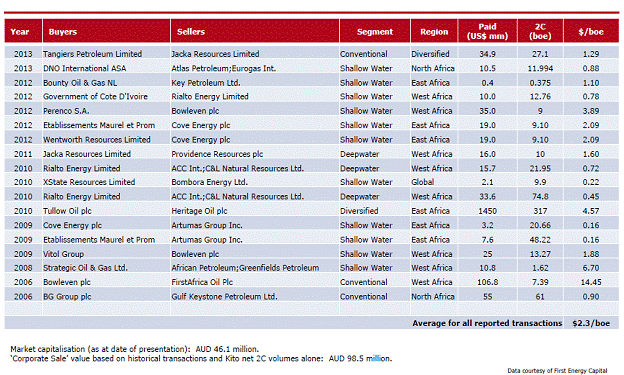 Since 2006, the average price paid per barrel contingent resource in the ground is $2.30.
In 2014, Taipan is targeting 166 million barrels, which if found could be worth 166 million @ $2.30 = $381 million.
That is nineteen times the current Taipan market capitalization.
As I mentioned, the upside in Taipan's shares with exploration success isn't hard to see. What is hard to determine is how likely exploration success is.
That is a question that is virtually impossible to answer, and that is what makes investing in a pure exploration company tricky.
Investing in Chesapeake is a much less risky venture.
Chesapeake isn't going to make a shareholder rich overnight, but over the course of several years continued growth in liquids production and free cash flow should move the share price considerably higher.
With Chesapeake an investor can with some degree of accuracy predict what the company will look like five years forward. This makes valuing the company possible.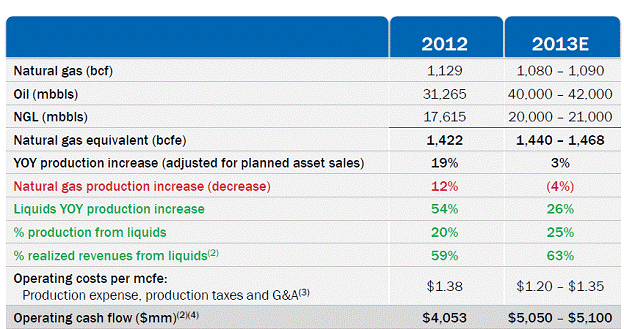 Over the past couple of years Chesapeake has been focused on growing higher margin/netback liquids production and improving its balance sheet.
This has allowed the company to grow its cash flow from operations faster than it has grown total production.
Going forward, I would expect that Chesapeake can continue to grow cash flow at a rate of at least 10% per year for several years.
With its current enterprise value of $30 billion Chesapeake trades at roughly 6 times 2013's estimated cash flow.
I wouldn't argue that to be either cheap or expensive, but likely somewhere close to fair.
I think paying a fair price for Chesapeake today could be an attractive proposition.
An investor in Chesapeake likely doesn't need any multiple expansion to do well over the next five years, because this company has the inventory of drilling locations to allow it to grow at a steady rate for a long time to come. Growth will drive investment returns even without multiple expansion.
If you believe in oil and natural gas prices going higher, then that rate of growth for Chesapeake will be even better than what I've suggested.
Implications For Investors
While completely different, I think both Chesapeake and Taipan are interesting.
If you are bullish on oil and especially natural gas I think that Chesapeake would be a nice addition to a portfolio. Few, if any companies have the kind of predictable inventory of drilling locations that Chesapeake has. If those thousands of wells are being drilled into a rising commodity price environment then Chesapeake is going to become a free cash flow monster.
Taipan Resources meanwhile isn't a bet on commodity prices. It is a bet on the results of a handful of high impact exploration wells the drilling of which starts this year.
Where Chesapeake's stock price might double over five years, Taipan's might double overnight on a successful well result and then double again the day after that as the market digests the results.
Disclosure: I have no positions in any stocks mentioned, and no plans to initiate any positions within the next 72 hours. I wrote this article myself, and it expresses my own opinions. I am not receiving compensation for it (other than from Seeking Alpha). I have no business relationship with any company whose stock is mentioned in this article.