There is a lot of talk today about how commodities have not participated in the current rally and when one looks at certain commodities that the underperformance goes back years. Although this is true and we have been discussing the underperformance as well, we highly doubt that the underperformance in the commodity space at this time is indicating future underperformance for the general market.
Chart of the Day:
The nice, steady move in gold as of late has been a welcome change for gold bugs, however we would not be getting too excited until after the yellow metal takes out the $1,400/ounce level. Moving across $1,300/ounce is big, we will admit that, but looking at the chart we think that $1,400/ounce will be far more telling. We would shy away from the physical purchase at this point and stick with the ETFs, such as the SPDR Gold Shares (NYSEARCA:GLD) for short-term and highly liquid trading.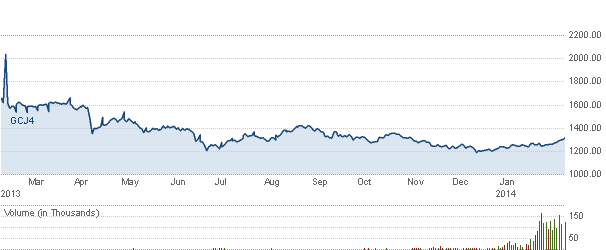 Source: CNBC
Commodity prices this morning are as follows:
Gold: $1,315.90/ounce, up by $15.80/ounce
Silver: $21.23/ounce, up by $0.835/ounce
Oil: $100.03/barrel, down by $0.32/barrel
RBOB Gas: $2.7874/gallon, up by $0.0102/gallon
Natural Gas: $5.256/MMbtu, up by $0.033/MMbtu
Copper: $3.2625/pound, up by $0.0125/pound
Platinum: $1,426.50/ounce, up by $9.90/ounce
Cliffs Rises
Higher iron ore prices and lower costs helped Cliffs Natural Resources (NYSE:CLF) report better than expected results for the latest quarter last night. Analysts were expecting the company to report EPS of $0.77 but the company blew those estimates out of the water as they reported EPS of $1.22 on an adjusted basis.
Investors need to begin to ask themselves whether the success that Cliffs is having now will prevent activist investors from creating value here. If that is the case, then some of the fast money that has gravitated towards this name might very well exit.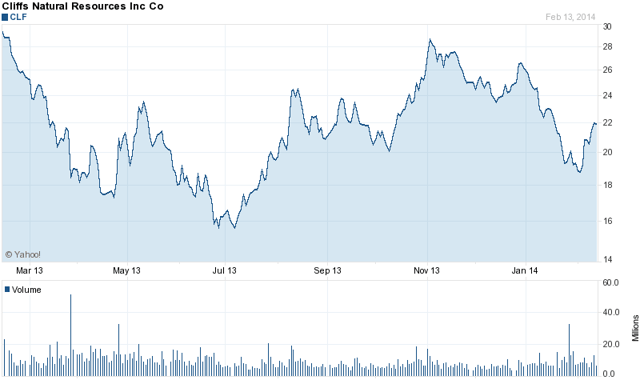 Source: Yahoo Finance
In the company's remarks it is apparent that they are now focusing on creating shareholder value, something that looking back has become more of a focus in recent quarters. Shutting down mines, scaling back operations and shelving plans to expand have enabled the company to lower spending and focus on its best assets, which is one of the main reasons EPS have increased so dramatically. Long-term this will impact the company and make them an underperformer as we near the next bull market in iron ore and coal, but at least these moves should get the company to the next bull market.
Occidental Splitting California Assets
Sticking to its plan, Occidental Petroleum (NYSE:OXY) will create a separate publicly traded company out of its California assets. The new company will be the largest land holder in California with some 2.3 million acres and a focus on the Monterey Shale, giving it a high growth segment and no immediate reason to expand via acquisition. The move should create a company worth about 20% of Occidental's current market cap.
Yesterday the company announced that they would increase the number of shares authorized under their buyback plan by 30 million shares. The additional buyback is to be funded in part by the $1.4 billion that the company is receiving for the Midwestern natural gas assets that was also announced yesterday. Occidental also raised its dividend by 12.5%, which brings the annual dividend to $2.88/share.
Utica Strike
Shares in Magnum Hunter Resources (MHR) are rising after the company announced the results from its first dry gas well in the Utica Shale. The well, Stalder #3UH, was drilled to a depth of over 10,000 feet with a 5,000+ foot lateral with 20 frac stages. The initial results have the well producing at a peak rate of 32.5 MMCF, but the company did note that the well continues to clean up and has frac fluids producing.
With the news of the successful well in the Utica, shares of Magnum Hunter are trading near 52-week highs.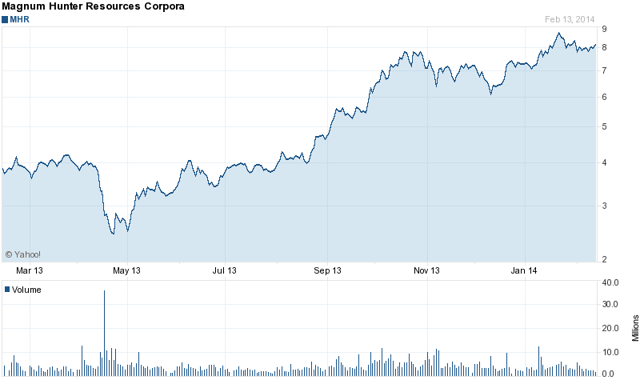 Source: Yahoo Finance
This is a solid first hit for the company and its partners, including Statoil (NYSE:STO), Eclipse Resources and Northwoods Energy. There is room for another 18 wells and with the location, Monroe County, it would stand to reason that Magnum Hunter could easily replicate their initial results.
Disclosure: I have no positions in any stocks mentioned, and no plans to initiate any positions within the next 72 hours. I wrote this article myself, and it expresses my own opinions. I am not receiving compensation for it (other than from Seeking Alpha). I have no business relationship with any company whose stock is mentioned in this article.