About a year and a half ago (July 2012), I wrote an article on Kite Realty Group (NYSE:KRG). I concluded that article by saying:
Bottom Line: Kite Realty Group Trust is a REIT getting refocused on its circle of competence and becoming a true operating REIT (winding down its construction business) in the shopping center space. The REIT is over-levered at 9.5x EBITDA and the secured debt is a bit high, but the company seems to be aware of this and has stated that reducing its leverage is a goal. The company has been growing NOI and same store results are strong. While not out of the leverage woods just yet, the common stock trades at a discount enough to offset this risk. The preferred stock is very attractive within the sector and from a yield standpoint. Both parts of the capital structure are attractive and should be considered for inclusion in an investor's portfolio.
Since then, Kite has outperformed REITs generally: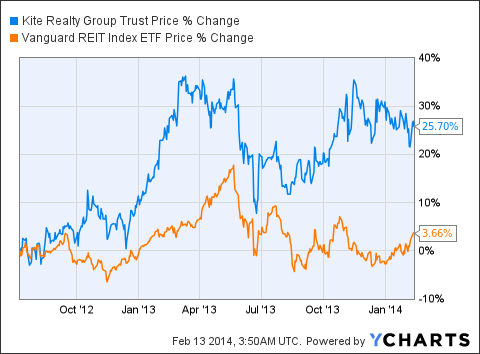 For those investors not familiar with Kite, the REIT is a vertically integrated real estate company engaged in the ownership, operation, management, leasing, acquisition, construction, expansion and development and redevelopment of neighborhood and community shopping centers in selected markets in the United States. The Company owns interests in a portfolio of 72 operating and redevelopment properties totaling 12.4 million square feet and an additional two properties currently under development which, upon completion, are anticipated to have 0.8 million square feet of gross leasable area (including non-owned anchor space).
On February 10th, Kite announced that it entered into a merger agreement with Inland Diversified Real Estate Trust, Inc:
Inland Diversified will merge with and into a wholly owned subsidiary of Kite Realty in a stock-for-stock merger with a transaction value of approximately $2.1 billion and an equity value of approximately $1.2 billion. The Merger is currently expected to close late in the second quarter or in the third quarter of 2014...
The merger is compelling as:
Inland Diversified's portfolio is comprised of 57 retail properties that are 95.3% leased as of December 31, 2013.
The transaction has a projected 6.6% 2014 estimated cash capitalization rate.
The number of Kite Realty properties will increase from 74 to 131, and the total portfolio size will increase from 10.1 million owned square feet to 20.3 million owned square feet.
The company's pro forma net debt to 2014 estimated adjusted EBITDA is expected to improve from 7.3x to 6.5x.
Reduced leverage coupled with its increased operating cash flow and low dividend payout ratio will support future potential dividend growth.
After the closing of the proposed Merger, Kite Realty expects to dispose of three multi-family assets owned by Inland Diversified as well as Inland Diversified's securities portfolio. The proceeds from these sales will be used to further repay debt and de-lever the balance sheet.
Proforma for the merger (acquisition), the REIT will have a strong and diversified tenant roster (from the merger presentation):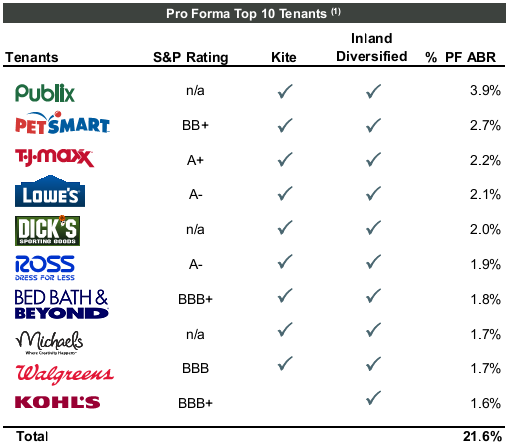 And a well laddered debt maturity schedule (from the merger presentation):
The bottom line of the merger is that it will help propel the company to the next level in terms of enterprise value, properties and diversification while increasing financial flexibility (due to the all-stock nature of the merger).
At the same time, Kite announced Q4 earnings, the highlights of which were:
Same Property Net Operating Income increased 4.9% in both the fourth quarter of 2013 and for the full year of 2013 over the same periods in the prior year.
The total portfolio was 95.3% leased at year-end.
FFO was $12.1 million, or $0.10 per diluted common share, for the fourth quarter of 2013, compared to $8.5 million, or $0.10 per diluted common share, for the same period in 2012.
FFO was $12.1 million, or $0.10 per diluted common share, for the fourth quarter of 2013, compared to $8.5 million, or $0.10 per diluted common share, for the same period in 2012. FFO was $47.6 million, or $0.47 per diluted common share, for the year ended December 31, 2013, compared to $30.5 million, or $0.41 per diluted common share, in 2012.
Let's take a look at the company.
Kite stacks up well versus peers Cedar Realty Trust (NYSE:CDR), Excel Trust (NYSE:EXL), Inland Real Estate (NYSE:IRC), Acadia Realty (NYSE:AKR) and the 800 pound gorilla, Kimco (NYSE:KIM):

My observations from the table above include:
The company is reasonably valued on a P/FFO multiple.
Given the payout ratio, the company has the means to raise the dividend (which it should, it has been stagnant).
Debt is still high at the REIT, but it appears that the merger should help them reduce the amount.
The merger will help them reach the next level of assets and scale.
I have been pleased that the REIT has continued to pare down its construction in process portfolio (in the 5-10% of total asset range) and think that it is now in a manageable range. They have also been working on lowering the leverage of the company and it is now approximately 45% of undepreciated real estate assets (on a net basis).
And how has Kite's equity done versus peers?
Kite's equity has performed well versus its peers.
The equity should have decent upside as it has the ability to increase FFO and therefore the dividend and the FFO multiple.
If the equity isn't your thing, Kite also has a preferred stock outstanding, the 8.25% Series A ("KRGPrA") cumulative perpetual preferred, which currently (at $25.17 stripped price) has a current yield of 8.04%, a stripped yield of 8.19% and a yield to the 12/17/2015 call of 7.76%.
Bottom Line: I like Kite and have for a couple years. Management has followed through and accomplished what they said they would while growing the property portfolio (significantly with Inland). The financials have improved, the ability to generate FFO has improved and the construction portfolio has been "rightsized." All of these things point towards outperformance in the REIT sector. The preferred is also attractive for those who are focused more on yield as it "out yields" the common by over 4%. Kite Realty Group should be considered for investment in an income portfolio or a REIT portfolio.
Disclosure: I have no positions in any stocks mentioned, and no plans to initiate any positions within the next 72 hours. I wrote this article myself, and it expresses my own opinions. I am not receiving compensation for it (other than from Seeking Alpha). I have no business relationship with any company whose stock is mentioned in this article.
Additional disclosure: This article is for informational purposes only, it is not a recommendation to buy or sell any security and is strictly the opinion of Rubicon Associates LLC. Every investor is strongly encouraged to do their own research prior to investing.