The Walt Disney Company (NYSE:DIS) owns a collection of valuable assets, but its media networks are the backbone of the conglomerate. The company posted solid gains in its fiscal first quarter with consolidated revenue increasing 9% to $12.3B. Cable network sales ticked up 6%, and parks and resorts revenue grew 6%. Also, the studio segment posted a 23% increase in revenue, which was driven by the theatrical release of Frozen and the second installment of the Thor franchise.
Parks and resorts have rebounded from the recession period of 2008-09. Also, Pixar, with its animated films and characters franchises, is a valuable asset for DIS. But DIS has trouble monetizing films once they leave movie theaters as cheaper rental alternatives, such as Netflix, cannibalize sales. Revenue is forecasted to grow at a 5% CAGR over the next five years with EPS growing in the 8-12% range.
At $77.90 per share DIS is fairly valued ($75.48). But throwbacks to the 50-day or 200-day simple moving average are opportunities to accumulate shares as revenue growth, operating leverage and capital distributions drive shares higher.
Business Summary
Over the past several years, Disney has effectively integrated the major acquisitions of Pixar and Marvel and is on the way to doing the same with Lucusfilm. These acquisitions helped Walt Disney Animation Studios to maintain its position at the top of the industry. The company is broadening the distribution of its content with exclusive original Marvel programming for Netflix beginning in 2015. Additionally, Star Wars: Episode VII will be released on December 18, 2015.
Disney Interactive, which is a publisher of mobile games, generates incremental revenues while ESPN is the leader in sports. Also, ABC Entertainment is among the leaders in multi-device content distribution. Disney continues to be a leader in Parks and Resorts while a new park, which is 43% owned by DIS and classified as variable interest entity, is set to open in Shanghai within the next two years.
Net income in the fiscal first quarter increased 32%, but cash flow from operations increased 6%. The difference between the two growth rates is attributable to changes in working capital. Specifically, there were substantial cash outflows for receivables and accounts payable. The capital expenditures were about half of operating cash flow during the fiscal first quarter. Total debt increased by $1B during the quarter, and DIS ended the quarter with $4.4B of cash and cash equivalents.
Since 2009, cash flow from operations increased at a CAGR of 12.8% with free cash flow-to-firm increasing at a CAGR of 13.8%. Free cash flow-to-equity increased at a CAGR of 18%. These growth rates are unlikely to be sustainable over the long term.
The current interpretation is that DIS's liquidity requirements are unsubstantial as the firm's cash ratio is relatively low. The alternative interpretation is that DIS is relatively illiquid. The cash ratio declined from 0.34 (Q4 2013) to 0.28 (Q1 2014). But the solvency position is solid as the financial leverage ratio was 1.76 (Q1) and the debt-to-capital was 0.25 (Q1). Additionally, the defensive interval ratio was 116 (Q1).
The 10-year average growth rates for revenue, operating income and net income are 5.23%, 13.10% and 17.09%. DIS reports expenses in aggregate, which means there is no breakdown of cost of sales and operating expenses. The organization could continue to have an operating margin in the high teens to low 20s and a net profit margin in the mid-teens. The 2018, revenue forecast is for annual revenue of $57.5B, which is 27.8% higher than 2013's annual revenue. DIS should be able to continue to earn more than its cost of equity.
Risks
The share price is likely to remain volatile and investors could lose a portion or all of their investment.
Investors should judge the suitability of an investment in DIS in light of their own unique circumstances.
A decline in the global economic growth rate and/or a decline in the pace of economic growth in the United States could adversely impact the results of operations and the share price.
Competition in product development and pricing could adversely impact performance.
Incorrect forecasts of customer demand could adversely impact the results of operations.
Higher interest rates may reduce demand for DIS's offerings and negatively impact the results of operations and the share price.
This section does not discuss all risks related to an investment in DIS.
Portfolio And Valuation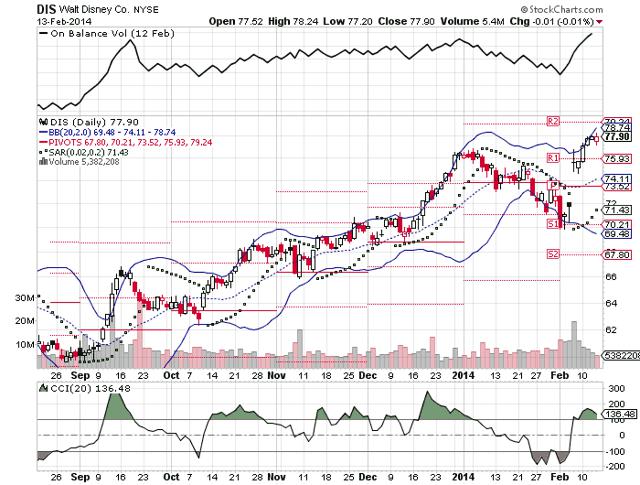 The share price is in a confirmed bull market. While I would be a little bit cautious as the CCI is showing a bearish divergence, throwbacks to the 50-day or 200-day simple moving average represent buying opportunities.
Currently, there isn't a diversification benefit from investing in DIS. The correlation since 2009 is 0.99. That drops to 0.97, since 2013. The broader market and DIS have a strong linear relationship. Consequently, the market explains almost all of the variation of the share price of DIS.
DIS is trading above its linear trend, which suggests an upcoming period of consolidation. The 3-month, 6-month and 12-month price targets are $68.12, $70.54 and $75.37. Additionally, during the current rally, DIS outperformed the market.
Based on the model, the intrinsic value is $75.48 per share, which is roughly inline with the current share price. The optimistic value is $96.45 per share, and the pessimistic value is $46.13 per share. Right now, DIS is trading roughly inline with its justified PE of 19.16 with the optimistic PE being 22.64. The pessimistic justified PE is 15.7. The share price can go higher, but based on the model, DIS is fairly valued.
Disclosure: I have no positions in any stocks mentioned, and no plans to initiate any positions within the next 72 hours. I wrote this article myself, and it expresses my own opinions. I am not receiving compensation for it (other than from Seeking Alpha). I have no business relationship with any company whose stock is mentioned in this article.