Dividend growth has emerged as a rather disruptive investment strategy over the past several years. Countless articles have attempted to discredit the philosophy, with a recent writer going so far to call it "misguided," positing an implication that it is "the wrong way to invest." Yours truly has posted some constructive criticism of dividend growth in the past, but more recently has come to admire the niche of the strategy. Nevertheless I think it's healthy for the investment community to discuss dividend growth's basis and broad utilization within income and growth/income portfolios.
Is Dividend Growth A Fad?
My personal sense is that many investors who might otherwise have opted for a more fixed income positioning in a higher interest world have moved monies into dividend equity over the past several years. This has seemed to create an artificial, yet pragmatically, elevated valuation/lower yield environment for your Procters (NYSE:PG), Cokes (NYSE:KO), and Wal-Marts (NYSE:WMT) of the world which tend to predominate dividend growth portfolios.
But what happens when a ZIRP world disappears? I had the following exchange with pre-eminent dividend growth practitioner Dave Van Knapp in the comment thread following one of his recent articles:
My question to Dave: Do you think dividend growth would start to lose its allure in a higher rate environment with elevated risk-free & bond yields?

DVK's answer: Hi Adam, Yes, I do think that. I have little doubt that lots of shares of dividend stocks are now held by "weak hands" that bought them in search of better yields than they could get from bonds or near-cash. In the event that rates go up (which is inevitable sometime, but nobody knows when), I think that the weak hands will start to migrate away.

Those who are deliberately following a long-term dividend growth strategy are much stronger hands, and they will be less likely to migrate away. The more interest rates go up, the more migration will become tempting for more income-seeking investors. I think that has always been true, at least that is my reading of stock market history.
I tend to agree with Dave's answer. Just as we've seen a slow gravitation of investors into a dividend growth strategy given lack of risk-free yields elsewhere, we are likely to see a slow migration out of dividend equity if and when a rate reversal occurs. In fact I would see the migration as very symmetric. In other words, the quicker and/or sharper the rise in bond yields, the quicker the abandonment of dividend equity, with "weaker hands" and/or opportunists sensing a better risk-adjusted deal outside of income stocks.
So is the inflated interest in dividend growth more a sign of current economic and rate times than anything else? I think that's a reasonable conclusion, but I would argue that it is thoughtful interest. Still, you want to ask yourself why the dividend growth discussion is occurring now versus during the 80s and 90s and to what extent it will continue in a normalized rate environment.
Ten Year Treasury 1980-2000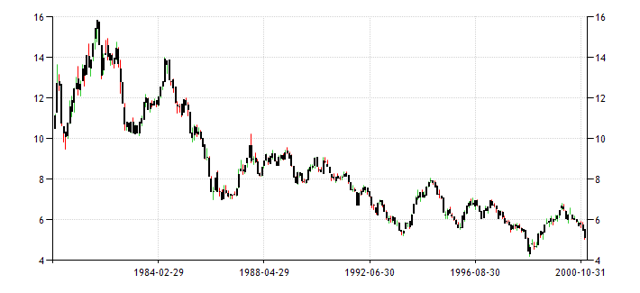 The Positive Portrait Of Dividend Growth
In my opinion there is no denying the benefits of a dividend growth strategy for a large block of investors. While MPT theorists can talk all they want about dividends not being the prime determinant of returns, returns are not always a prime investment goal. For dividend growth purists, many of whom are in or near retirement, return becomes a subordinate or perhaps altogether ignored consideration. So to tell someone that interest in dividend stocks is misguided when income is a necessity is myopic in my view.
However, whether the strategy is appropriate for younger investors is certainly a matter up for discussion. I'm personally unconvinced that dividend growth is a "better" long-term strategy than plain vanilla growth, growth and income, value, or any other commonly utilized philosophy. But I don't think it should necessarily be thought of as the "wrong" way to invest either. As I've come to believe, investment success is more relative to the performance of specific securities chosen and what price (or yield) they are chosen at, rather than the overall strategy one professes or engages in.
From a psychological standpoint, dividend growth seems to provide a rather stoic and perhaps beneficial emotional baseline, since day to day stock price fluctuation or volatility tends to be overlooked. Indeed, for long-term dividend growth investors, price declines may be looked at favorably as opportunities to improve nominal cash yields.
Is Dividend Growth Right For You?
If a thirty something investor asked me how they should structure an equity portfolio, my personal advice would be to experiment with a variety of equity types to see if there's a niche focus that one can find success with more times than not. Whether we want to realize it or not, investing is a trial and error discipline that can constantly be refined and improved upon, but never really perfected.
Over time, investors will find what strategy or strategies it is they are good at or the types of securities they are most comfortable with. Some are good at finding under the radar growth stocks or options trading, others may find the most comfort in developing a rapidly growing income stream through dividend growth. Others may focus on ETFs, a combination of strategies, or ultimately find they are good at nothing and turn their portfolio over to an advisor.
In any case, dividend growth could be the keystone of one's portfolio, it could represent a portion of one's portfolio, or for some, it may be a pointless undertaking. For some it might unquestionably be the right way to invest, although there may times when it might not prove the best of ideas.
When Dividend Growth Isn't A Good Idea
In many of my writings over the past year, I've stressed the importance of assessing one's options through the gamut of income securities, including stocks, bonds, CEFs, and other income generating ideas. If you are considering dividend growth as a primary strategy, especially later in life, you should have clear conception of how much income you will need as well as a realistic outlook on how your income will grow in the future.
For instance if you are thinking of owning Realty Income (NYSE:O), a REIT and popular dividend growth stock, you can buy it today at a yield of roughly 5.25 percent. In my view a realistic dividend growth outlook for the company is about 4-7% for the foreseeable future. So if we take a midpoint of about 5.5%, your yield on today's purchase will grow to about 6.86% in five years and almost 9% in ten years.
You could also purchase a lower yielding stock with a higher dividend growth rate. You could opt for Cisco Systems (NASDAQ:CSCO), which you could buy today at a 3.36% yield. I think a reasonable assumption for Cisco is 10% dividend growth going forward. After five years your yield grows to 5.41% and after 10, you are at about 8.7 percent, a touch less than Realty Income.
Finally, you could look at a stock like Prospect Capital (NASDAQ:PSEC), a business development company currently yielding 11.67%, but probably with a negligible forward dividend growth rate, let's call it one percent. After five years you have 12.26% and in ten years, 12.89 percent yield on cost.
If you need to grow your income to 15% yield on cost, then the three above choices will move the needle towards your goal, but they probably won't get you there. While that doesn't necessarily mean you shouldn't own them, it means you need to consider augmenting them. Consideration of growth stocks from which to harvest gains from over the next decade would be a prudent choice. You could also select dividend payers you perceive to have more robust income growth attached to them.
If you've started saving late and are way behind the 8 ball, you may need to take significant risk to meet goals, which in my mind should preclude or severely subordinate the use of dividend growth. In such a scenario you should be looking at ways of growing capital as quickly as you can.
At the other side of the spectrum, some investors might avoid the use of dividend growth stocks altogether if they have enough capital to develop a bond ladder or other fixed income strategy deemed to provide sufficient income now and in years to come.
The Future Of Dividend Growth
Irrespective the forward interest rate picture, dividend growth serves a cogent, sensible role as a primary stock selection strategy for many investors. Its current elevated allure does seem symmetric to relative yield starvation, but should not be deemed the hysterical bubble that many detractors have raised a red flag over.
Though attraction and interest may wane in the event of a sustained rate rise situation, it should remain a focal point for investors in need of a relatively passive, conservative method of increasing portfolio income.
Disclosure: I am long CSCO, PSEC. I wrote this article myself, and it expresses my own opinions. I am not receiving compensation for it (other than from Seeking Alpha). I have no business relationship with any company whose stock is mentioned in this article.
Disclaimer: The above should not be considered or construed as individualized or specific investment advice. Do your own research and consult a professional, if necessary, before making investment decisions.